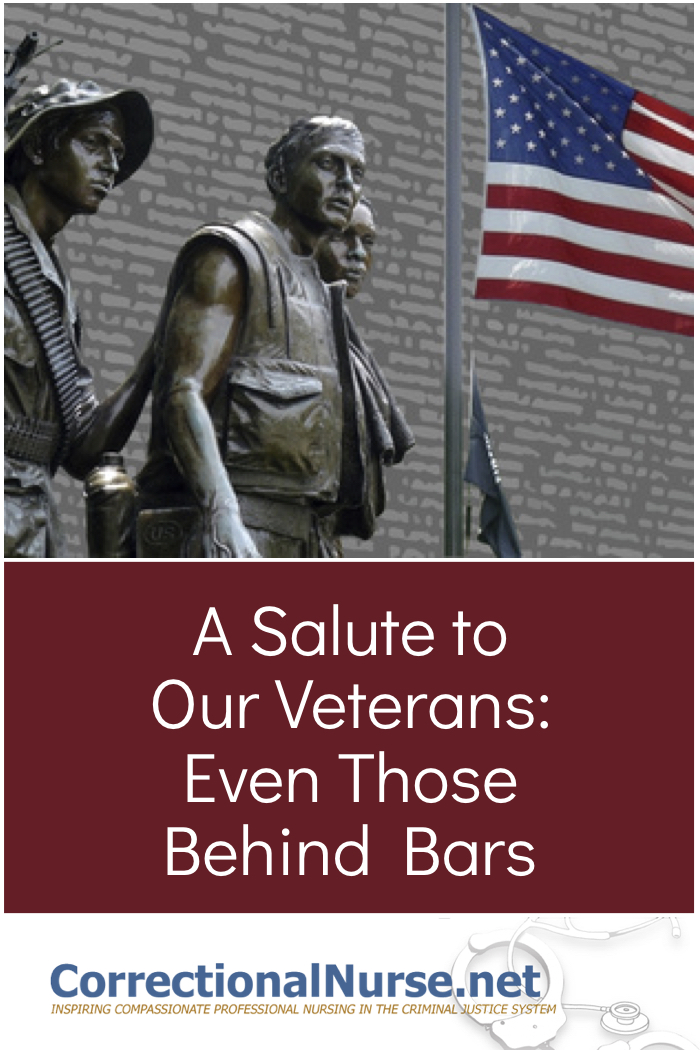 Several times a year Americans pause to thank our soldiers for defending our freedom and protecting us from harm. We acknowledge the sacrifices made by American soldiers to keep us free this Independence Day.  Many of those same soldiers who put themselves in harm's way are now our patients in jails and prisons across this country. I was surprised to discover the extent of veterans behind bars. They are now veteran inmates. A Special Report by the Bureau of Justice lists around 181,000 veterans in our nation's prisons in 20011. Are any of them your patients? 1 in 10 prison inmates is a veteran, so it is very likely that some of your patients have a military history. A significant proportion of inmate patients have served in the armed forces and participated in defending our freedom.
Veteran inmates are higher educated than nonveterans and have shorter criminal histories. One in 5 had actual combat duty. Some of the findings of the report bust typical conclusions we might have about soldiers. For example, veteran inmates are not more likely to abuse alcohol or have mental health conditions than their nonveteran peers. In addition, they are slightly less likely to be using drugs at the time of arrest.  These numbers do not vary based on whether they had combat or noncombat duty while serving our country.
What does all this mean for correctional nurses? We care for inmate patients because of their basic human dignity and do not differentiate based on type of crime or our subjective determination of goodness of character. Therefore, veteran or not, we provide nursing care to the best of our ability with the resources at our disposal. However, on this day of gratitude for those who help keep us free, maybe that inmate in pill line or sick call is someone who served…..and they deserve our gratitude, as well as our best nursing care.
Photo Credit: © cornel2911 – Fotolia.com
If you like this post, you might like:
Correctional Nurse Legal Briefs: Understanding Professional Liability
Under the Influence: Impaired Nurses in Corrections
5 Ways Correctional Nurses Can Land in Court