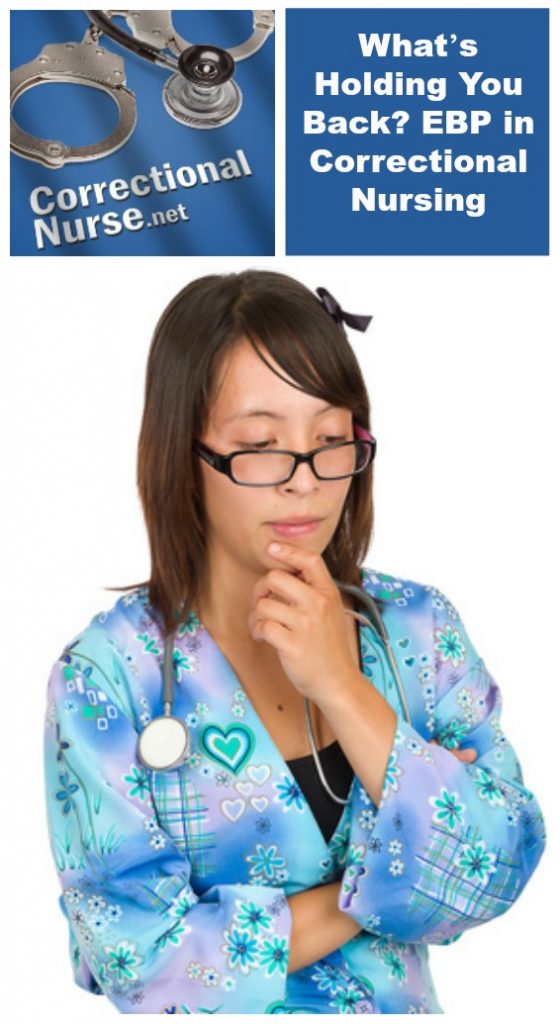 According to a recent survey of US nurses, we overwhelming want an evidence-based practice (EBP). Yet, few of us have reached this goal. So, what is holding us back? A lot, it turns out. Unfortunately, the application of research findings continues to be a challenge in every setting of nursing. Right now the research-to-practice gap is reported as anywhere from one to three decades. Ten to 30 years is a long time to turn research findings into actual practice.  Even when put into practice, research application can also be sporadic and inconsistent.
Although barriers to research utilization have not yet been investigated in the correction specialty, findings in other settings suggest a variety of issues. Characteristics of individual nurses have been studied and attitude toward research has emerged as a primary personal characteristic leading to use of research findings. Nurses practicing in the correctional setting may have mixed attitudes toward the reading and application of research findings. Lack of skill in evaluating and applying research findings may negatively affect attitude toward research.
Other personal characteristics that may affect research use include advanced degrees, attending conferences, and job satisfaction. Therefore, as correctional nurses increase their knowledge of research principles though formal education and continuing education activities, they may increase research application in practice. This can mean improved clinical outcomes for our patients.
There can also be organizational and cultural barriers to EBP. Nurses working in correctional settings may have few knowledge resources such as medical libraries and may have few like-minded colleagues to engage in discussion and analysis of the evidence. There may be little leadership support or systematic strategy for research application. In addition, time needed to search for, analyze, and apply research may be limited.
With all that is to be overcome, it is no wonder correctional nursing practice has little evidence behind it. How can we change this? Here are my top 5 tips to increase the evidence base of nursing practice in jails and prisons:
Subscribe to nursing news aggregators: These sources send the latest research to your email inbox, usually weekly. My favorites are Medscape for Nurses and Nursing Insider News (from ANA). Once you complete a free registration you can indicate the newsletters you wish to receive.
Become a member of the Academy of Correctional Health Professionals (ACHP) and receive the Journal of Correctional Health Care and CorrectCare magazine. These publications often have evidence that can be applied in your setting.
Check out the Cochrane Collaborative and Joanna Briggs Institute for best practice guidelines that can be used in policy, procedure, and standards development.
Take a basic course on how to find and apply evidence to your nursing practice. Here is a favorite of mine from nursingcenter.com.
Find others in your local corrections community to mentor you on EBP processes. Don't overlook medical and mental health staff who often have similar concerns in their own disciplines. Band together to search out, evaluate, and apply research findings in your setting.
If we all actively pursue EBP, we can implement best practices and change our world!
Have you implemented EBP at your facility? Tell us your story in the comments section of this post.
Photo Credit: © cmlndm – Fotolia.com