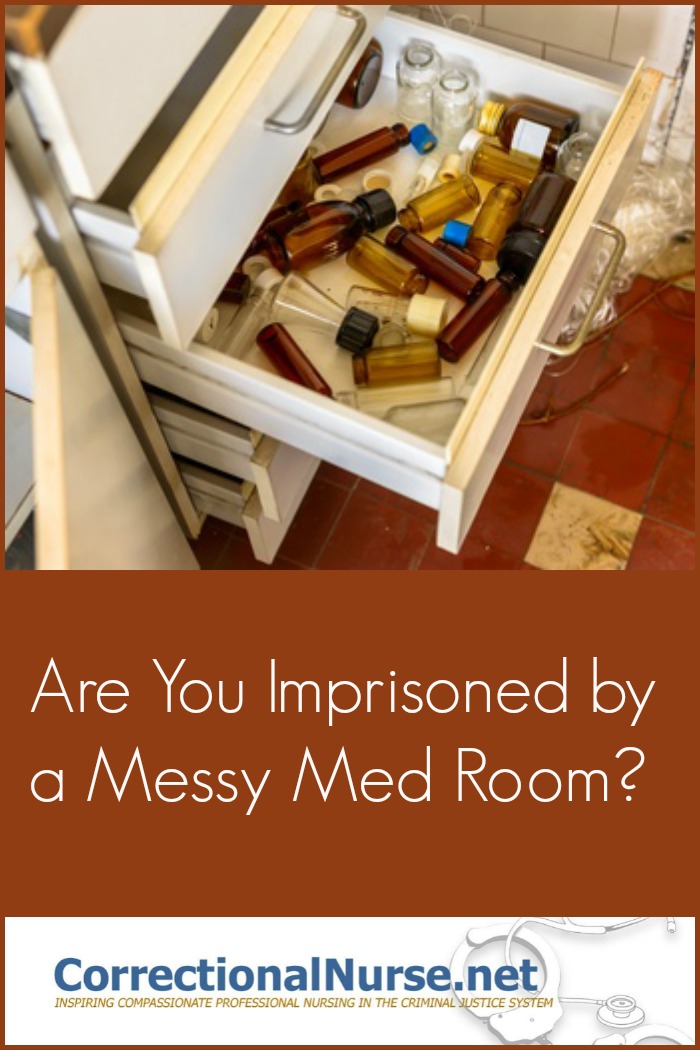 The medication room is one of the most complex areas of a jail or prison health unit. The set up and maintenance of a medication room can make or break the medication administration process and eat up hours of nursing time every shift. Medication administration can take up to 40% of a nurse's time in traditional settings. Some correctional nurses spend the majority of their time preparing for, administering, and then documenting medication administration.  Organizing the layout and management of a medication room can smooth the process and reduce error.
Patient Need and Delivery Method
When first organizing a medication room, analyze the needs of the patient population – both size and make-up. For example, a mixed gender population such as that in a large jail will require a wider variety of medication classes than a male-only prison. A large facility with an older patient population will have expanded need for medication delivery and, therefore, larger storage space.
The type of facility, jail or prison, may also dictate medication room needs. A busy jail has a high rate of intake and release meaning many medications are coming in with the patients and awaiting disposal or pick up at release. Storage of these medications can take up space and require an organized system for management.
The method of medication delivery is also a consideration in creating a medication room. If pill line is centralized, a distribution window is often located within the room and medications need to be easily accessed from that location.  A dispersed system where nurses take carts out to housing areas requires room in the medication room to lock the carts when not in use.
The numbers of people working in the room at the same time is also a factor in medication room management. Sufficient space is needed to prepare for medication administration such as supplying the medication cart and organizing equipment.
Room Layout
Many facilities must make due with the room that is available. Fortunate, indeed, are nurses working in facilities with spacious medication rooms. Some facilities merely have a few cupboards in the corner of a clinical room for medications. It is ideal for the room to be laid out according to function. If space is available, a medication room can have areas for the following functions.
Ordering, receiving, scanning in and putting stock away
Area for the medication carts in easy reach of stock and supplies
Locked areas for narcotics and locked box/cabinet with expired or discontinued medication awaiting pick up or shipment to the source pharmacy
Storage Conditions
Consideration should be given to the storage of medications for efficiency and to maintain potency.
Bubble packs work well in containers allowing them to stand up so patient and drug name are easy to read
Creams, lotions, inhalers, and liquids require separate storage; away from oral preparations to avoid wrong route errors
A reliable refrigerator is needed to maintain chilled temperatures for some medications
If intravenous services are provided in an infirmary, an additional area for storing IV supplies and solutions may be needed
Emergency medications are also kept in the locked medication room and need to be quickly accessible to take to a man-down situation
Sharps for medication administration, such as needles and lancets, are also often secured in the medication room
Standardized Processes
The following maintenance systems should be in place to ensure that medications are available when needed for chronic care, acute conditions, and emergency situations.
Check in and storage of new medications arriving from the pharmacy vendor
Filing of paperwork and order manifests
Inspection of expiration dates and stock rotation (esp. emergency medications)
Inventory par levels for stock medications, over-the-counter, and protocol medications with standard ordering process
Medication return process with pharmacy vendor
Monitoring narcotic control
Monitoring storage temperatures for room and refrigeration
Processing of new prescription orders
Reordering of keep-on-person/self-administered medications
Shift counts of controlled substances and sharps
Turning over the MARs for a new month
Stable Staffing
Consistent staffing in the medication room is a safety factor.  The complexity of the standard medication room processes needs an in-depth understanding of pharmacy processes and patient needs. This requires an individual who values safety and efficiency. Some sites have a pharmacy technician while others have a med room nurse. If "Everyone" is responsible for med room organization, The result is most often a messy med room.
Principles for Medication Room Systems
Here is a summary of key medication room system principles to maintain organization and safety.
Category
Principles
Security

Keep the medication room locked at all times
Reduce the number of staff with key access to the medication room
Do not allow food in the medication room

Layout

Minimize what is stored in the medication room since access is limited
Keep only medications, medication preparation equipment, and controlled items like sharps locked in the medication room to avoid key control issues

Staffing

Limit the number of staff who receive, organize, store, maintain, and dispose of medications
Have consistent, knowledgeable staff managing the medication room

Storage

Keep topical medication clearly labeled and stored separate from oral medications
A quality refrigerator and thermometer are needed to maintain proper temperature and humidity for some medications and vaccines

Medication Intake Processing

Check medication delivered to the medication room against the delivery manifest and ordering records
Report any missing medications to the pharmacy
Process and organize new medications such as on medication delivery carts, baskets, or shelves

Medication Organization

Organize medication by inmate name or number
Medication may also be organized by housing unit or medication rounding system

Medication Disposal

Regularly review and rotate stock based on expiration dates
Follow environmental regulations when disposing of expired or contaminated medications.
Do not flush medication into the septic system

Medication Security

Do not allow patients  in the medication room
Avoid using inmate porters for medication room cleaning
Staff must monitor inmate porters at all times when they are in the medication room

Medication Administration Equipment and supplies

Have necessary medication storage and administration equipment and supplies available in the room
Supplies can include pill slicers and crushers, disposable pill cups, sharps containers, and drug book
How are you managing the medication room at your jail or prison? Share your tips and tricks in the comments section of this post.
Gayle Burrow, long-time correctional nurse administrator in Portland, OR and frequent Correctional Nursing Today news panelist, contributed significantly to this post. Thanks, Gayle!
Photo Credit: © Oliver Sved – Fotolia.com