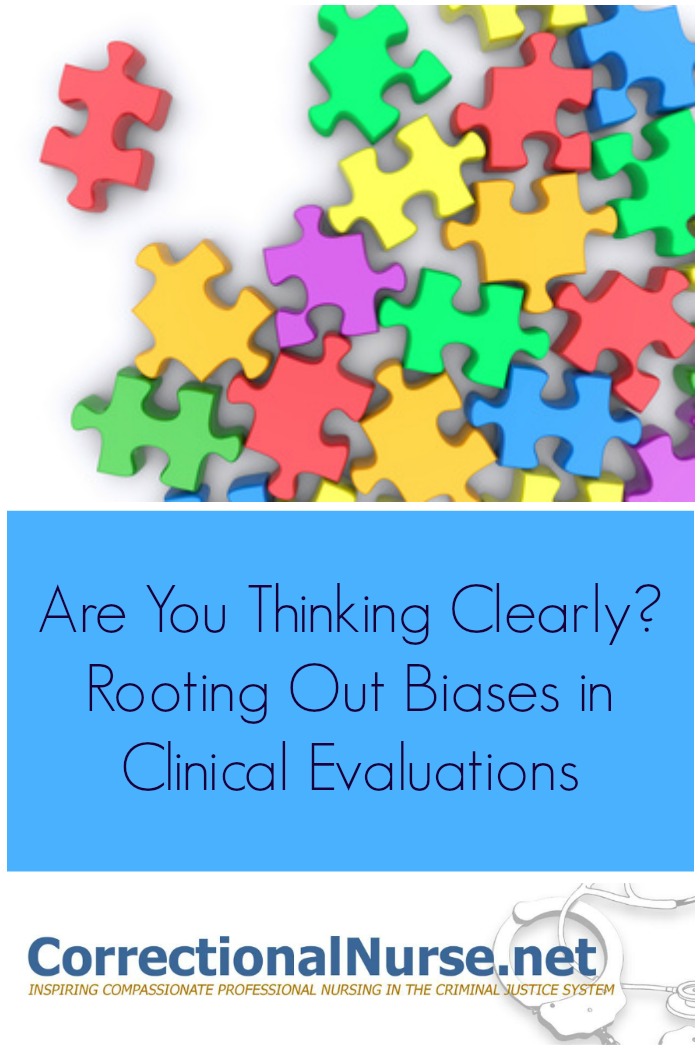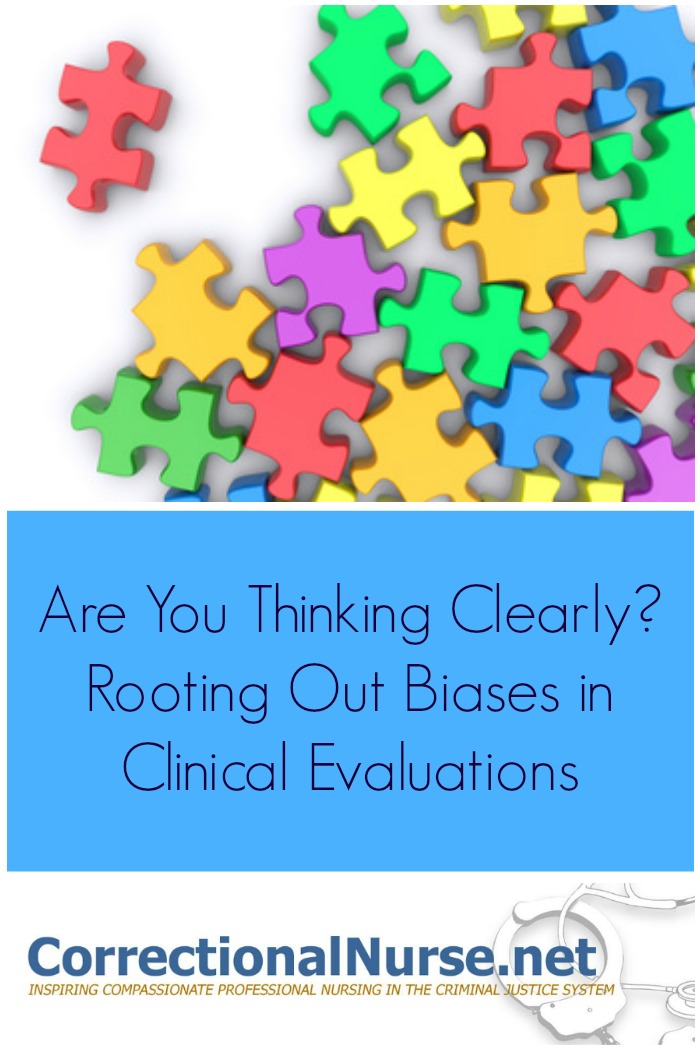 I was raised on Agatha Christie and Arthur Conan Doyle novels and still find shows like Elementary and Sherlock captivating. In fact, it is the detective work inherent in nursing assessment and diagnosis that drew me to the nursing profession and still keeps me interested some 3 decades later. Oh, for the clarity of mind of Hercules Poirot and Sherlock Holmes when tracking down the cause of a patient's erratic behavior or unexplainable loss of function!
Unlike these fictional characters, though, we mere humans can be burdened by unconscious biases of thought that cloud our judgement and send us toward wrong conclusions. Improving clinical judgement, then, involves intentionally looking for and rooting out these mental biases in our evaluative practices.
Here is a chart of common cognitive biases I developed for my book The Correctional Health Care Patient Safety Handbook.  Let's take a look at a few of them as they may emerge in a typical nursing sick call encounter.
| | | |
| --- | --- | --- |
| Bias | Definition | Corrective Strategy |
| Availability | Determination based on ease of recalling past cases | Verify with legitimate statistics |
| Premature Closure | Relying  too heavily on initial impressions | Reconsider determination in light of new data or a second opinion, consider extremes |
| Framing Effects | Being swayed by the description of the  problem | Examine the case from alternative perspectives |
| Blind Obedience | Showing undue deference to authority or technology | Reconsider when authority is more remote; assess test accuracy |
| Confirmation | Seeking data to confirm, rather than refute, a favored hypothesis | Consciously seek both confirming and refuting data |
| Representativeness | Guided by typical features of a disease and missing atypical variants | Take into account typical and atypical findings before settling on a diagnosis |
| Sunk Costs | Difficulty considering alternative diagnoses once significant time, effort, and resources have been invested in a particular diagnosis | Consider involving a second practitioner free of attachment to the favored diagnosis |
Remember the patient encounter discussed in the Diabetes Primer post? Here it is again.
A 42 year old female inmate submits a sick call request about her ankle. She thinks she sprained it when she stumbled while walking to the exercise yard one morning a couple days ago. A chart review indicates she is a Type II diabetic and is on a combination of metformin and glipizide. She was recently treated for a vaginal yeast infection with fluconazole (Monostat). She has no other acute or chronic conditions of note. Her ankle is only slightly swollen and painful when she bears weight.
The nurse in that situation analyzed all the information and came to an astute conclusion. What might have happened if a few of the common mental biases had been active?
Availability: If the pavement is, in fact, uneven on the way to the exercise yard and the nurse has had other patients stumble or fall, it might be easy to conclude that this is a safety issue rather than a medication issue.
Premature Closure: Availability bias might then lead to a premature closure of investigation before seeking out all possible causes. Here, the nurse would focus entirely on the ankle and not bring in any additional evaluation data.
Framing Effect: If the patient framed the injury in such a way that being dizzy did not enter into the description, the effect might also be to focus only on the safety issue and musculoskeletal injury.
Confirmation: Once favoring a focus on the musculoskeletal injury, the nurse might limit the assessment to the ankle and not pursue any medical causes of the stumble.
Clinical evaluation is a highly specialized skill in professional nursing practice that is of particular need in nursing sick call and emergency man-down situations. Intentionally rooting out mental biases in our assessment and nursing diagnosis practices can avoid error and improve patient outcomes.
Have you struggled with any of these common mental biases in your clinical practice? Share your thoughts in the comments section of this post.
Check out Correctional Health Care Patient Safety Handbook for more information about this topic. Click this image below: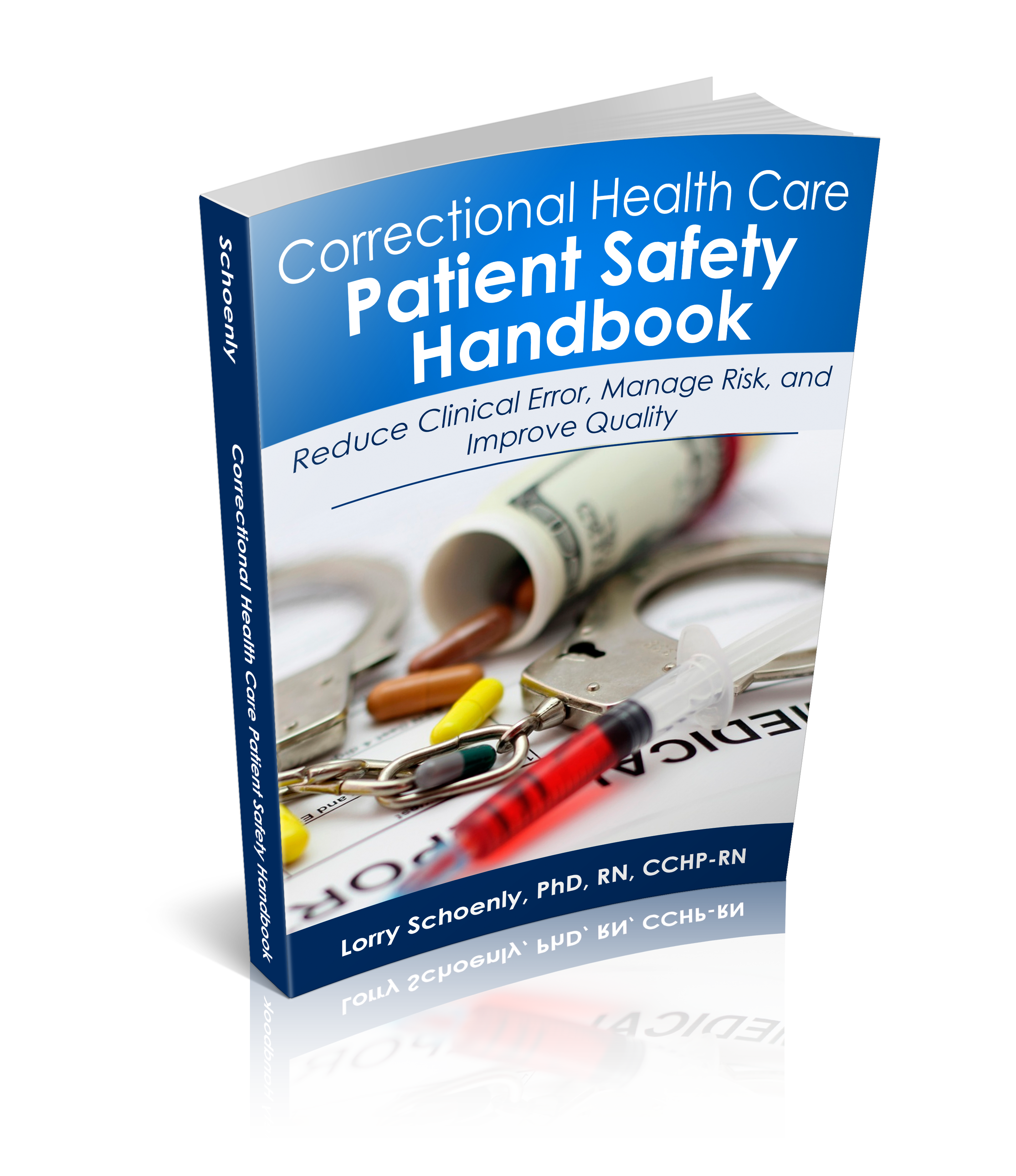 Photo Credit: © Tsiumpa