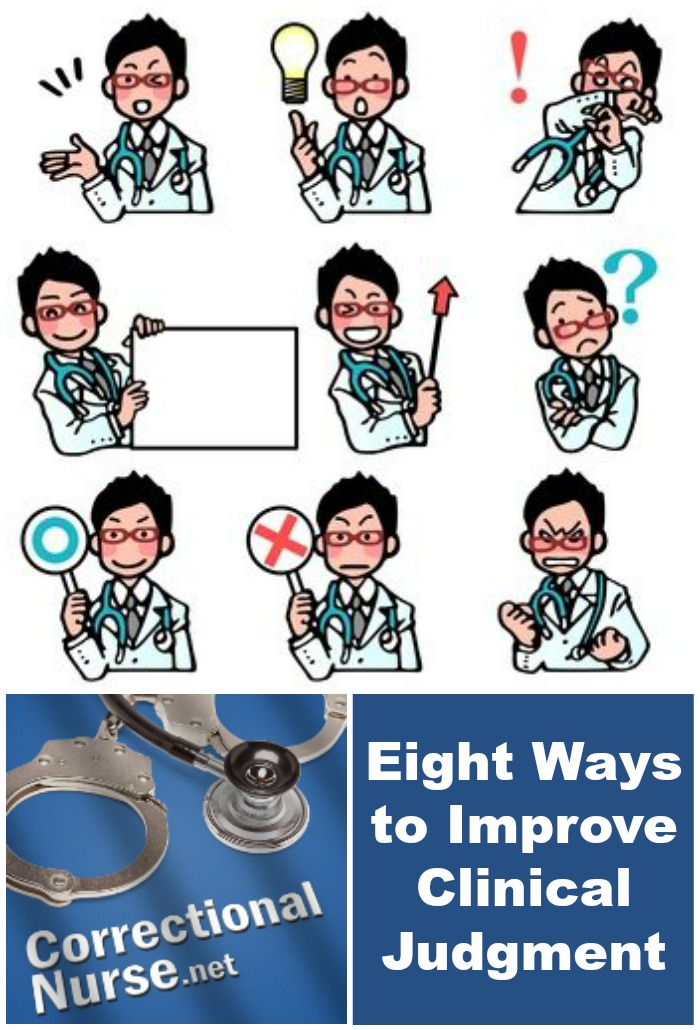 Although every nursing specialty has its challenges, correctional nursing involves complex situations that can appear simple, but aren't. There are many unknown factors in sizing up a situation. Correctional nurses are most-often the first healthcare provider to see the patient situation. As a gatekeeper, the nurse must make a fairly autonomous judgment on what needs to be done and who needs to be involved. Therefore, clinical judgment skills are absolutely essential for nurses working behind bars. Recent posts have discussed the vital role of clinical judgment, reasons correctional nurses need clinical judgment, and clinical judgment booby traps to avoid. In this final post of the series, we are turning to ways to improve clinical judgment. Incorporate these methods from traditional clinical settings and educational programs to improve your clinical judgment and that of nurses you work with.
Clinical Practices
 Case Review
Case review is one of the best ways to develop clinical judgment, especially with nurses new to the specialty. Although you can use cases developed purposefully it may be even better to include review of actual cases as a regular part of the process of unit management. For example, reviewing actions, reactions, and interactions of a recent complex or emergent patient situation can allow nursing staff an opportunity to learn from the experience and from each other. Much can be gained by providing an opportunity for staff to dialog about clinical judgment and reflect on their practice and the practice of others. Of course, this dialog must be carefully facilitated so that team members develop abilities to critically review a case without being critical of each other. You want this to be an empowering experience rather than a disempowering one. Careful guidance is needed until staff develop the skills necessary to be encouraging, purposeful, and thoughtful in their dialog.
Peer Review
Guided peer review is another way in which staff can develop clinical judgment skills. Similar to traditional physician peer-review, nursing peer review is a analysis of written documentation of past patient care on an individual practice basis. This process, by the way, is also helpful to encourage more thorough documentation. Learn more about nursing peer review in corrections from this series.
Reflection
Reflective practice is another clinical activity encouraging development of clinical judgment. Reflection on an actual significant clinical experience such as an unexpected death or near-miss experience can yield a wealth of wisdom for the nurses involved. By guiding the discussion toward analysis and synthesis of information, the experience can expand both individual and group learning. New staff members can be asked to keep a journal of their patient experiences that is reviewed periodically with the nurse manager or a senior staff member. The journal activity helps with reflection and the documentation can guide discussion into deeper meanings of assessments or a better understanding of facility processes.
Simulation
Another clinical activity that builds clinical judgment is simulation. Simulation allows a safe practice experience while developing procedural skill and team kills in collaboration and coordination of care. Use the disaster drill and man-down simulations to encourage clinical judgment development. Debrief the simulations as you would an actual experience and guide staff to truly think about why various decisions were made.
Educational Practices
Clinical judgment development can also be infused into standard educational programming. Many in-services involve a lot of information with little application. Instead, a better way is to provide foundational information and then engage staff in a dialog about how to apply this information in practical and realistic situations. An example of how not to do this is an inservice I taught on dealing with chest pain in correctional settings. It had a ton of information about assessment, interventions, and facility policy. We even talked about how to deal with the on-call physician. Participants left with a head full of what and how but not much application or critical thinking about dealing with chest pain. Here are some ways this program could have been improved to help develop clinical judgment.
Dialogue
Adding interaction and dialog to a learning experience engages the learners in thinking and applying the information. Providing real life examples and cases is an excellent way to encourage discussion.
Probing Questions
Probing questions combine with interactive dialogue to fully engage participants. A probing questions looks beyond yes or no and moves the thinker from reaction to reflection. Questions such as "What do you think would happen if……" or "Why do you think that might happen?" encourage learners to analyze a situation and work through possible solutions.
Mind Mapping
Mind mapping, also called concept mapping, is a creative method of displaying information and how it connects together. This process is gaining popularity in undergraduate nursing programs to help students think about the various elements of a clinical situation. Why not use it with practicing nurses? A mind map is a visual organization around a core concept. Here is an example of a mind map developed during a presentation on chest trauma.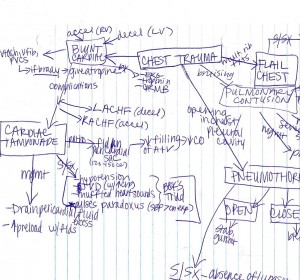 Algorhythms
An algorhythm is a decision tree that guides through a particular situation. While a mind map is based on relationship of information, an algorhythm is a decision tree and is expressed in a linear fashion, often answering questions of yes or no and then moving on. This example is from an ACLS course on responding to bradycardia. For the chest pain inservice I described earlier, I might have asked participants to develop algorhythms for respond to chest pain.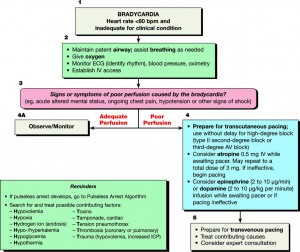 The key to clinical judgment development in an educational setting is to engage the learner with the thinking processes and to reflect on their own practice and how they might incorporate this new knowledge into their practice.
Do you have ideas for how to apply these eight processes in clinical and educational practices in your setting?
Photo Credit: © ぶぶたん – Fotolia.com