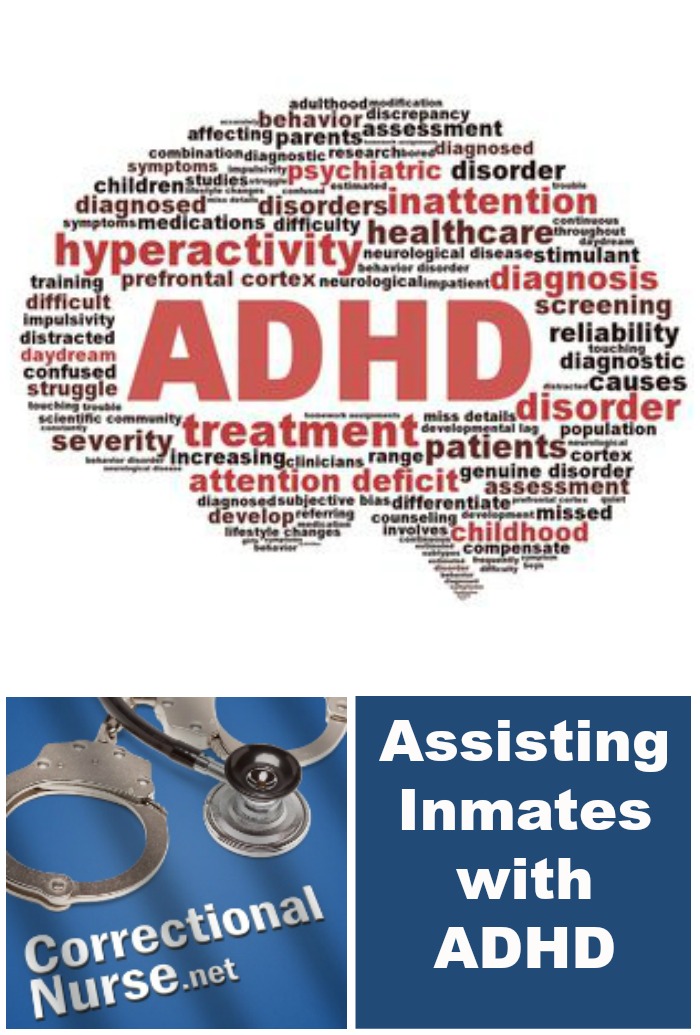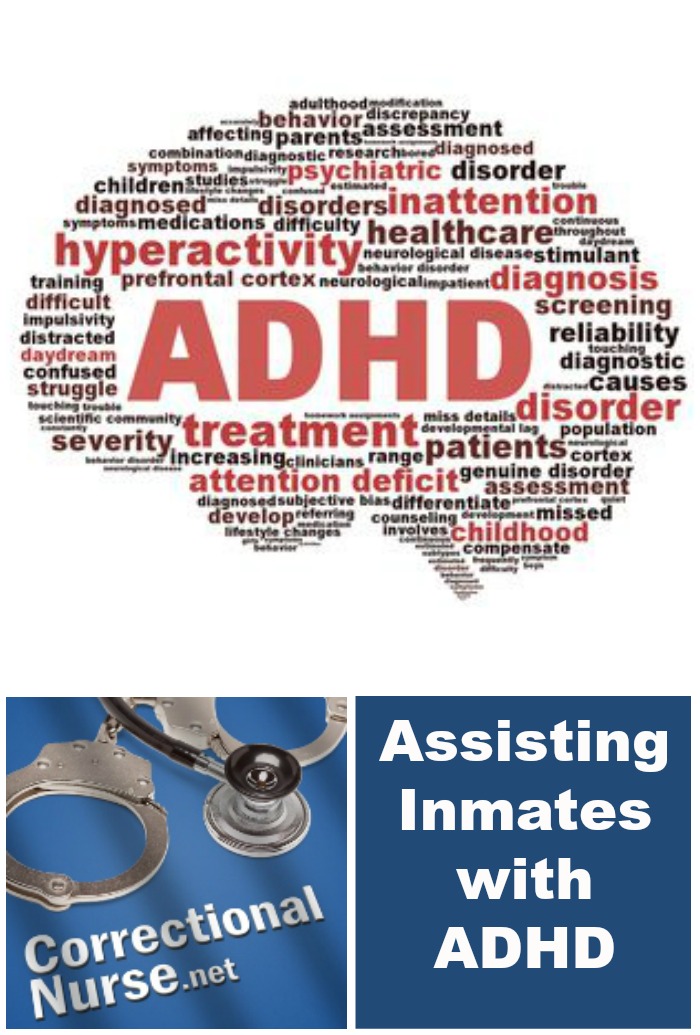 According to the experts, one in five of your inmate patients has Attention Deficit Hyperactivity Disorder (ADHD). Do you know how to spot them and how to help them? This condition affects both the security and health care aspects of your patient population. Although ADHD is a widely recognized chronic neurobehavioral disorder, many of us working in the correctional setting are ill prepared to help our patients navigate the system with this disability. ADHD had been connection with Post Traumatic Stress Disorder (PTSD) and is found to co-occur with mental illnesses such as depression, general anxiety disorder, alcohol or cannabis dependence.
Janet Kramer, MD, FACP, Co-Chair, The Attention Deficit Disorder Association, ADHD and Corrections/Justice Work Group, advised a group of correctional healthcare professionals on the condition at the Winter Conference of the American Correctional Association (ACA).  One barrier to ADHD treatment, she said, is skepticism of the validity of this diagnosis, although there is substantial evidence for the claim. Doubts about the diagnosis can delay treatment due to hesitancy to prescribe medication or to making security accommodations for those with the condition. However, incorporating screening, effective treatment, and program models in the correctional setting can assist inmates with ADHD to weather incarceration and successfully re-enter society.
Inmates with ADHD can find incarceration particularly challenging as they frequently incur penalties while behind bars due to their inability to conform to the military-like environment and the inflexible lifestyle. For example, the inmate might be detained for a simple violation such as jaywalking but find themselves in administrative segregation for acting out. Once in the correctional system, an individual with ADHD can become entrenched in the system when they don't follow orders.
Inmates with ADHD can be spotted by their characteristic behaviors. These individuals have trouble following directions, don't pay attention, and in conversation often change the subject to something unrelated. You are likely to note this during intake screening. In addition, those with this condition typically show opposition to whatever is said and have a disrespect for authority.
Kramer recommends the use of the six screening questions from the Adult Self Report Scale (ASRS) during intake. This screening is brief and can provide the information needed to spot likely ADHD and steer candidates to further evaluation and treatment.
Adult Self Report Scale Questions
How often do you have difficulty getting things in order when you have to do a task that requires organization?
When you have a task that requires a lot of thought, how often do you avoid or delay getting started?
How often are you distracted by activity or noise around you?
How often do you leave your seat in meetings or other situations in which you are expected to remain seated?
How often do you feel restless or fidgety?
Treatment Goals
A primary goal of treatment is the reduction of symptoms such as inattentiveness, physical restlessness, impulsive responding and mood instability. If ADHD is treated appropriately there will also be improvements in co-occurring disorders. Primary treatment categories include pharmacological and psychological interventions.
Pharmacological: Medication is still the gold standard for ADHD treatment. First line intervention is stimulant medication such as methylphenidate and amphetamines. Unfortunately, stimulants are often prohibited in the correctional setting. Liquid formulations are currently in development to reduce the concerns for contraband and other abuse. Right now the only FDA-approved non-stimulant medication for ADHD is atomoxetine. It is, at this time, cost-prohibitive for most correctional systems.
Psychological: Cognitive behavioral therapy (CBT) and psycho-educational activities are helpful, but many systems are not organized or funded to provide these therapies. Kramer also recommended life coaching programs, as well.
With up to 20% of our patient population likely to have this condition, ADHD screening and intervention is an important correctional nursing priority. How is your facility handling this condition? Share your experiences in the comments section of this post.
Photo Credit: © paradox – Fotolia.com