Sleep apnea is increasing in prisons as our patients age. At the American Correctional Association (ACA) Winter Meeting in Houston this week, James Greer, MSN, RN, spoke of efforts to manage this condition underway in the Wisconsin Prison System. Greer is Director for the Bureau of Health Services in the state's Department of Corrections. Wisconsin currently has 450 inmates on CPAP and 70 on oxygen concentrators. That's a lot of treatment and equipment management in a secure setting. He had some great ideas to share about how to get this condition under control.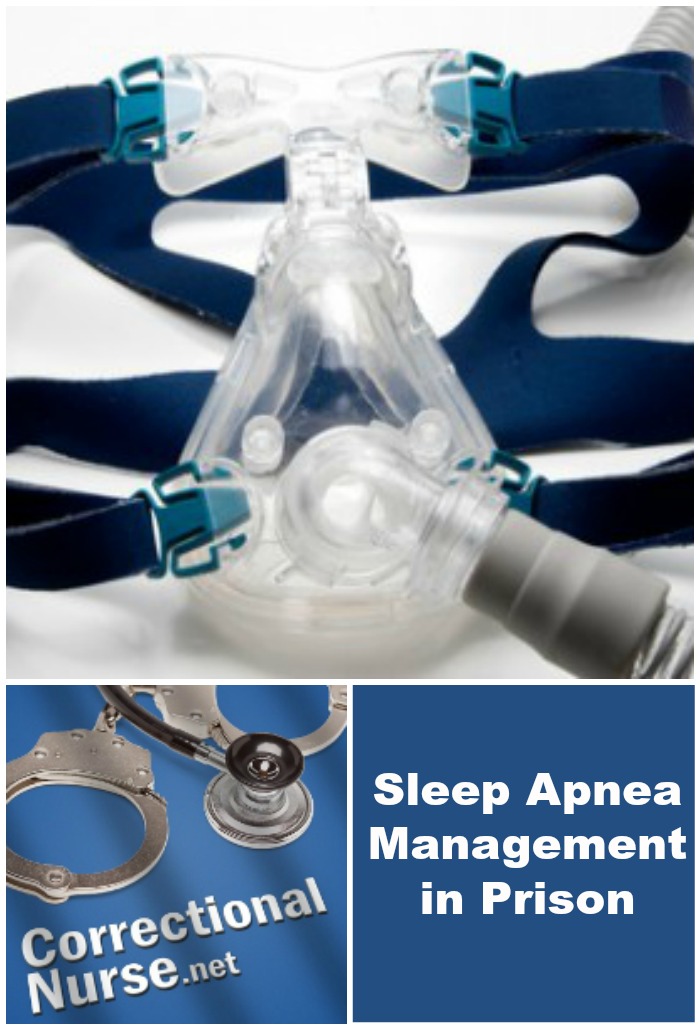 According to some studies, 20-30% of the US population between the ages of 30-60 have sleep apnea. This condition is characterized by loud snoring, oxygen desaturation, and frequent arousals from sleep. It is caused by complete or partial obstruction of the airway during sleep; resulting in nighttime gasping and choking, daytime sleepiness, and progressive fatigue. Taking measures to control this condition has long-term benefit as sleep apnea has been linked to diabetes, heart conditions, and obesity.
Greer offered three broad categories of opportunity for improvement in managing sleep apnea in prison. Through efforts in this area, patient outcomes have progressed and care costs have been significantly reduced.
Standardizing Delivery Systems
Key to success was implementing a consistent program for screening and evaluating for sleep apnea. WI uses the Epworth Sleepiness Scale to determine the need for an expensive sleep study.
Greer negotiated with study providers for the best price for the whole prison system on sleep studies. He did the same thing for CPAP machines; now using a single make and model across the system.
CPAP supplies such as tubing and masks also standardized and replaced every 6 months. This was a great cost savings.
All equipment and supplies were standardized and centralized through Pharmacy rather than various medical equipment companies. This increased convenience and shortened equipment ordering and delivery time.
Greer found that nursing staff were not familiar with sleep apnea treatment or patient teaching. Staff education and patient teaching resources were helpful.
A dedicated respiratory therapist was hired. The therapist was a resource to the nursing staff and provided oversight to the program.
Behavioral management of sleep apnea was maximized. This included weight loss, good sleep hygiene, learning to sleep
Collaborating with Security
One difficulty to overcome was the lack of electrical plugs in cells at many sites. Housing reassignments were sometimes needed.
In addition, the extra property in the cell and potential for improper use of CPAP machines needed to be addressed with security management.
By engaging prison administration, Greer was able to influence the adjustment of drug testing times so that inmates were not awakened at night for urine testing. This schedule change enhanced sleeping for those involve.
Involving the Patient
Noncompliance and incorrect use of the CPAP machine was the greatest hurdle at the patient level.
Inmates were found to be creatively using the machine for other needs. One patient used it for a hair dryer. Another patient used the machine to humidify the cell.
Some inmates did not use their CPAP but by having one they were able to garner a lower bunk assignment.
According to Greer, focus on machine use helped to eliminate 30-40 CPAP machines from the cells.
Inmates who were regularly using their machines were taught to properly dry the tubing and masks daily to reduce infection and extend usability.
Inmate complaints decreased significantly once the program was in place.
Managing sleep apnea in a secure setting is challenging. The WI DOC experience shows how a focus on patient need, standardization of processes, and collaboration with security can improve health care provision.
How are you managing sleep apnea in your setting? Share your thoughts in the comments section of this post.
Photo Credit: © Rob Byron – Fotolia.com