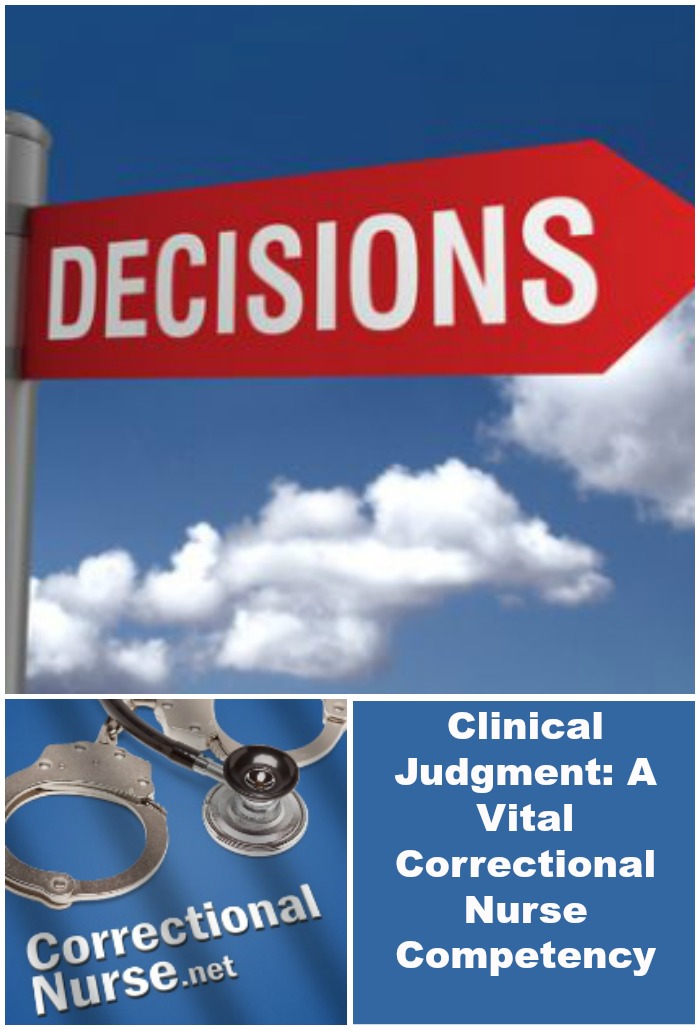 Rhonda has been called to the booking area to medically screen a 44 year old man brought by the police on charges of driving a stolen vehicle and drinking while driving. On the way to jail he hit his head on the window of the squad car. Approaching the area she sees an obese white male, hands cuffed behind his back, leaning facedown on the booking counter, propped up by two police. The man is yelling that he is going to faint and can't breathe.  A chair is brought so he can sit and Rhonda notes that he is diaphoretic and flushed in the face. He reports that he has prescriptions for two inhalers but otherwise has no medical problems. His voice tone is belligerent and he is dressed in shorts, a t-shirt and sandals;  inappropriate for the winter weather. Rhonda can see that his legs and feet are mottled and swollen. He also has a swollen area over his eyebrow on the right side and the eye on that side is swollen shut. There are four policemen waiting for the nurse to screen the arrestee and another six custody officers waiting to proceed with booking. 
Christine Tanner, a nurse researcher, has studied expert nurses to determine components of clinical judgment and when it is most specifically needed. She found that clinical judgment skills were particularly important when
The clinical problem or concern is undetermined;
The presenting data is ambiguous; and
When the situation presents conflicts among individuals with competing interests
Our case above has all three elements. Rhonda has a problem to solve and she needs to do it quickly amidst competing interests – the patient's, the police, and the correctional officers. The patient condition is undetermined at the moment. Rhonda cannot merely review the patient's medical record for a list of diagnoses. His presenting data is ambiguous and non-specific. The clock is ticking and the pressure is on.
Tanner reviewed 200 studies on clinical judgment in nursing practice. From this review she concluded that a nursing clinical judgment involved the following components:
Gaining a grasp of the situation holistically
Seeking an understanding of the situation which is beyond just the objective findings on assessment
Considering factors contributing to the presentation
Attending to the patient's response to the nurse
Deciding an appropriate course of action
Reviewing outcomes and making changes as needed
What clinical judgment do you think Rhonda made in this situation? Even though there was pressure to book the man, she was concerned about a concussion and his respiratory condition. She did not approve him medically for booking and he was sent on to the hospital emergency room. There it was discovered that, although he was intoxicated, he did have a mild concussion, and, more importantly, was discovered to have moderate congestive heart failure. He was in the hospital for over a week.
Have you had a challenging patient presentation that seemed ambiguous at the time or had competing interests to consider? Share your story in the comments section of this post.
Photo Credit: © mstanley13 – Fotolia.com