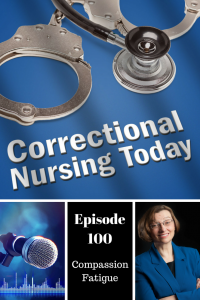 Sonya Khilnani, PhD, CCHP, a licensed clinical psychologist and behavioral health manager for Corizon in Brentwood, TN, joins Lorry to talk about compassion fatigue in correctional health care practice. This was the topic of an article she wrote for the Spring 2015 CorrectCare magazine.
Telltale Signs of Compassion Fatigue
We are in a 'sea of trauma' in the correctional setting as many in the patient population have past and present traumatic history. This vicarious exposure to trauma results in work stress over time. Unlike other causes of burnout such as long work hours or coworker strife, compassion fatigue is caused by absorbing trauma from our patients and being drained through helping and 'caring for' traumatized patients. A nurse who also has a traumatic past will be at an elevated risk of empathizing with patients and, thus, triggering memories that enhances the potential for compassion fatigue.
Signs of compassion fatigue include:
Social isolation
Sleep difficulty
Nightmares
Drug or alcohol overuse
Don't Neglect Yourself!
Intentional self-care is important to prevent compassion fatigue. Being mindful of our own mental and emotional health is a first step. It is vital, then, to regularly reflect on your own practice. Counseling may be helpful and available through the employer.
Self-care activities can include:
Openly share about challenges with other staff
Education about compassion fatigue
Regular physical exercise
Meditation or relaxation
Set limits and calendar in 'me' time to recenter yourself and replenish your reserves. Hobbies or recreational activities could be helpful.
Episode 100 Celebration!
Fellow nurse podcasters Jamie Davis of The Nursing Show, Rachel Silva of The Nurse Practitioner Show, and Keith Carlson of The Nurse Keith Show, send greetings and congratulations on Correctional Nursing Today's reaching 100 episodes.
Links Mentioned in the Podcast
Blog Post: Ways Your Patient Can Help You Avoid a Medication Error
Additional Information
Read Lorry's vintage post Correctional Nurse Self-Care: Preventing Compassion Fatigue on the Essentials of Correctional Nursing Blog.
How are you dealing with compassion fatigue? Share your tips in the comments section of this post.