An RN calls the hospital for discharge information on a patient transported back to the prison infirmary from the local hospital after his jaw was wired following an inmate brawl in the exercise yard. The emergency room nurse refused to provide any information stating it would be a violation of HIPAA. She instructs the prison RN  to obtain any information she needs from the patient himself.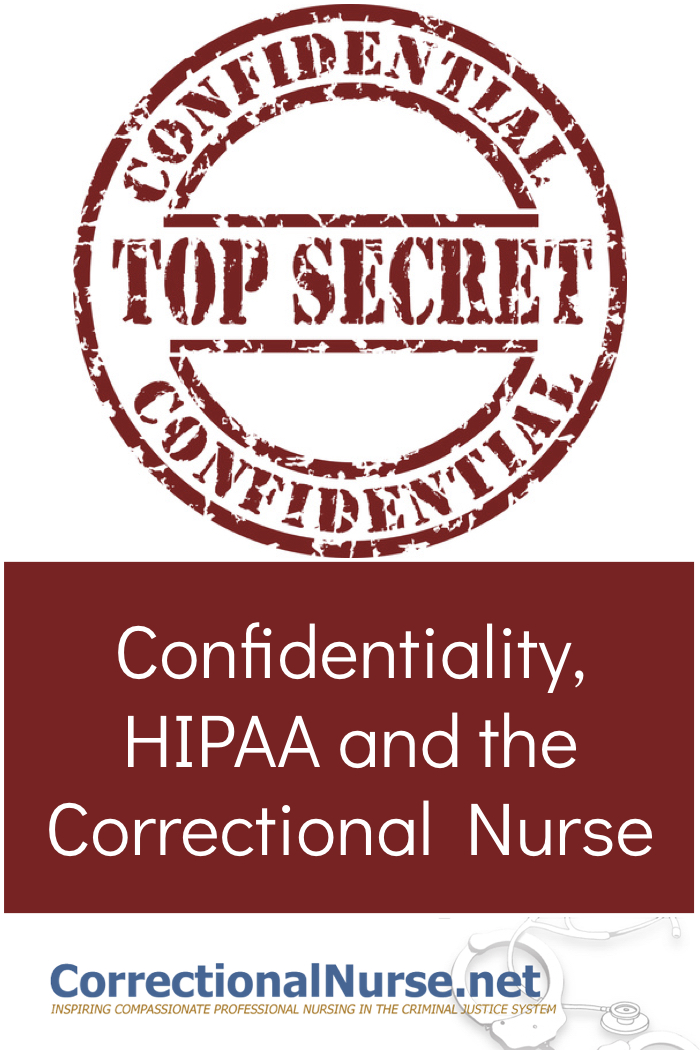 An NP is reprimanded for telling a housi
ng officer that one of the inmates is a severe diabetic and needs his evening snack on time.
Confidentiality of patient health information has always been a concern for nursing. Valuing patient privacy is an ethical imperative, even in the correctional setting. In recent years the Health Insurance Portability and Accountability Act (HIPAA) has moved healthcare information confidentiality to a legal concern for nurses. In particular, HIPAA regulations ensure that private health information is not released to any third party without the patient's permission .
Disclosure of medical information may be necessary for the health and safety of both the patient and the large patient community within a security facility. Officers may need to know about medical conditions or disabilities that require special equipment or scheduled appointments. Some medication side effects require additional attention or changes in work duty. Joint surgery may limit movements or abilities that security needs to be aware of. Foruntately HIPAA regulations take into account the need for some information sharing within the correctional setting and have spelled this out is the 45 C.F.R. 164.512 (k) (5) (i) section of the code.
HIPAA Permitted Disclosure to Correctional Institutions
If the correctional institution represents that such protected health information is necessary for:
The provision of health care to such individuals
The health and safety of such individuals or other inmates
The health and safety of the officers or employees of or others at the correctional institution
The health and safety of such individuals and officers or other persons responsible for the transporting of inmates or their transfer from one institution, facility, or setting to another
Law enforcement on the premises of the correctional institution
The administration and maintenance of the safety , security, and good order of the correctional institution
According to this section of HIPAA regulations, an ER nurse can confidently share health information with the receiving nurse in the prison infirmary and a nurse practitioner can alert an officer to a health need of an inmate in his charge.
Many in corrections are confused about how to implement HIPAA regulations and the boundaries of patient privacy and confidentiality of medical information. Share your experiences in the comments section.
Photo Credit: © mirabile – Fotolia.com
If you like this post, you might like:
Correctional Nurse Perspective: Inmate or Patient?
Should Correctional Nurses be Compassionate?
Correctional Nurse Guide to the Code of Ethics: Relationship to Patients
Take Three Minutes to Learn About Civil Rights Claims
Correctional Nurse Legal Briefs: Common Areas of Nursing Malpractice Claims