Chest pain is a common complaint in the correctional environment, as it is in the larger community. We, perhaps, are better suited than our community colleagues to address complaints of chest pain, because we have the ability to monitor our patients closely. Many individuals today are aware that chest pain may signal a potentially life-threatening condition and quickly bring it to our attention. Others may minimize the seriousness of chest pain until it is at a critical level. We must remember that the feeling of pain varies greatly from individual to individual, based upon physiological factors and even demographics, such as gender. Our obligation to the person complaining of chest pain is to obtain a thorough history, do a thorough physical evaluation, report any abnormal findings to the provider, implement any orders received, and monitor the patient as needed.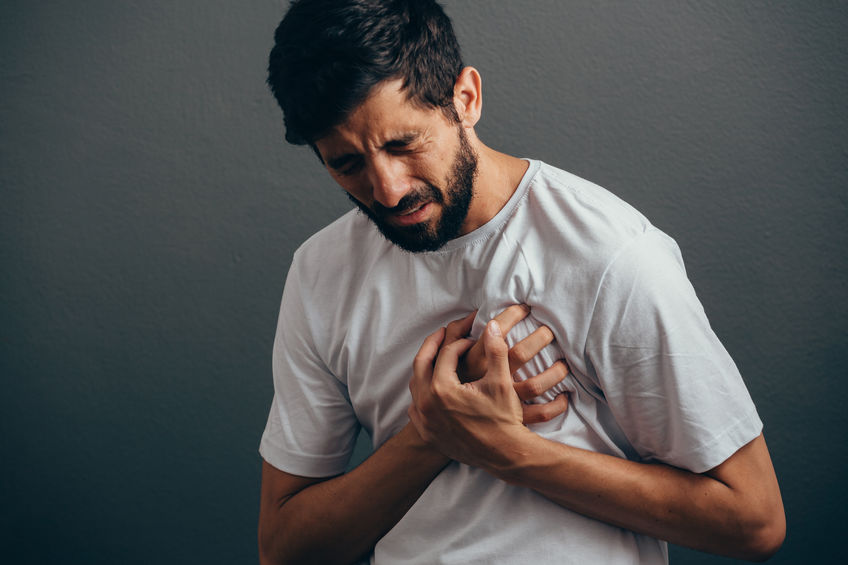 Nursing Protocols/Guidelines
Many facilities have a Nursing Protocol/Guideline to follow for the patient with a complaint of chest pain,  and it is very important to follow it.  If you do not have a Chest Pain Protocol/Guideline at your facility, then it is a good idea for you to jot down important questions to ask your patient presenting with chest pain, so that you have the necessary information for the provider to make his/her determination about the patient's treatment plan.  This may be something that would be best developed with your provider.
 Thoroughness and consistency in patient care are very important, and this is often easier to achieve with a standardized process. Your documentation should also reflect this.
What Can Cause Chest Pain?
It is important to know the different conditions that may cause chest pain or discomfort, because that knowledge will help determine the appropriate questions to ask. Conditions that may cause chest pain or chest discomfort include those associated with the cardiovascular system, the pulmonary system, the musculoskeletal system and the neurological system. Conditions that are emergent include acute coronary syndromes (MI and unstable angina), aortic dissection/aneurysm rupture, tension pneumothorax, esophageal rupture and pulmonary embolism. The most common reasons for chest pain include costochondritis, muscle strain in the chest/side area, pleurisy, GERD, ulcer disease, gall stones, pancreatitis and stable angina.
Important Information
Important information to ascertain from your patient includes the location, duration, character and quality of the pain. He should be asked what he was doing when the pain started, and if there is anything that makes it worse or better. Is the pain associated with other symptoms, like nausea, vomiting, syncope, dizziness, heart palpitations, cough or the presence of fever? Has this chest pain happened before, and if so, when, where, etc. If he has had this chest pain before, what was the diagnosis [Caution: even if the patient has been diagnosed with a condition associated with the same type chest pain, i.e. GERD, it is crucial that you continue your full history and evaluation and contact the provider. Individuals with GERD can also have a myocardial infarction!]? The patient's family history and personal health history should be recorded.
Physical Evaluation
The physical evaluation of the patient complaining of chest pain should include a full set of vital signs, auscultation of the lungs and heart, inspection of the chest and back; evaluation of the abdomen – inspection, auscultation and palpation;  evaluation of the extremities (swelling, erythema, tenderness) and any other area that the patient has noted an associated problem during the history, and the usual evaluation of skin, neurological function, and mental status.
After obtaining this information, the provider should be contacted.
Red Flags
"Red Flag" symptoms that may indicate a more serious cause of chest pain include abnormal vital signs, including hypotension, bradycardia, hypertension, tachycardia, and tachypnea; signs of poor perfusion, like an ashen color, confusion, and diaphoresis; shortness of breath; a low oxygen saturation; breath sounds or pulses that are asymmetrical; the auscultation of new heart murmurs; and a pulsus paradoxus greater than 10 mm Hg. The presence of these require an immediate call to the provider, or 911.
Our Correctional Environment
In the correctional environment, patients may make a complaint of chest pain in the hope that they will get to go for evaluation in the local emergency department. As the nurses caring for these patients, it is our job to gather the information in a thorough and objective manner and share it with the provider. In some facilities, patients can be monitored in medical observation/infirmary and testing such as the bedside serial troponin levels can be done without sending someone out. Most facilities have EKG machines and the ability to have the EKG read right away by either a cardiologist or their own provider. This is helpful to determine whether the patient needs further assessment, diagnostic testing and treatment at the emergency department. If the patient is diagnosed with a non-cardiac chest pain, and the provider orders medication, it is good practice to follow-up with the patient in the next 24-48 hours to make sure that the treatment is effective.
Be sure to check out A Tale of Two Chest Pains at Nursing Behind the Wall!
Please share your correctional nurse stories about caring for a patient who presented with a complaint of chest pain below.