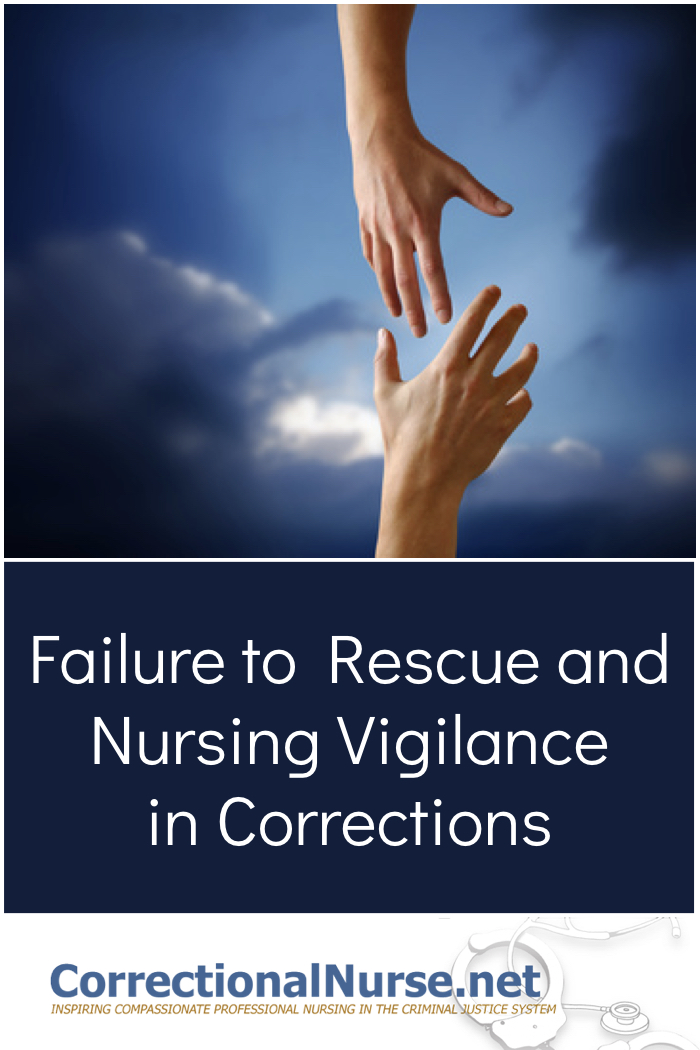 Failure to Rescue has emerged as an issue in the patient safety movement and is now being addressed as it applies to correctional nursing. I wrote about it last fall and have continued to consider how this concept impacts practice in our specialty. This morning I attended a session in the Updates in Correctional Healthcare presented by Sue Smith, MSN, RN, CCHP-RN, whom I interviewed last year on Correctional Nursing Today. Sue presented a case study based on an actual situation involving an inmate who frequently complained of chest pain without an actual medical event. After multiple episodes he again complained of chest pain. The nurse was busy and said she would assess him after completing the intakes that were at hand. We all know the ending to this story – the patient was really having an MI this time and expired before the nurse arrived to assess and render care. Correctional nursing practice seems a specialty particularly vulnerable to this phenomenon.
Failure to rescue is defined as the inability to save a patient's life when the patient is experiencing a life threatening event.  Although it originally began as a general term, it now has focused on nursing care as nurses are usually the vigilant individual at the bedside monitoring patients or, as in the case of corrections, the first and main staff member to see and evaluate an inmate-patient. Failure to rescue often involves a patient under care for a noncritical medical condition who began to show signs of an impending issue. The nurses failed to connect the dots or report the condition up the chain of command. The following factors have been found to contribute to rescue failure:
Staffing issues: Not enough staff to allow the nurse to focus on monitoring symptoms rather than just tasks
Levels of licensures: Expecting higher level functioning from staff members with limited scopes of practice such as LPN or LVN staff
Levels of Experience: Inexperienced nurses who are refining their skills may overlook issues and symptoms. Ability to analyze patterns and symptoms to respond appropriately. However, there can be a downside to experience as it can lead to tunnel vision and mental short-cuts. We can see this in correctional practice as we deal frequently with inmates who may be manipulating the system for secondary gain.
Task orientation: Overly concerned with getting tasks done make staff too busy to notice.
Nursing requires engaged analysis and trending of information to make meaning of assessment and response data presented to us by our patients.
Another issue leading to failure to rescue is the communication system among care providers including the nurse/physician relationship. I talked about communication in an earlier post. If nurses are hesitant about contacting the physician provider or nurse practitioner, the.y may not respond to subtle changes in a patient's status
Security concerns can restrict your access to the supplies you need to initiate action. This can discourage action when so many tasks are at hand that much be done.
The frequency of emergency assessments can reduce vigilance. If nurses are interrupted constantly in duty performance, patient error can result.
Our inmate patients lend toward failure to rescue – they can be hard to care about, manipulative, have hidden agendas and potential for violence. To what degree does this affect our ability to provide vigilant nursing care? An interesting question to ponder.
This was an intriguing presentation. Do you think failure to rescue is a concern in corrections?
Photo Credit: © James Thew – Fotolia.com
If you like this post, you might like:
Understanding Your Patients: The Inmate Subculture
Ethics in the Practice of Correctional Health Care 
Correctional Nurse Guide to the Code of Ethics: Relationship to Patients
ANA Shakes Up the Code of Ethics for Nurses
The Correctional Nurses' Guide to the Code of Ethics