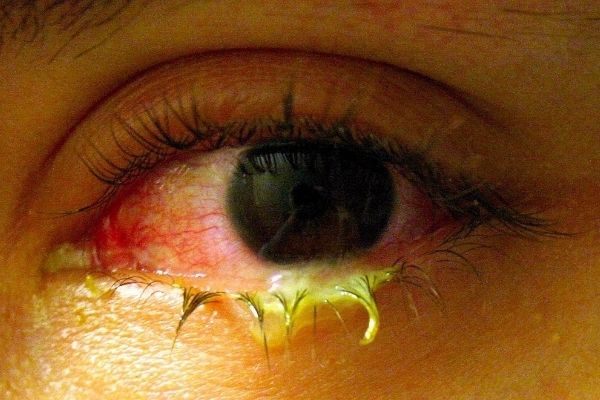 The complaint of red eye is common in the correctional environment. It may or may not be associated with vision changes or complete visual loss. Most causes of red eye are self-limiting, but it is crucial that a thorough history and examination be conducted. Evaluation of red eye begins with a focused history (Subjective) that includes the onset, location (one or both eyes affected), any associated pain, vision loss, discharge, photophobia, swelling, tearing, itchiness, and recent cold, cough, exposure to chemicals, or eye trauma. The objective evaluation of the patient with red eye should include a visual acuity test; a complete set of vital signs; an observation of the pupil, sclera, conjunctiva, eyelids; a description of any discharge; palpation of the pre-auricular, cervical and submandibular lymph nodes, and auscultation of the heart and lungs. It should also include assessment of any other complaint by the patient, such as ear pain, sore throat or nasal discharge.
Red eye may be caused by a number of underlying conditions, including conjunctivitis, blepharitis, chalazion, hordeolum and uveitis. A patient with a red, painful eye and vision changes should be considered to have an emergent medical problem that needs to be discussed with a provider immediately.
CONJUNCTIVITIS
Conjunctivitis, an inflammation of the conjunctiva, is the most common cause of red eye complaints. The cause of conjunctivitis may be viruses, bacteria, allergies or chemicals.
Viral
Viral conjunctivitis typically presents as a foreign body or gritty feeling in the affected eye without pain. Visual acuity is unaffected. There is redness, tearing and usually a thin, watery discharge. The pre-auricular nodes are palpable. The patient may complain of photophobia and the eyelid(s) may be swollen. The patient history may include a recent Upper Respiratory Infection.
Bacterial
Bacterial conjunctivitis most commonly presents with a burning or gritty sensation in the affected eye without pain. Visual acuity is unaffected. There may be mild erythema of the eyelid. The discharge is mucopurulent and usually very thick, and the patient may report significant "sticking" of the eyelids after sleep. The discharge may be white, yellow and sometimes greenish. The pre-auricular nodes are usually non-palpable, although in cases infected with N gonorrhea they may be palpated. There is usually no complaint of "itchiness" or recent Upper Respiratory Infection.
Allergic
Allergic conjunctivitis presents with an itchy sensation in the affected eye without pain. Usually, both eyes are affected. The discharge may be ropy and mucoid or watery and thin. There is redness, and the mucosa is cobblestone in appearance. Visual acuity is unaffected. Pre-auricular nodes are normal/unpalpable. Patients with allergic conjunctivitis usually report recurrent episodes and seasonal allergies.
Chemical
Chemical conjunctivitis is the result of exposure to irritants like chlorine in swimming pools, air pollution and noxious chemicals. Tearing of the affected eye without visual acuity changes may occur. Diagnosis is made by history of exposure.
Nursing Interventions*
Patient assessment, patient education, medication administration and monitoring the patient's condition are the primary nursing interventions for the patient with conjunctivitis. Warm compresses may be applied to the affected eye for comfort. Medication is most often prescribed as ointment or drops that are placed in the affected eye, but in cases where the condition is unresponsive to topical medications, oral medication may be prescribed. Topical medications may be prescribed for administration as often as four times daily, which may mean patients in the correctional environment will have to have additional medpass times, or they will be placed on a Keep-On-Person/Self-Administered Medication regimen. Affected eyes should not be irrigated, as this can increase the spread of infection. The patient with conjunctivitis should be seen for follow-up in 2-3 days to ensure that they are improving.
Patient Education
Patient education for the patient with conjunctivitis includes proper hand washing technique and the proper instillation of eye drops and eye ointments. Patients should be reminded that it is important to complete the course of medication prescribed, even if they are feeling better in a few days. Disease transmission should be discussed, and patients should be cautioned that rubbing the affected eye may cause the infection to spread to the other eye or to other people. In addition, sharing items such as towels and washcloths may also cause others to become infected. Eye make-up (yes, you know that there is "eye makeup" in our correctional facilities!) and contact lens should not be used until the infection is completely gone.
*As always, your company or facility policies, procedures and Nursing Protocols/Guidelines take precedence over any written recommendations on this website.
Have you dealt with an interesting case of conjunctivitis? Please share your experiences in the comments section of this post.