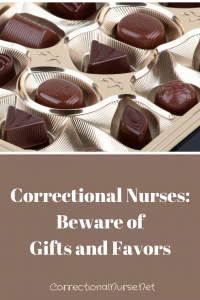 In my early nursing career, I worked in several hospitals and sometimes received gifts of appreciation from patients. Maybe you have, too. We usually shared our candy and cookies with all the staff at the nurses' station. Providing care and treatment to patients is a nurse's work and we don't expect gifts from our patients in return, but some patients want to show appreciation. It is a natural part of working with the public. In correctional health care, accepting gifts or favors from patients can be dangerous.
In his book, Influence: The Psychology of Persuasion, Dr. Robert Cialdini describes a psychological principle that can get you into trouble if you are not careful. While not all correctional patients are manipulative, a segment of this patient population is adept at using persuasive practices to get what they want. An uninformed or inattentive correctional nurse is an easy target. Be alert for these situations and don't fall for them.
Reciprocity – The Secret Tug
Do you feel guilty if a neighbor gives you a plate of cookies over the holiday and you don't have something for them in return? If you take a sample of cheese at the deli counter, do you feel you need to purchase even a small amount in return? That is the psychological pull of reciprocity. We naturally feel we need to respond in kind to a favor or a gift. This is why most correctional settings do not allow staff to accept even the smallest of gifts from an inmate.
Having received a gift from a patient, nurses sensitive to the reciprocity principle are open to provide something in return. A manipulative inmate will use this vulnerability to their advantage; often starting by requesting a small favor in return. This favor is likely to be against a rule or facility policy. Once a staff member has broken a rule, an inmate can use that action to increase demands for greater and greater rule infraction.
No Favors, Please!
Gifts are not the only area where reciprocity becomes a concern. Favors also lend themselves to the reciprocity rule. Once a patient has done a 'favor' for you, your relationship has changed and a mental bank exchange has taken place. Your mind automatically places you in debt toward the patient; who will look to have the favor repaid. Therefore, never ask an inmate for a favor. Limit these types of requests to staff members where reciprocity will not be an issue.
Some inmates, however, will perform favors for you without a request and will still try to use them as leverage to get a return favor from you. Do not fall for this! You have no obligation to return a favor to an inmate patient. Here are some ways to respond to uninvited favors:
Thank you, but I did not request that you do this. Please do not do it again.
I cannot accept this favor from you. Please do not do it again.
It is against policy for you to do this. Please do not do it again.
Notice that each time, the response includes a request that it does not happen again. This is important. Given the benefit of doubt, the patient may not be attempting to manipulate a situation. A first attempt may be in error. A second attempt at providing a gift or favor is not; especially after you have made it clear that they should not do it again. Facility policy may differ on whether an uninvited favor from an inmate must be reported. However, someone needs to know about a favor that is repeated after being told to stop. Keep patient interactions like this out in the open to protect yourself.
How does your facility handle gifts and favors? Share your thoughts in the comments section of this post.