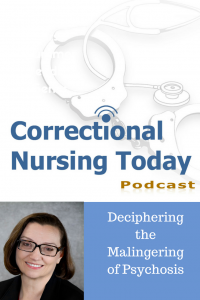 Melissa Caldwell, PhD, CCHP, a clinical psychologist and Director of Mental Health Services for Advanced Correctional Healthcare in Peoria, Illinois, joins Lorry to talk about this important correctional health care concern.  She presented a session called Tell Me How You Really Feel: A Guide to Deciphering the Malingering of Psychosis at the 2017 NCCHC National Conference on Correctional Health Care.
Malingering is highly prevalent in correctional settings with 20-30% of all healthcare presentations involving some form of malingering. This may be because the condition is associated with antisocial personality disorder, also a frequent diagnosis among the incarcerated patient population.
Malingering negatively affects the ability to provide appropriate care. Just as insulin can be harmful for patients who are not diabetic, psychotropic or pain medication is not helpful for patients who don't have a real need for them. In fact, these medications can be detrimental, causing injury instead of healing.
What is Malingering of Psychosis?
Rather than a disorder, malingering could be considered a behavioral adaptation in order to obtain a desired outcome. In fact, although it is listed as a diagnosis in the Diagnostic and Statistical Manual of Mental Disorders, Fifth Edition (DSM-5) it is not regarded as a form of mental illness or psychopathology.
Malingering of psychosis involves "intentionally and purposefully feigning illness to achieve some recognizable goal". Prisoners may wish to get drugs for personal use or sale, win a lawsuit, or avoid an undesirable work detail. They may want special housing or other advantages in the prison system.
Distinguishing Characteristics

This diagnosis requires significant validation of intent and cannot be made without investigation.  A clear motivator for seeking secondary gain must be determined. The hallmark of a malingering diagnosis is inconsistencies in presentation and symptom description. Inconsistency is revealed in many ways.
·         Interviewing at different time periods
·         Asking the same question in different ways
·         Observing behaviors in different settings
·         Reviewing prior health records for prior documentation of the condition
Recommendations for Nurses
Dr. Caldwell has recommendations for nurses who suspect patient malingering. It is important to get a correct diagnosis.
·         Always rule out a medical condition. Some medical conditions or medications can show symptoms of mental health disorders.
·         Avoid using the term "malingering" in documentation without an actual diagnosis. It can be seen as an accusation of fraudulent behavior.
·         Instead, document the observations that indicate symptoms may be feigned. This documentation is helpful for developing an actual diagnosis.