Deborah Ash, RN-MSN, MBA, LNC, CCHP is Vice President of Compliance for Advanced Correctional Healthcare in Peoria IL. This post is based on her session "Ethical Boundaries: What Nurses Need to Know" taking place at the 2016 National Conference on Correctional Health Care in Las Vegas, October 22-26, 2016. Learn more about the conference and register HERE.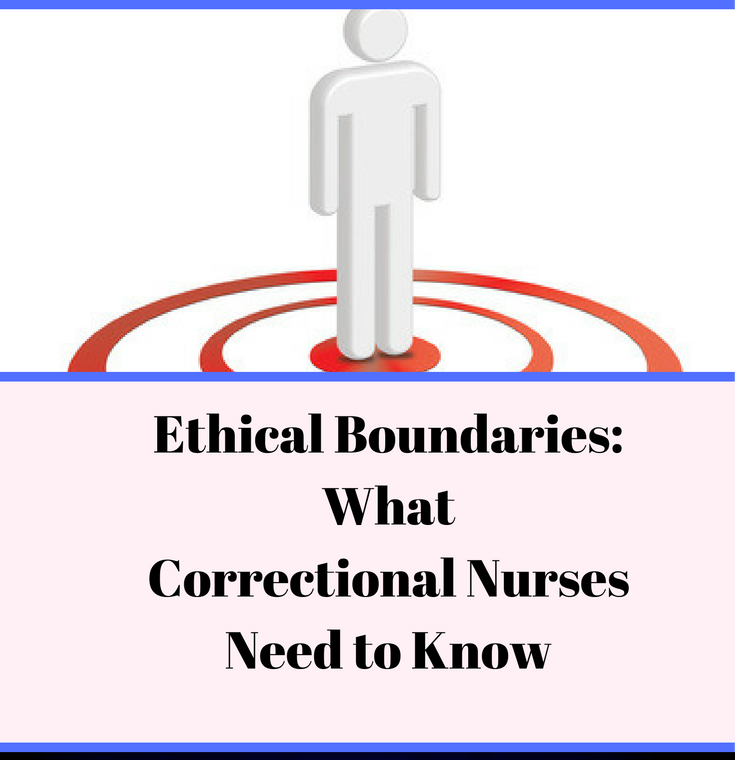 Ethical nursing practice is a priority in all specialties, but nurses working in corrections can find themselves in situations that were never discussed in nursing school. These situations require that we apply foundational ethical principles in a whole new way. Avoiding ethical boundary crossing in this setting can feel like walking a tightrope over a shark tank.
What is an Ethical Boundary?
In many ways, an ethical boundary is the limit to which we can be professionally involved with our patients. That boundary is crossed when we enter into a personal relationship or do 'favors' for our patients that may not be appropriate in our setting.
In traditional patient care settings, it may be perfectly natural to talk about family in conversation with patients or to help a patient with non-patient-care issues like addressing a card or making a phone contact. The restricted nature of a secure setting, however, makes these patient-helping situations out-of-bounds – and even illegal. Correctional nurses must be well-versed in the security regulations of their setting.
Correctional People and Places
The correctional setting can be very different from other nursing practice settings. There is often less nursing structure and practice is autonomous. Correctional nurses must be willing to speak up when asked to participate in ethically questionable activities. This requires assertiveness and a good relationship with leadership and correctional colleagues.
Our caring nature can come into conflict with security and safety regulations. Simple gestures such as mailing a letter for a patient or providing items from the outside world may seem innocent kindnesses but can put everyone's safety in jeopardy.
Some incarcerated patients will take advantage of the caring nature of health care staff for their own benefit. Nurses new to corrections can get in hot water if they continue to practice in a fully trusting mode without objectively validating patient symptoms and requests.
Does and Don'ts of Boundary Crossing
Here are some pointers to stay within professional nursing practice boundaries in corrections.
Know your practice setting: Gain an understanding of the particular correctional environment in which you work. What are the key boundary crossing issues? For example, nurses working with adult sex offenders will have different issues than those working in a juvenile detention center.
Follow the rules: Know and follow all security rules, particularly in the areas of what can be done for your patients. For examples, most settings do not allow staff to exchange objects or communications with inmates. You cannot mail letters or bring in favorite foods for inmates.
Relationships matter: Have a good relationship with officer colleagues. Ask them about a situation if you are unclear.
Firm, fair, consistent: Treat every patient similarly. No patient should be given favorite or preferential treatment.
Know your environment: Always be aware of your surroundings.
Take care of each other: Watch out for your fellow workmates in their patient relationships. Sometimes an outsider may be able to see the change in a patient relationship that could spell trouble.
What ethical boundaries are challenging you in correctional nursing practice? Share your experience in the comments section of this post.