It is 5:00 pm on a Saturday night, and Mr. Joel arrives at Booking in the County Jail in the custody of four Deputies. The Deputies tell you that he was picked up at the train station because he was "acting crazy", pulling his clothes off and screaming that he "did not want to go". They tell you that he has been on a methamphetamine binge since Thursday morning according to his girlfriend, who was at the train station trying to get him to come back home. The Deputies were called when bystanders were concerned for her safety. Security orders the use of the Restraint chair per their policy, and you are the nurse standing by to perform the post-restraint evaluation. Mr. Joel continues to struggle with the Deputies, showing almost superhuman strength. The Deputies use the taser on Mr. Joel, but he is oblivious to the pain. The Deputies finally get Mr. Joel restrained, and he stops struggling. You approach him with caution, ready to complete your nursing assessment. You speak to Mr. Joel, but he does not respond. His head is back in the chair. You attempt to obtain a pulse, and palpate none. His skin is extremely hot. You auscultate for an apical rate, and there is none. You tell the Deputies to get Mr. Joel out of the restraint chair and call 911. CPR is initiated, but Mr. Joel is pronounced dead in the Emergency Department. The autopsy shows no apparent physical cause of death.
You have just witnessed the medical emergency known as Excited Delirium.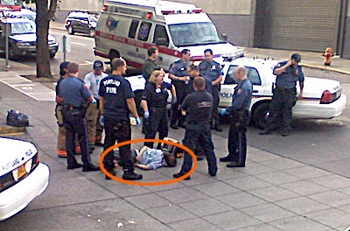 Excited Delirium
Excited Delirium is a rare but deadly condition that can confront nurses working in corrections – particularly jails. While the exact etiology of Excited Delirium is still unknown, incidents have been documented in scientific literature since the 1800's. There have been many incidents of Excited Delirium in the correctional environment, and it is important that healthcare staff are able to recognize the symptoms and appropriately transfer the individual to an Emergency Department.
Causes of Excited Delirium
Research is showing that Excited Delirium is the result of a neural chemical imbalance in the brain. A prevailing theory is that Excited Delirium is caused by overstimulation of the brain by dopamine. Cocaine, narcotics or extreme stress can cause an increase in dopamine release. Another biomarker under study is the release of heat shock proteins that leads to problems with body heat. The person's body temperature rises rapidly without regulation. This combination overpowers the heart and respiratory systems leading to sudden death.
What does Excited Delirium Look Like?
The challenge of Excited Delirium in the correctional environment is to quickly identify that there is a medical condition underlying what seems like a behavioral issue that needs to be addressed. An individual in the throes of Excited Delirium will seem superhumanly strong and intensely hysterical, resisting all attempts at restraint. Often the individual is pulling off clothing to reduce the overheating. They often seem oblivious to pain and have little response to tasers and pepper spray.
Phases of Excited Delirium
Phase One: Hyperthermia
Hyperthermia is a critical condition which occurs when the body absorbs or produces more heat than it can dissipate. Often the individual begins to strip off their clothes as their core temperature is elevated to 103° – 113° F. Profuse sweating may indicate a high core body temperature, but may not always be present.
Phase Two: Delirium
The second phase occurs when the individual exhibits delirium with agitation. They often have superhuman strength. Usually they have a sudden decrease in attention, perception and focus.
Phase Three: Respiratory Compromise
This phase is often noticed during a struggle or restraint situation, or immediately after. It is believed that the physical struggle causes the body to require an increased level of oxygen which is not available. Respiratory compromise and arrest may occur secondary to this increased oxygen need. This is a medical emergency.
Phase Four: Cardiac Arrest
Cardiac arrest is the sudden loss of heart function. In this situation, death occurs in moments unless cardiopulmonary resuscitation is immediately initiated. The presence or absence of a diagnosed heart condition has little bearing on the outcome.
Nursing INterventions
Nursing interventions include calling EMS and getting the individual transported to the nearest emergency department for aggressive management as soon as any of the symptoms are observed, and preparing to initiate cardiopulmonary resuscitation should that be necessary.
The information for this post comes from The Correctional Nurse Educator class Excited Delirium for the Correctional Nurse.
Have you had an experience with excited delirium? Share it in the comments section for this post.