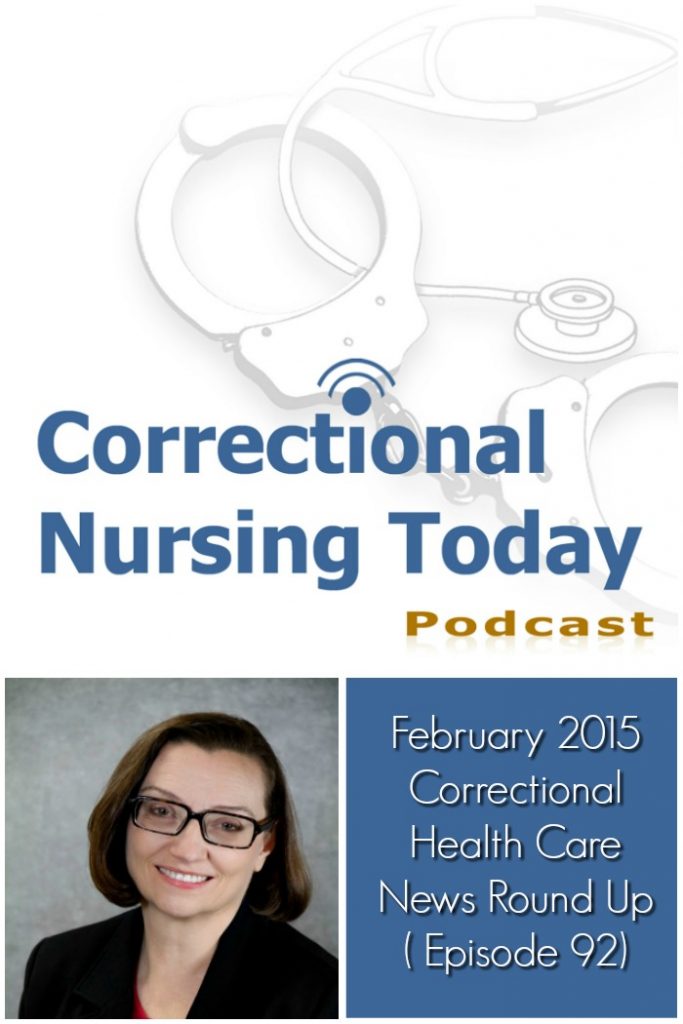 Gayle Burrow and Denise Rahaman return to talk about this month's correctional health care news items*.
Medical Problems Of State And Federal Prisoners And Jail Inmates, 2011-12
Our first news item is the publication of a US Department of Justice special report on the Medical Problems of State and Federal Prisoners and Jail Inmates, 2011-12. This is a long awaited update to their prior reports over a decade ago. The report validates what correctional nurses know to be true: inmates are more likely to have a chronic or infectious condition than the general population and female prisoners have more chronic conditions than males. A few interesting findings:
75% of inmates are overweight
66% of prison and 40% of jail inmates take prescription meds
High blood pressure is the most common chronic condition
Over half are satisfied with healthcare services
Supplemental Reading
Clallam County working to avoid measles outbreak in jail
The Clallam county jail in Port Angeles, Washington is now providing measles vaccination for inmates. They are concerned about an outbreak after their Department of Health confirmed the state's fourth active case of measles recently. As you may know, a measles outbreak has hit California traced to an active case in Disneyland. Will jails and prisons be ramping up measles vaccination?
Next up is an opinion piece that hit the New York Times about dealing with prisoners as patients in traditional settings. Nurse Teresa Brown shares her experiences caring for one prisoner for several weeks. She talks about giving 'needed, accessible care to the most despised and potentially violent among us'. That surely sums up what correctional nurses do. Insights from the article helpful to correctional nurses include a need to separate the patient from their crimes, maintaining a different perspective than officers, and wondering why necessary health care isn't provided to all citizens, not just incarcerated ones.
Long-running public service project sends Johns Hopkins students behind prison walls
The Johns Hopkins Gazette tells the story of Hopkin's students tutoring inmates at the Baltimore City Detention Center. The University's Jail Tutoring Project currently has 36 undergrads tutoring inmates from the general population, substance abusers working to maintain sobriety and some with mental health issues. The program has been in place for 40 years and stories from the students and the inmates indicate that it is changing lives.
What are your thoughts on this month's news? Do you agree with our panelists? Share your comments below.
* Views of the panelists are their own and do not necessarily reflect the views of their employers, their clients, or their families.