What exciting thing can be said about washing your hands? Even before becoming nurses, we heard this admonishment as youngsters in households across the fruited plain. Our Infection Control 101 lecture started with: Hand washing is the single most important infection control principle we have. Let's see some Hand Hygiene Challenges for Correctional Nurses.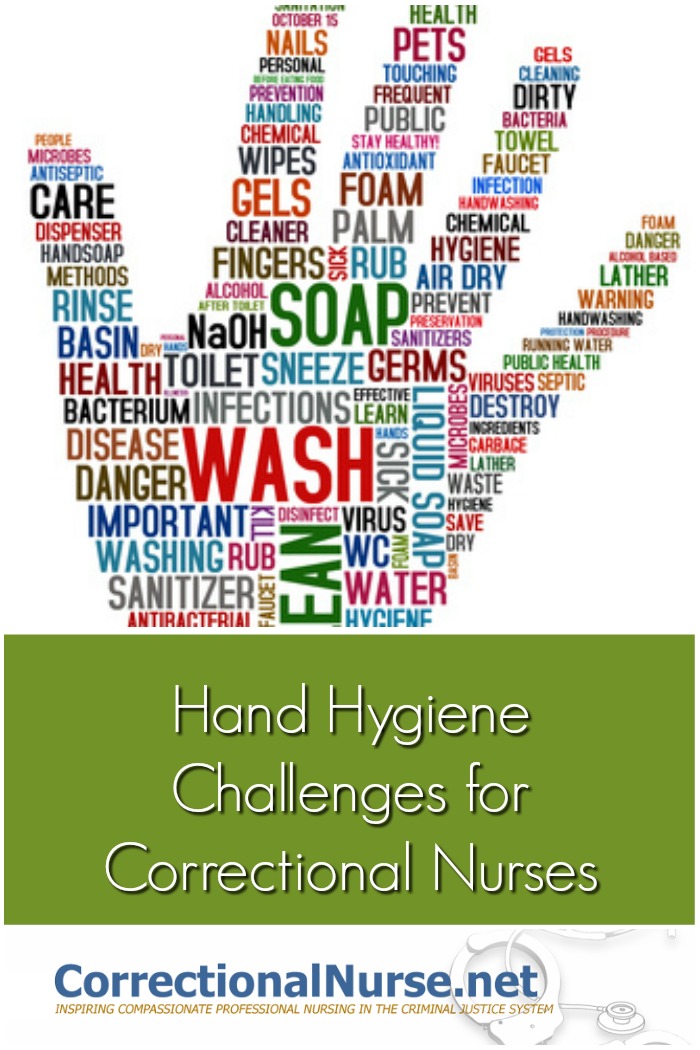 Infection is rampant in most correctional facilities. Our work settings were created for purposes other than healthcare and hold a population with known propensity for a variety of infectious conditions.
Yet, with all this knowledge and all this evidence before us, handwashing frequency is abysmally below standard requirement. I couldn't find a study of handwashing in correctional settings, but a multihospital study cited by the CDC found only 36-59% of health care workers washing their hands where and when they should.
Nurse leaders from the Mayo clinic suggest that what we really need is not more knowledge but a culture change and environmental accommodations to improve hand washing frequency. In an article in the November, 2011 issue of Nursing2011, authors Johnson, Kachler, and SIska offer the following interventions to improve hand washing:
• Keep it simple: Create simple message about hand hygiene, using protective equipment and cleaning clinical equipment. Find resources on the CDC site.
• Place hand-hygiene products where they are needed: Like at the door of the nurse's station, the medication room, and clinic rooms used for patient care.
• Integrate hand hygiene into the workflow: Make it easy and convenient. Keep hand sanitizer locked in the medication or treatment cart for use when delivering care in the housing unit.
• Role model: Medical, nursing and administrative leaders should 'walk the talk' on hand hygiene and other infection control responsibilities.
But wait, correctional nurses encounter many unique barriers to increasing hand hygiene practices. Here are some of our challenges according to Joseph Bick, a correctional physician:
• Many areas in which clinical care is provided lack hand washing stations. Our facilities were not designed for health care practices.
• Soap and soap dispensers are valuable commodities and may be stolen by inmates
• Alcohol based hand washes burn with a clear flame and may raise concerns with custody staff.
An additional peculiarity of the correctional setting is our patient population's propensity to take advantage of available resource for their benefit. To wit, inmates have been known to drink alcohol-based hand sanitizer. A recent event landed 4 inmates in the emergency room in Shelby County, AL. []. Although the CDC has not officially supported alcohol-free hand sanitizers, they are growing in popularity in school and correctional settings.
Are you using alcohol-free hand sanitizers? How are you making it easier to "Wash Your Hands!" in your clinical setting? Share your experiences in the comments section.
Here's a fun video from Jefferson Hospital about hand hygiene:
[youtube=http://youtu.be/tmMGwO4N0Vc]
Photo Credit: © asiln – Fotolia.com
If you like this post, you might like:
Double Down on TB in Jails and Prisons
HIV & Inmates
New Latent TB Regimen from CDC: Good News for Correctional Nurses
What's Bugging You? Lice Identification and Treatment
Botulism and Prison Brew