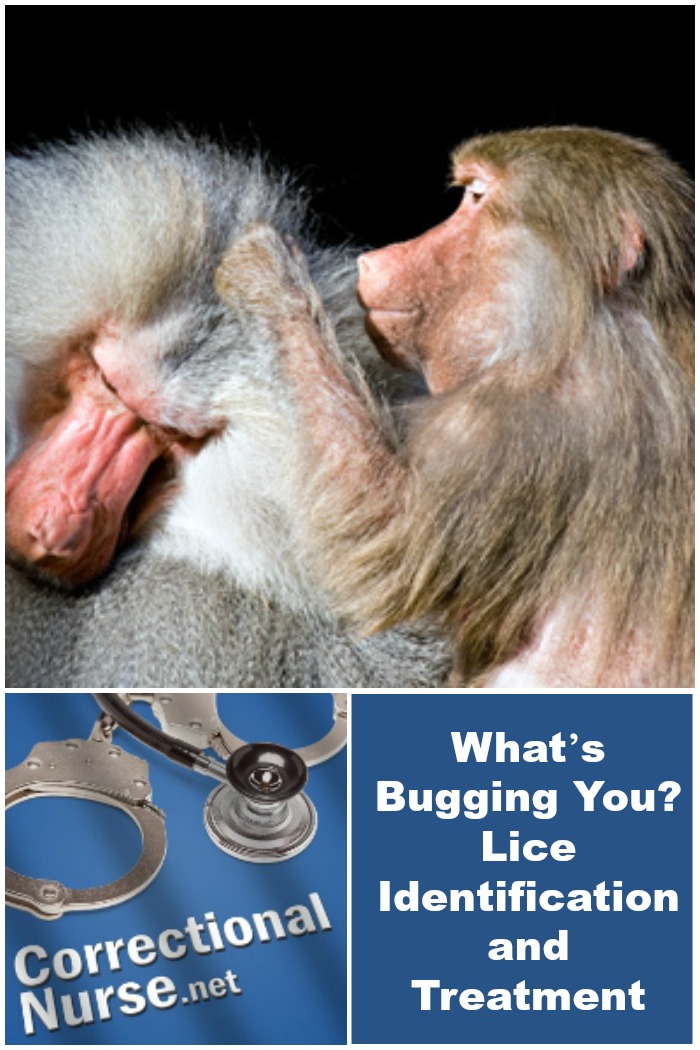 During a jail intake for a homeless man brought in for vagrancy, a nurse sees some tiny insects flying about his clothing and he is scratching at them as she interviews him. She is concerned that an infestation may result and initiates a protocol for lice which involves shampooing and showering with the insecticide permethrin and a special laundering process for all clothing. Was this the right action? How do we do lice identification?
Correctional nurses need to be aware of various infestations as a high percentage of inmates in some locales are prone to head, body, and pubic lice. Once these little hitchhikers enter a facility they can spread by direct physical contact or through sharing of personal items like clothing, bedding, or towels. Was this patient infected with lice? Let's look at some information about these little critters.
Do lice fly?
Lice remain on a person's hair or clothing and wander to the skin to blood feed once or more often each day. They have tiny straw-like mouthparts – similar to those of mosquitoes – that they use to suck blood from skin capillaries. They're unable to burrow into the skin. Lice never develop wings, so they cannot fly.  They're also incapable of jumping. So, this patient did not have lice.
Lice cause itching
Lice may cause an allergic reaction that can cause itching. For head lice, the itching tends to be mild and temporary.  Body lice tend to cause far more itching, and even make the infested person feel 'lousy'. Public lice tend to cause much itching in the affected area.  This patient's itching may be caused by the insect in question but further investigation is needed.
Lice are not very common
Lice are not nearly as prevalent as is generally believed, and other creatures and objects on a person are frequently mistaken for lice.  Other insects include fleas, ticks, mites and bedbugs. None of these insects have wings, though. The homeless man in our case may merely have gnats or fruit flies about his person.
Lice are relatively tiny – as small as a poppy seed and as large as a sesame seed. A screener must have good eyesight, be close enough to see the creature, use a magnifying lens, and some expertise to identify lice; distinguishing them from other insects. In fact, other kinds of insects and even bits of debris are frequently mistaken to be lice. As in this case, misdiagnosis and unnecessary treatment can be frequent.
When in doubt – don't treat
Treating everyone who enters a facility is not a good idea; nor is it cost effective. Treatment focused just on those infested is consistent with sound medical practice.  It can also dramatically save time and precious funds; while reducing the risk of lawsuit. The standard medications used in prisons for delousing contain the insecticides permethrin and pyrethrins. These have become less effective as resistance is becoming widespread.
When positive lice identification is confirmed, treatment can be ordered as follows:
Head lice can be treated with one or two 10-minute applications of a pediculicide.
Body lice usually require no treatment to the person. Instead, a person with body lice should bathe and change into prison-issued clothing. The infested clothing should be disinsected by proper laundering, or disposed of.  If body lice are detected on the body hairs of a person, a full-body treatment with a pediculicide is needed.
Pubic lice would necessitate treatment to the affected area only.
Ongoing prevention measures for lice include frequent (at least weekly) laundering of clothing and linens, and early recognition and treatment of genuine infestations.  The Federal Bureau of Prisons Lice and Scabies Protocol of March 2011 recommends the following actions:
Be sure laundry temperatures are set to at least 130 degrees Fahrenheit to kill lice and their eggs on linens and clothing. Use a hot cycle for drying, as well.
Educate inmates about lice and how to get treatment if they observe lice. The FBOP Protocol includes inmate education handouts that might be helpful.
Inmates should not be transferred to other facilities until 24 hours after initiation of treatment.  If moved before the 2nd treatment application (7 days), communication and continuation of treatment should be provided.
How are you managing lice, bedbugs, fleas, and ticks in your facility? Share your thoughts in the comments section of this post.
Photo Credit: © Sascha Burkard – Fotolia.com