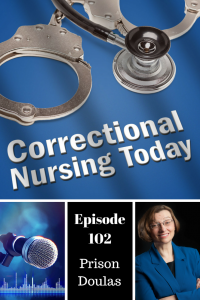 Erica Gerrity, Director and Founder of the Minnesota Prison Doula Project and Raelene Baker, a Certified Birth Doula and their Project Coordinator join Lorry to talk about the Minnesota Prison Doula Project, a prison‐based pregnancy, birth, and parenting program. They currently have 8 doulas in 3 facilities. Read more about their program on their blog.
A doula is a trained and experienced professional who provides continuous physical, emotional and informational support to the mother before, during and just after birth; or who provides emotional and practical support during the postpartum period. Prison doulas provide parenting support, heathy mother information, in-depth interventions and emotional support to incarcerated women during their stressful and often lonely prison pregnancy and childbirth experience.
The Minnesota Prison Doula Project teamed up with the University of Minnesota to research the benefits of doula involvement for pregnant inmates. They found benefit to three groups.
Mothers: Women involved in the doula program describe an increased sense of community and an increased feeling of support from front-line staff. So, they are more likely to feel safe and supported.
Newborns: Babies show improved birth outcomes as compared to similar at-risk births. The program has had a positive effect on pre-term births. The babies also have additional focus and attention during the birth process as doulas are often the only support person with an incarcerated mother during birth.
Front Line Officers: The doula program has increased awareness and officer respect for pregnant and laboring inmates.
The Minnesota Project can be a model for developing doula programs in other prison systems. The speakers encourage correctional nurses working with pregnant inmates to talk about the program in their facilities and gain support for a pilot project. DONA International is a good information source and the Minnesota Prison Doula Project also stands ready to provide support and direction.
In the Nursing News
If you work in the northeastern US, be on the look out for Lyme disease symptoms during sick call. A recent report from the CDC indicates cases are on the rise in areas of highest incidence: northeastern, northcentral and mid-Atlantic US states. Lyme Disease from an infected tick bite starts with a characteristic bulls-eye rash that can be missed. So, presentation at sick call could be ambiguous: flu-like symptoms, joint pain, and generalized body ache. Consider requesting an order for an ELISA lab test to detect for antibodies to B. burgdorferi, the bacteria causing the condition.
Exposure to Harmful Chemicals through Douching
Douching is still quite popular even though it has been proven to be ineffective as a vaginal cleansing system; and even harmful to health vaginal flora. Now, a research study is showing that women who douche at least twice monthly have urinary concentrations of diethyl phthalate (DEP) over 150% higher than non-douchers. DEP is implicated in the disruption of estrogen, testosterone, and thyroid hormone action in the body. So, douching is not a good idea and should be discouraged among our patient population.
The American Thoracic Society has a new policy statement on the need for good-quality sleep for both the general public and health care providers. Good sleep is good health, for sure. Sleeping less than 6 hours or more than 10 hours nightly is linked to adverse health outcomes including drowsiness, inattention, and chronic diseases. The society advocates more patient education about sleep hygiene and more health care organization focus on encouraging good sleep patterns among staff. Here is a link to a prior post on sleep in jails and prisons.
What do you think? Would a prison doula program work in your setting? Share your thoughts on doulas or any of the news items in the comments section of this post.