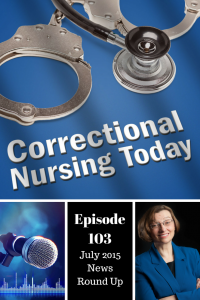 Gail Normandin-Carpio and Denise Rahaman join Lorry to talk about top correctional health care news items for July, 2015.
Our first story is a report out of Human Rights Watch about the use of force against inmates with mental disabilities in US Jails and Prisons. We have been discussing the plight of the mentally ill in the criminal justice system for some time. Our jails and prisons are not organized to effectively treat mental illness, yet growing numbers of inmates have serious mental illness such as schizophrenia and bipolar disorder. The mentally ill are less likely to adjust to conditions of confinement and have difficulty following all the rules that must govern life behind bars. That puts them into confrontational situations with officers who must keep order and control. This report paints a grim picture but also provides some hopeful recommendations.
Bill would give inmates' families access to prison medical records
New York has passed a bill that would require the State Department of Correction and Community Supervision to provide medical information disclosure forms as a routine procedure for all incoming or transferring inmates. This would give inmates the option of appointing a family member or other person to receive their medical information.
This next story is about dating prisoners and comes from a British news source. The recent NY Prison Escape story and follow-on investigation as brought to light something we see in practice all too often – staff getting intimately involved with criminals. Hybristophilia is described as a condition whereby women are sexually aroused by and responsive to men who commit heinous crimes. Often referred to as the 'Bonnie & Clyde Syndrome', the person who is the focus of the sexual desire can be someone who is in prison. In some cases, the hybristophile may urge and coerce their partner to commit a crime. This may somewhat explain staff attraction to our patient population.
In our final story, a group of Florida prisoners are training therapy dogs for veterans suffering from Post-Traumatic Stress Disorder as part of a new program. Prisoners from the Blackwater River Correctional Facility will train three puppies for America's Vet Dogs Veteran's K-9 Corps with plans to expand to 10 dogs by the end of the year. The training program will teach the K-9s to do everything from retrieving medication, to turning lights on and off, to waking veterans from nightmares. Sounds like a nice idea for both the veterans and the inmates.
What is your take on these news items? Share your thoughts in the comments section of this post.