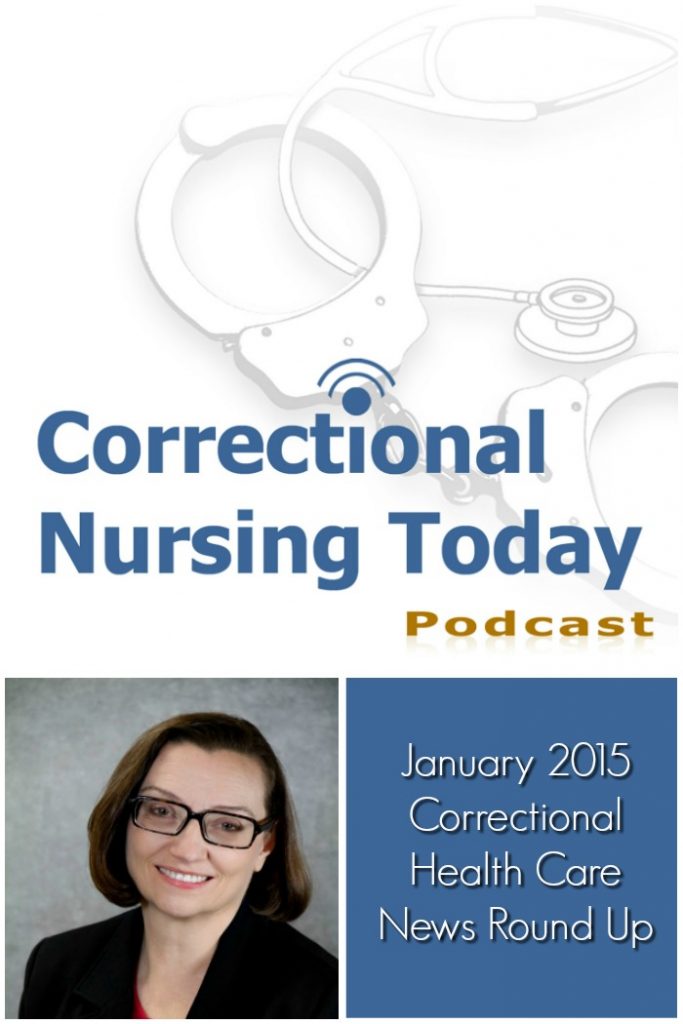 Gail Normandin-Carpio, Jane Grametbaur, and Kathy Wild discuss the latest correctional health care news with Lorry on this episode of Correctional Nursing Today.*
Pennsylvania Overhauls Health Care for Mentally Ill Inmates
Our first story is a report on a recent settlement arrangement between the Pennsylvania Department of Corrections and the Disability Rights Network regarding the treatment of mentally ill prisoners. I think we are going to see more and more of these in the months ahead. In the settlement, the PADOC has agreed to replace the use of solitary confinement with more conventional mental health treatment for the 4000 mentally ill inmates they manage. The settlement also includes education of prisons staff that involves mental health first aid and a 32 hour crisis intervention program. This is good news for these inmates and underscores the need for escalation of mental health services and understanding in the criminal justice system. Unfortunately, like so many things in our specialty, it comes through litigation.
Lawsuit Over Inmate Who Died of Milk Allergy
Story number 2 is also a legal case. This one involves a severe dairy allergy that was not headed in a county jail in Washington state. The patient was arrested, shared his asthma and sever dairy allergy on intake. That information does not appear to have been communicated to dietary and he ended up collapsing and dying after an oatmeal breakfast. I think this is an interesting story to discuss, not focused on the merits of the case, we clearly do not have all the information here, but to highlight some of the challenges of providing health care in our setting. In my risk management consultation I often come across communication issues within the many departments of our facilities. I was thinking about that component when reading the news item. Panelists offer other challenges that affect allergy management in our settings.
Inmate Injures Nurse and CO in Hospital Escape Try
This next story is a reminder that we always need to be on guard for our personal safety when dealing with inmates as patients. A prisoner from the Philadelphia Prison System, their city jail, attempted an escape while at one of the area hospitals for a medical procedure. There were two officers with him, as is customary, and he was shackled hands and feet. It happened while one of the officers was on lunch break and the patient asked to use the bathroom. He had somehow secured the handcuff key and used the privacy in the bathroom to free himself. He then emerged, beat the officer on duty and attacked a nurse on the way out. Lots of protocol breaches to consider in this story but also a reminder that many of our patients are watching and waiting for an opportunity.
Prison is a Dining Hotspot in South London
Our last story is on a positive note. An open-to-the-public upscale restaurant has opened in the south London neighborhood of Brixton…..inside a prison. Seems culinary arts training is being used to reduce reoffending rates and the public can sample the upscale cuisine at a restaurant on the prison grounds. Inmates enrolled in the culinary school must be non-violent offenders who pass a rigorous interview process and end up working 40 hours weekly in the training program. Panelists share their experiences with similar training programs they are aware of.
What are your thoughts on this month's news stories? Share your perspective in the comments section of this post.
* The views of the panelists are their own and do not necessarily reflect the views of their employers, their clients, or their families.