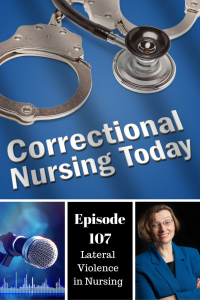 Tara Taylor, BSN, RN, CCHP, Regional Director of Nursing, and Mariann Burnetti-Atwell, PsyD, Director of Operations, Behavior Health Services, for the Missouri State Department of Corrections through Corizon Health, join Lorry to discuss lateral violence and bullying in nursing. They presented the session Lateral Violence in Nursing: How to Prevent Bullying and Create a Healthy Work Environment at the National Conference on Correctional Health Care in Dallas, TX, October 17-21, 2015. 
Lateral violence is also called horizontal violence or workplace bullying. It can happen in any profession but is especially troubling in nursing. This summer the American Nurses Association published a position statement on Incivility, Bullying, and Workplace Violence. The ANA sees these as ethical issues and the statement quotes the Code of Ethics for Nurses with Interpretive Statements that nurses are required to "create an ethical environment and culture of civility and kindness, treating colleagues, coworkers, employees, students, and others with dignity and respect" (ANA, 2015a, p. 4).
Affects Staff and Patients
An unhealthy work environment affects both staff and patients. Here are just a few of the effects of bullying on staff morale and patient care.
Medication errors: 40% of clinicians "kept quiet" or "ignored" an improper medication due to an intimidating colleague.
Staff health issues: Unmanaged anger contributes to hypertension, coronary artery disease, depression, psychological problems or other health problems.
Staffing issues: Low staff morale, increased absenteeism, attrition of staff, deterioration in the quality of patient care.
High staff turnover: Nurses leave the profession due to lateral violence and bullying contributing to the nursing shortage.
Preventing Lateral Violence
Both employers and staff have opportunities to intervene to prevent lateral violence. Employers can make it clear that bullying will not be tolerated through policy enforcement. Education about and role-modeling of respectful interactions is also important. Poor behavior needs to be addressed rather than ignored. The ANA provides posters graphically representing various prevention mechanisms for use in the clinical setting.
Is lateral violence an issue in your setting? How do you handle it? Share your tips in the comments section of this post.