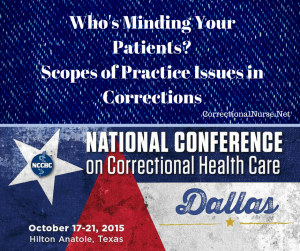 Fran Tompkins, RN, MS, CCHP, CCN/M, is Nurse Training and Education Supervisor for Correct Care Solutions in Nashville, TN. This post is based on the session "Who's Minding Your Patients? Understanding Licensed and Unlicensed Scopes of Practice" that she presented at the 2015 National Conference on Correctional Health Care in Dallas, TX. 
Scope of practice can be described as those activities health care staff are permitted to legally perform based on licensure and training. All nurses need to understand their scope of practice to be able to stay within the boundaries of licensure. Correctional nurses, though, can encounter significant challenges to keep within the bounds. First of all, correctional nurses can have significant autonomy in make care decisions based on the setting. There may be few other health care providers onsite. In addition, officer colleagues may expect nurses to deliver health care beyond licensure limits, unaware that a request is inappropriate.
Nurses have a responsibility to dissect scope of practice as it applies to their particular state of licensure, understand it, and ensure that they are practicing within the boundaries of their license and fulfilling the requirements and conditions of the applicable regulations for the state.
Scope of Practice and Delegation
When using unlicensed assistive personnel (UAP) such as nurses' aides, medication techs, or emergency medical technicians, it can be difficult to determine what they can legally do. The American Nurses Association and Council of State Boards of Nursing provide some guidance for determining delegated activities within a scope of practice for these individuals. In particular, registered nurses need to uses critical thinking and professional judgment while considering the 5 rights of delegation:
The right task
Under the right circumstances
To the right person
With the right directions and communication; and
Under the right supervision and evaluation
Considerations when deciding to delegate a task include the potential for patient harm, the task complexity, amount of problem-solving needed in the situation, and the predictability of the outcome.
When Delegation is Not a Good Idea
Based on the above considerations, delegation is not always the best decision; especially when the patient situation is acute. For example, first responder events in corrections, like man downs, require nurses to think critically about patients who are acutely injured or become acutely ill. Other nursing processes also require complex evaluation and intervention. Besides emergency response, highly developed assessment skills are needed for intake screening and nursing sick call. In these examples, staff must often make autonomous decisions and intervene based on clinical judgment. Delegation to lesser-licensed staff can be risky.
Nursing staff must be prepared to offer the best care to all patients, recognize those individuals who are critically ill, and determine the best interventions for them; all within the boundaries of their scope of practice.
How do you handle scope of practice issues and delegation in your setting? Share some insights in the comments section of this post.