All nurses need to be concerned for legal risk in their nursing career no matter the specialty. How will legal risk and the correctional nurse be handled? Correctional nurses, however, have some specific areas of concern based on our peculiar setting and patient population. I recently interviewed Valerie Lane, RN, LNC about legal risk for correctional nurses on my radio program – Correctional Nursing Today. She had several good points to share. Download the podcast for her advice.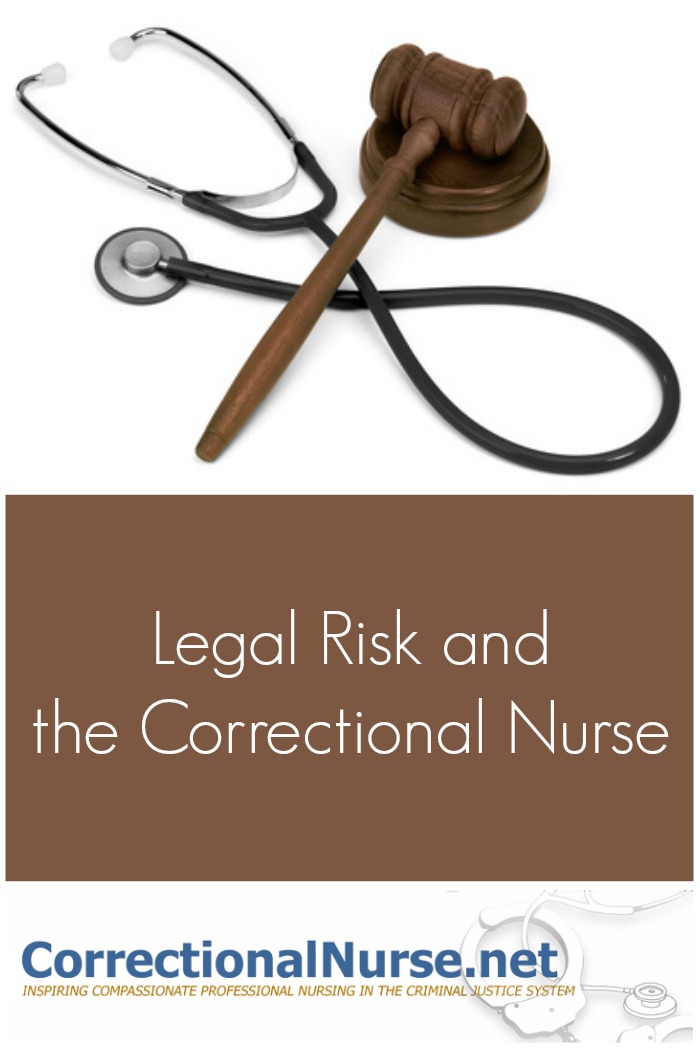 Because correctional nurses work within a custody environment arranged to maintain security and order rather than for the purpose of delivering healthcare, friction can arise between the goals of custody and the therapeutic goals of nursing care. When conflicts arise, correctional nurses must advocate for necessary care and seek higher authority if barriers to delivering care emerge. Patient advocacy, a prime professional nursing role, is of particular importance in corrections.
In addition, working in a custody environment can lead to a jaded or cynical view of inmate health concerns. Correctional nurses can begin to assume that all inmates are looking for a secondary gain from any health care encounter. This attitude leads to labeling inmates as malingerers or disregarding inmate symptoms.
Situations involving forced medication administration, suicide assessments, substance withdrawal, evaluation for use of force and body cavity searches can also put nurses into legal jeopardy. What should a correctional nurse do to reduce legal risks?
Reducing Legal Risk
Know Your Nurse Practice Act: Nurses working in corrections, especially smaller facilities, may be asked to perform functions outside the scope of practice for their license. This can be due to a lack of understanding of healthcare licensure by custody staff or administration making the request. Be sure YOU know what you can and can't do by virtue of your licensure.
Follow Policy and Procedure: Know your role in the various situations that you encounter, especially for the risky situations listed above. For example, if you are called upon to review a medical record to clear an inmate for the pepper spray, would you know what medical conditions to look for?
Document Effectively: All important actions and assessments must be documented in the medical record. In the pepper spray example above, the nurse should document the review of record and the release provided. Be aware of all standard forms for various assessments and watches. Initiate forms as appropriate and use them correctly. If a form requires sign-off by another care provider (RN or Physician), make sure that individual is alerted to sign the form.
Use the Chain of Command: If you are asked to perform an assessment or intervention beyond your licensure, know the chain of command to follow. Communicate your concerns and response to the request to your immediate supervisor.
By following these recommendations, you can significantly reduce your legal risk in your correctional nursing practice.
Did I miss anything? What other recommendations might you have? Use the comments section to add your advice.
Photo Credit: © James Steidl – Fotolia.com
If you like this post, you might like:
Under the Influence: Impaired Nurses in CorrectionsTake Three Minutes to Learn About Civil Rights Claims
Correctional Nurse Legal Briefs: Understanding Professional Liability
5 More Ways Correctional Nurses Can Land in Court