(Podcast Episode 120)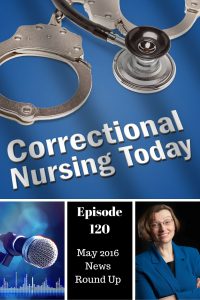 Johnnie Lambert, Sue Smith, and Kathy Wild join Lorry to discuss recent correctional health care new.
USA Today is reporting that nurses, physical therapists and other senior medical staffers in the Federal Bureau of Prisons are being routinely assigned officer duties and other security-related shifts to fill chronic personnel gaps. The news item discusses this action in light of the decrease in already diminished health care in the FBOP and that is certainly an issue with the practice. Another concern, though, is an ethical one. Is it ethically healthy for a nurse to one day be in a nurse-patient relationship with an inmate and on another day be in a security-focused relationship? Is that not confusing to both the nurse and the patient and does that adversely affect patient care? Panelists discuss their perspective on being both an officer and a nurse.
The Tennessean has a two part series published about Hepatitis C status reporting to victims of rape. Right now the Tennessee state system does not alert rape victims to the HCV status of the rapist. The piece goes on to outline the epidemic of hepatitis C in the criminal justice system and the need for more treatment. We have talked about the expense of Hepatitis C treatment and the tricky nature of starting treatment while incarcerated. As we see this condition unfold in both correctional and public health, does it look like Hepatitis C is the new HIV – A blood borne transmitted disease with deadly consequences and disproportionately high rates in our patient population that requires a consistent and currently expensive treatment program? Panelists discuss the similarities.
The Detroit Free Press reported on a settlement reached between a former female inmate and the Michigan State Prison System. The plaintiff had multiple health problems and lost both of her legs in prison because of health issues. When her second amputation developed MRSA, she was placed in a segregation cell with no means to get to the toilet or contact officers for assistance. We are seeing more stories about the treatment of disabled inmates in the criminal justice system. It doesn't appear that medical staff were named in this suit. From what we know about standard health care practices in segregation settings, were there opportunities for nurses to advocate for disabled inmate conditions?
On a brighter note, things are looking up for mental health inmates in the Pennsylvania Prison System. Our last story is the announcement that 1,000 PA prison staff members have received Crisis Intervention Team (CIT) training aimed at improving response to inmates with mental health needs. The training program is part of a system-wide initiative to place an inmate's mental health at the forefront of treatment in prison. Crisis Intervention Team training includes increasing understanding of the ways mental illness may affect the inmates as well as providing skills to de-escalate crisis situations. Panelists discuss their own experiences with CIT in correctional settings.
Share your thoughts on these items in the comments section of this post.