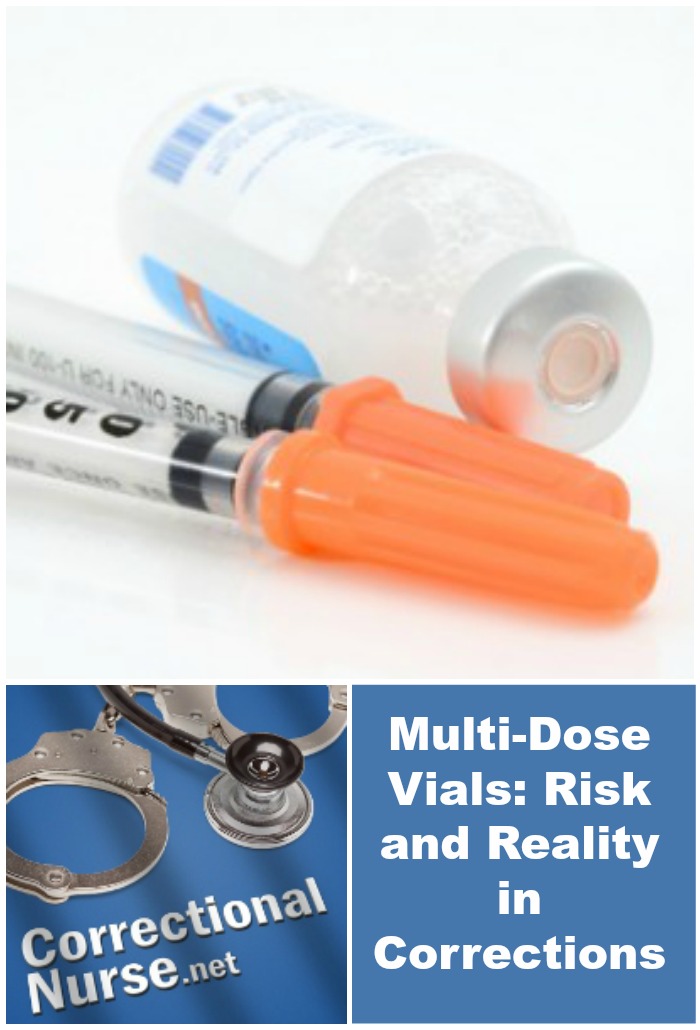 Cheri was delighted to land her first nursing job in the county detention center close to home. She was an LPN and the only nurse on night shift for an average population of 300 mostly-male inmates. The night shift nurse gives the morning insulin for any diabetic inmates at 5am just prior to breakfast. This is always a time-pressed situation. The line officer is eager to get to shift report and the inmates don't want to miss the best selections in the chow line. Cheri hadn't much experience with drawing insulin from vials as her school clinicals were in LTC facilities and they used insulin pens. The new patient in the line had an order for both Regular and NPH insulin that required mixing. She picked up the Regular insulin and noted that the label indicated U-100. She interpreted that to mean there were 100 units of Regular insulin in the small vial and began to draw up the patient's dose…..
If you are a long-time nurse, especially in the correctional setting, you may be surprised to learn that drawing up insulin from multi-dose vials and mixing insulins in a single syringe are no longer as common a practice in traditional health care settings. Individual insulin pens and premixed pre-measured syringes have frequently replaced nurse calculations in administering insulin for diabetic management. Nurses new to our specialty may have little experience with what we consider a common practice. Fewer safeguards and, often, minimal oversight of staff practices can lead to a variety of clinical errors.
The Institute for Safe Medical Practices (ISMP) reviewed errors in using insulin vials. They fell into the following categories. Consider your own setting and multi-dose vial practices and evaluate how many risks are currently present:
Dosing errors: In the example above, Cheryl assumed that U-100 was the total number of units in the 3ml insulin vial. This can happen when staff are not familiar with insulin characteristics and standard concentrations. Dosing errors can also result from using a syringe labeled in ml rather than units (mixing insulin syringes with parenteral syringes).
Look-alike vials: Vials of different medications can appear similar-especially if the nurse is distracted or time-pressured, as Cheryl was.
Unlabeled syringes: In some settings nurses may draw up medication in syringes prior to direct administration. If syringes are not labeled, a mix-up can result in medication given to the wrong patient.
Beyond expiration: If expiration dates are not written on an opened multi-use vial once it is punctured it may be used when it is no longer safe or potent.
Cross-contamination: Because a vial can be accessed by multiple practitioners for many different patients over several weeks, there is great chance for contamination. This is more common that you might think. One study found that 25% of practitioners have re-entered a vial with a contaminated needle. Recent news from the Connecticut show that this continues to be an issue in the correctional setting.
Multi-dose vials, in general, are a source of considerable medication error. The most common uses for multi-dose vials in the correctional setting are insulin, PPD solution, and vaccine. Here are some standard protocols for multi-dose vial use in any setting:
NEVER reinsert a used needle into a multi-dose vial.
Whenever possible, have a separate vial for each patient. Clearly label with the patient name and organize vial storage to maximize easy identification.
Medication in vials are good for 28 days and should be labeled with the expiration date once opened for use (unless the manufacturer information specifically states otherwise).
Cleanse the access diaphragm of multidose vials with 70% alcohol before inserting a device into the vial.
Discard multi-dose vials if sterility is compromised.
Many medications provided in multi-dose vials also need refrigeration. Be sure that the medication refrigerator is kept at the proper temperature. "Vaccine clinics" can be of particular concern as vials may be removed from refrigeration for extended periods of time which can jeopardize the integrity of the vaccines.
Follow facility regulations regarding sharp movement, if a pre drawn syringe, and multi-dose vials are used, they should be transported in a locked container with access to a disposal system at the point of administration.
Unfortunately, safeguards were missing in Cheri's insulin administration situation. Although her new patient received an overdose of insulin, he recovered from a significant hypoglycemic event with quick treatment and a day of evaluation in the infirmary. Could this situation happen in your facility?
Share your thoughts on the dangers of insulin administration from multi-dose vials in the comments section of this post.
Photo Credit: © antpkr – Fotolia.com