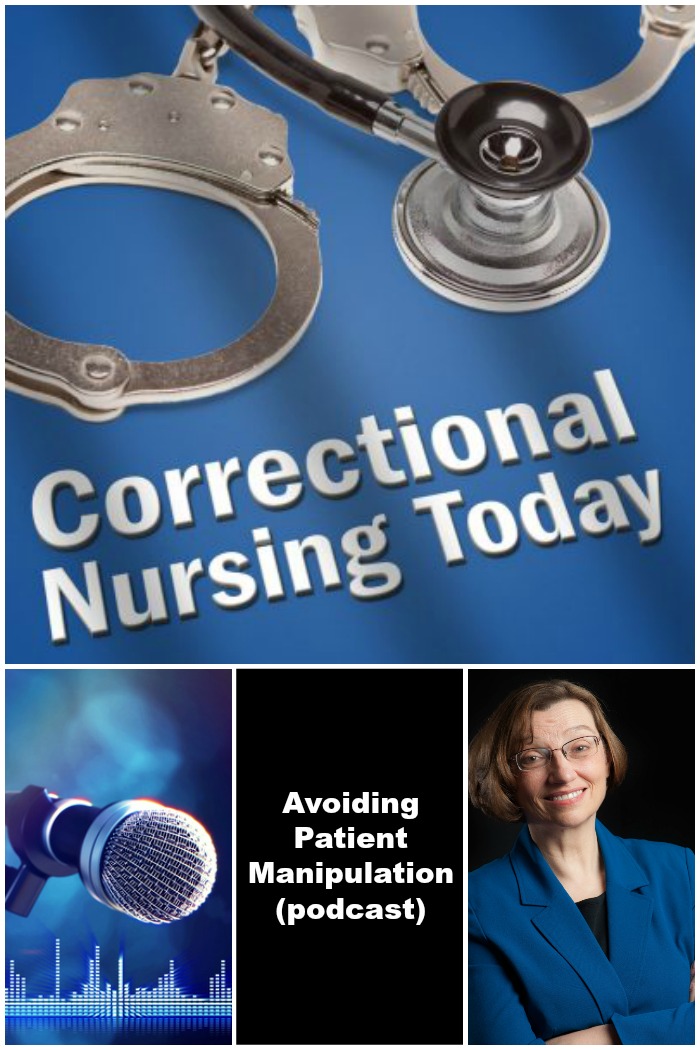 Corrections expert and author, Gary Cornelius, joins Lorry to talk about the best ways to deal with manipulative patients. He shares highlights from his excellent book Art of the Con  which was instrumental in developing the chapter on staff safety in the Essentials of Correctional Nursing book.
He provides a helpful 3-part description of manipulation as 1) wanting to control or change things 2) by artful and unfair means 3) to achieve a desired end.
Key concepts from the interview:
Everyone is a target. You have what the manipulator wants – access to the outside.
Stressed out people are vulnerable. Financial problems, emotional stress, or marital discord can be used by some inmates to manipulate staff to do their bidding.
If a request is made that you are not sure about – talk to your supervisor first.
The schemes will start small and seem innocent. The idea being, if you bend the rules for small things what else will you do?
Try the C-H-U-M-P-S approach when dealing with correctional patients:
C-Control rather than complacency. Be the master of your assignment. Assert your rightful authority. This can also mean saying 'No'. Always avoid becoming complacent.
H- Help inmates to help themselves. Instead of doing things for them, explain how they can do it for themselves through the system.
U- Understand the inmate culture and demographics of your patient population.  For example, it is common for inmates to lack stable relationships in their lives and be involved with excessive drug or alcohol use.
M- Maintain a safe professional distance. Keep the patient's knowledge about you at a minimum. Don't accept gifts from patients.
P- Stay professional and adhere to policies and procedures. Know what your agency expects of you. Be well-groomed and professional looking.
S- Stressed out staff are vulnerable. Work stress, home stress, or financial stress can lead to manipulation.
Additional Resources on Patient Manipulation in Corrections:
How to Work with Inmate-Patients Part 1: Be Alert for the Con
How to Work with Inmate-Patients Part 2: Are You a Target
How to Work with Inmate Patients Part III: Watch for These Techniques
How to Work with Inmate Patients Part IV: Protecting Yourself
In the Nursing News
Pharmacological interventions for sleepiness and sleep disturbances caused by shift work
Published this month in the Cochrane Database of Systematic Reviews is a thorough review of sleepiness and sleep disturbances related to shift work with findings that 1-10 mg of melatonin may increase sleep length during the day after a night shift by 24 minutes. They also found that caffeine plus pre-shift napping decreased sleepiness.
Idaho Reports Alarming Rise in Whooping Cough Cases
Although more dangerous for infants and children, the CDC reports that adults frequently contract the infection and then pass it along to children. They recommend a vaccination booster for whooping cough for all adult. This is combined with tetanus and diphtheria and often called the TDAP. So check that out for yourself. We come in contact with a lot of infections in our facilities
Cocaine Use and Risk of Strokes
The National Center of Epidemiology performed a systematic review of previously published research and concluded that cocaine use increases stroke risk. If cocaine is a drug of choice for your patient population, be on the lookout for stroke symptoms in even your younger patients with a drug history.