Not all inmates are seeking victims to manipulate, but some are. Nurses working in jails and prisons need to know how to protect themselves from falling into common traps. It is your duty for protecting yourself as a correctional nurse.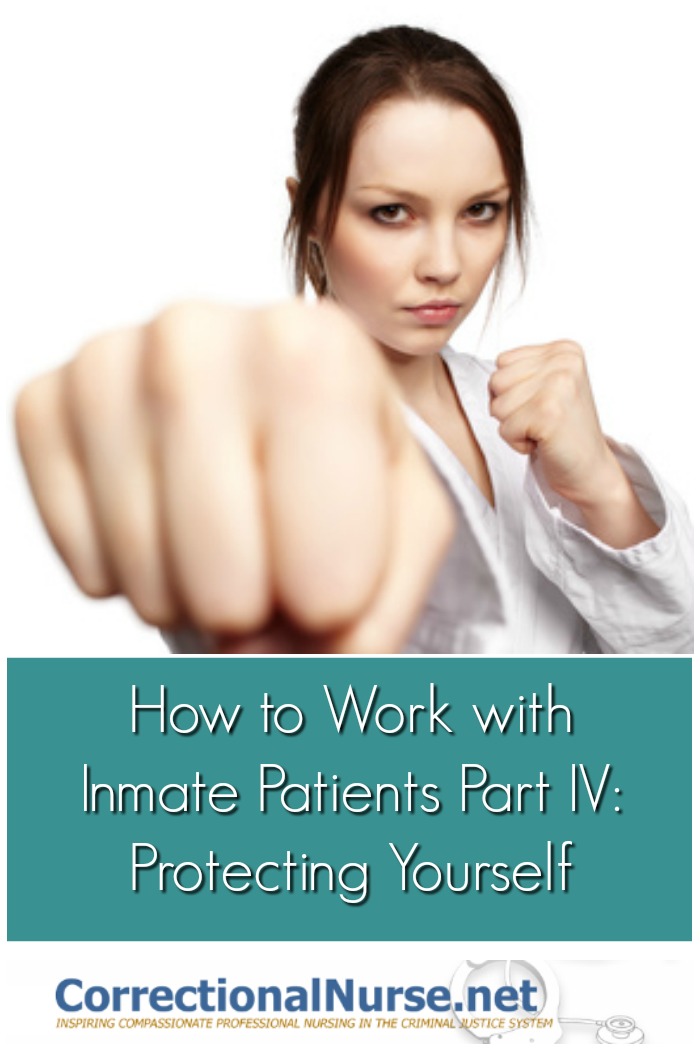 Protecting Yourself as a Correctional Nurse
Here are some tips to stay safe while caring for our patient population.
Be professional at all times. Understand relationship boundaries and don't go beyond them. Inmates will seek to gain a friendship relationship. Stay within bounds of professional interaction.
Be on alert when in the work environment. Be aware of those around you when you are talking about personal activities. Limit these interactions to private staff areas rather than in front of inmate patients.
Become an expert at the games and techniques that are commonly used by manipulating inmates. Point them out to your team members when you see them. Protect each other from harm.
Treat all patients in a firm, fair and consistent manner. This allows little opportunity for misinterpretation or leveraging your behavior to ill advantage.
Learn to say 'No' firmly and objectively. No need to be personal or emotional about the choice not to respond to a request.
Keep everyone, especially your supervisor, apprised of concerns about particular inmate behaviors. Even if you have been compromised. Tell your supervisor immediately. Don't spiral further into error.
Document any compromising situation including your specific response. If there is not a formal mechanism for this documentation, keep your own personal file. This will be helpful should a particular situation come into question.
The challenge for correctional nurses is to remain caring in a therapeutic relationship without being drawn into a personal relationship and compromising security. The tightrope we walk is to deliver nursing care within the bounds of propriety and security. Your personal safety and the safety of other staff and inmates can be jeopardized if we don't get this right.
Information in this series comes from a presentation given by Lori Roscoe, PhD, MPA, BSN, CCHP-RN at the Nursing Forum of the 2012 National Conference of the American Correctional Health Services Association (ACHSA). Dr. Roscoe is Executive Director of Clinical Services at CorrectHealth Companies and has great information for correctional nurses at her website The Correctional Nurse Educator.
Have you needed to report an inmate-patient or document a compromising situation? Share your experiences in the comments section of this post.
Photo Credit: © Serg Zastavkin – Fotolia.com
If you like the story you might like:
The Basics of Caring for Criminals
Botulism and Prison Brew
How to Work with Inmate Patients Part III: Watch for These Techniques
How to Work with Inmate Patients Part II: Are You a Target?
How to Work with Inmate-Patients Part 1: Be Alert for the Con