Inmates who seek to manipulate and control staff members use some common techniques to select their victims and start a con. How to work with inmate patients? Watch for these techniques. Be on guard for these behaviors in your inmate patients and don't be surprised when one of these techniques is used on you.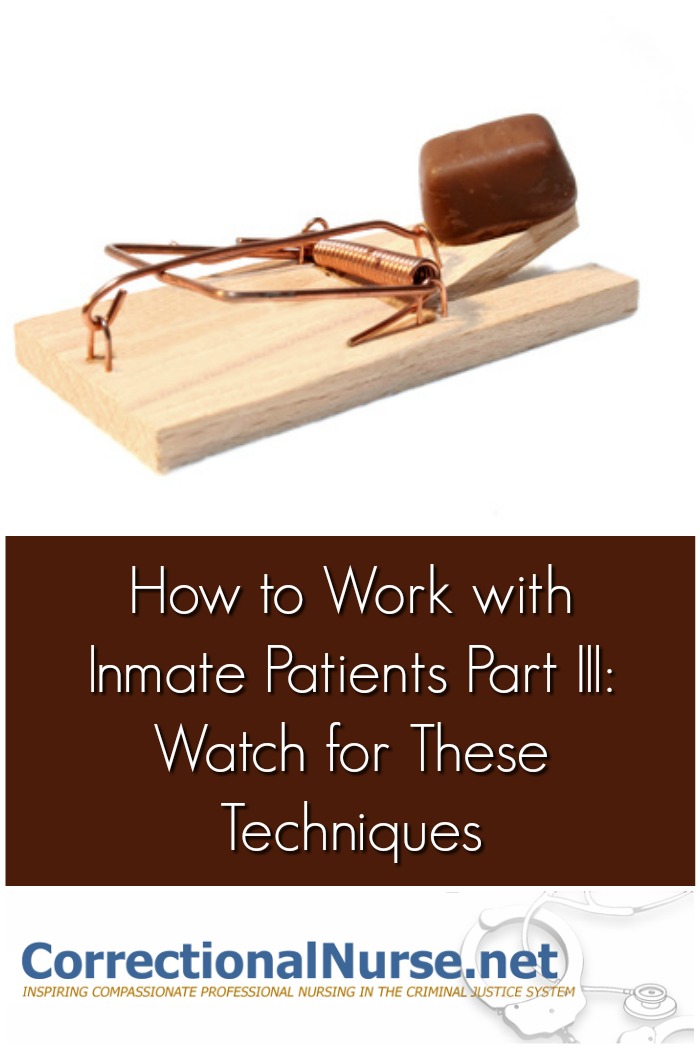 Inmates can intentionally target vulnerable staff members and watch for an opportunity to intervene to their benefit. They have time to watch staff members and their interactions with other staff and inmates. Conversations and actions can be carefully prepared for maximum effect. They will, in particular, seek to compromise staff by seeing how far they can be moved to break rules. Even the smallest of rule infractions can be leveraged to their advantage. Requests can include a minor contraband item such as a bandaid or an alcohol wipe. They may ask for medication for a headache when the rule is to request a sick call appointment. This is why it is so important to fully understand security rules and be able to interpret them in various healthcare interactions.
In particular, inmates will watch staff to determine weaknesses in how they perform their duties. For example, staff members will be observed for indications they are not satisfied with their job or have sloppy work habits. Staff who regularly arrive late to work, are easily distractible, or disgruntled are targets for inmate manipulation. Clothing and appearance also speak to a staff member's attention to detail and interest in professional behaviors.
Once a staff member is selected as a victim, a turn-out will begin. This can take place at an intentionally planned time or an opportunity may present itself based on a situation. In all cases, the turn-out takes place after successfully developing a relationship with staff through small requests, intimacies and favors such as 'protecting' the staff member (See Part I of this series).
Once compromised the staff member is given a shopping list of contraband items desired by the inmate. If the victim refuses they are reminded of their many other rule infractions that will now be reported. Often staff are convinced this is a one-time request and they comply. However, this is the beginning of a long spiral downward into deeper and deeper compromise.
Once at this point, staff have three options. Many comply; some resign their positions or transfer; a few self-report. Self-report is always the best, though hardest, choice to make.
Be prepared and ever alert when providing nursing care to inmate patients. Not all of your patients are seeking staff victims, but some can be. Do you have an inmate patient story to share? How do you respond to these behaviors? Share your thoughts in the comment section of this post.
Information in this series comes from a presentation given by Lori Roscoe, PhD, MPA, BSN, CCHP-RN at the Nursing Forum of the 2012 National Conference of the American Correctional Health Services Association (ACHSA). Dr. Roscoe is Executive Director of Clinical Services at CorrectHealth Companies and has great information for correctional nurses at her website The Correctional Nurse Educator.
Photo Credit: © silencefoto – Fotolia.com