Inmates have time on their hands and they can be a good judge of character. Unfortunately, some inmates are looking for staff member characteristics that indicate they can be manipulated and controlled. Are you a target for potential inmate manipulation?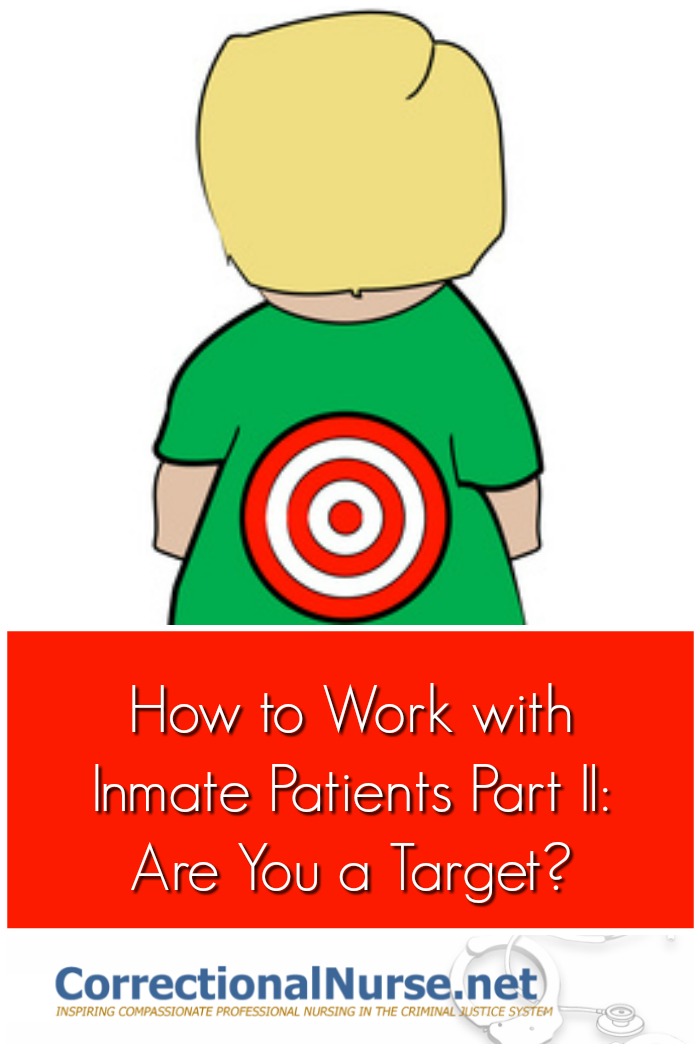 Are you a target for potential inmate manipulation?
Consider which of these three character types best represent you.
Soft: The soft staff member wants to be liked and tries to please. This nurse is a follower rather than a leader and has difficulty saying 'No'.  For example, a nurse who has joined the staff after working in a Long Term Care facility may be adept at comforting and accommodating patients. Soft staff members are easy prey for manipulation and often don't see it coming until they are already compromised.
Hard: The hard staff member is a no-nonsense person who follows the rules and regulations to a 'T'. This individual is inflexible to a fault and holds themselves and others to a high standard of conduct. It would seem that a hard staff member would not be easy to compromise, but actually they have a weakness that can be exploited. So much of this staff member's self-image is wrapped up in following the rules that they can be blackmailed if even a small infraction is witnessed. Those inmates looking for a victim will seek to exploit this self-image flaw to their benefit.
Mellow: The mellow staff member also follows the rules without variation. However, this staff member understands when they need to be empathetic and when they need to be firm within the confines of the system. Since their self-image is not attached to rule-keeping, they are less likely to respond to a threat of exposure, and, instead, will report an inmate's threatening behavior.
A mellow staff member is difficult to turn and takes a good bit of time investment. Therefore, inmates are less likely to focus efforts on a mellow staff member. If you see characteristics of a soft or hard staff member in your self-evaluation, take steps immediately to change your behavior toward your patients.
Information in this series comes from a presentation given by Lori Roscoe, PhD, MPA, BSN, CCHP-RN at the Nursing Forum of the 2012 National Conference of the American Correctional Health Services Association (ACHSA). Dr. Roscoe is Executive Director of Clinical Services at CorrectHealth Companies and has great information for correctional nurses at her website The Correctional Nurse Educator.
Are there targets in your facility health care staff? Are you one? S your experiences in the comments section.
Photo Credit: © Willee Cole – Fotolia.com
If you like this post, you will like:
Understanding Your Patients: What is the Criminal Lifestyle?
Don't Take Sides in an Inmate Dispute
The Correctional Nurse's Guide to Saying 'No'
Body Packing and Body Stuffing: What You Need to Know
Inmates Don't Lie