Preparing for an interview for a correctional nursing position includes developing honest and thoughtful answers to potential interview questions. If this is your first correctional experience, it may be difficult to know what questions are commonly asked and also difficult to spontaneously respond to unfamiliar areas of questioning. This post is Part II of a three-part series on potential correctional nurse interview questions. Find more posts about interviewing HERE.
Questions about Your Nursing Experiences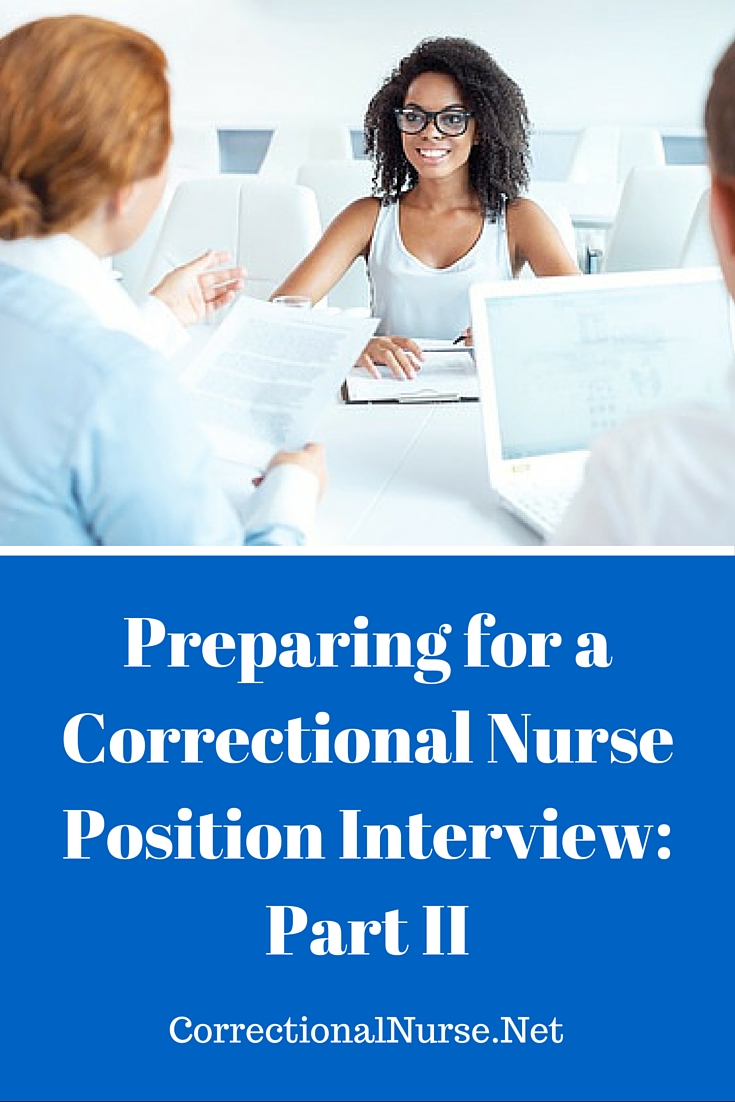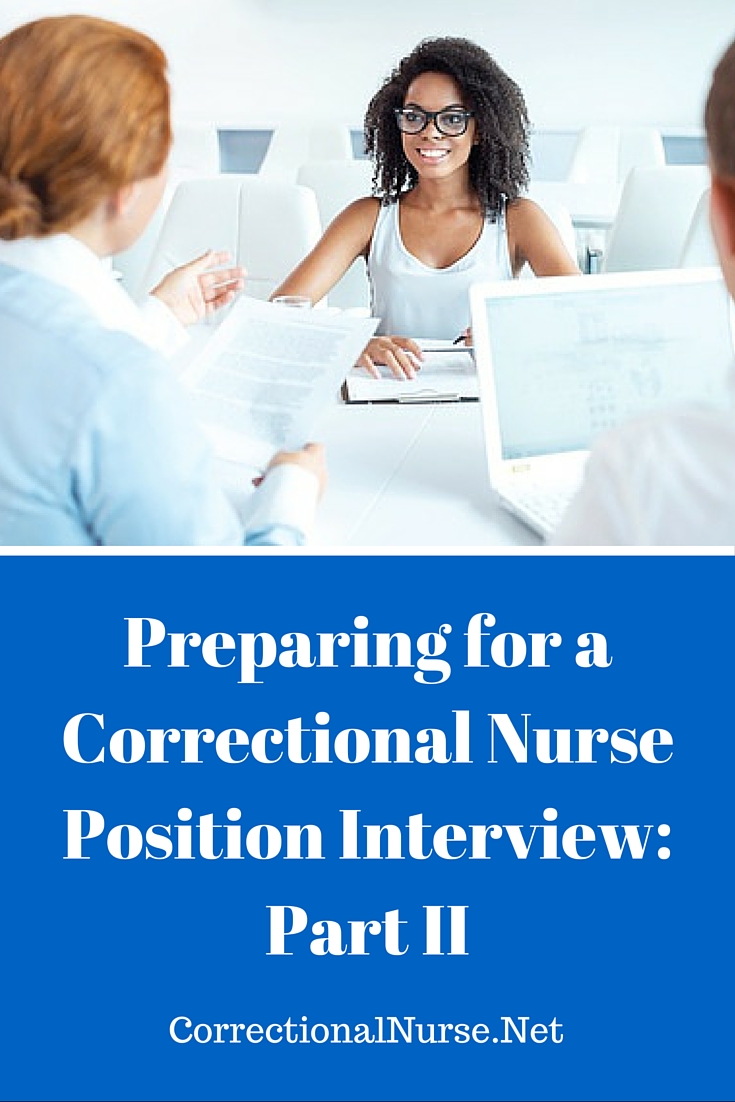 Questions about your nursing experiences are a part of any position interview, no matter the specialty. They are included here to help you prepare for a well-rounded interview. Focus on the relationship of your experience as they might relate to the unique setting and patient population of correctional health care.
You have 60 seconds, tell me about yourself.
The interviewer is looking for a self-appraisal as a nurse so limit your hobbies and interests here unless they might give insight to your values or motivation. For example, if you volunteer at a homeless shelter, that might be of interest. Otherwise, prepare a short response to a question like this that focuses on honest positives about yourself that fit the role of a correctional nurse (based on information from this book).
Name a specific time you knew you were in over your head with a patient, what you did about it, and what you learned from the experience.
You are likely to be in over your head at some point in your correctional practice. The interviewer wants to hear that you remained level-headed and made wise decisions about how to solve the situation. Think back on your nursing career for a specific example and emphasize how you initiated action, sought out assistance, and kept the patient safe. Be sure to include what you learned from the experience. It can be a confirmation on something you did in the experience. It does not need to be an acknowledgement that you didn't do something you should have.
Name a specific time you had difficulty with a patient's behavior, how you handled it, and what you learned from the situation.
Correctional health care is full of patients with anger management issues and poor behavior control. The interviewer wants to know that you can deal with difficult patient behavior. Like the prior question, prepare a response that describes an actual patient experience you had and how you managed it. It doesn't need to be a complicated situation. Something as simple as a patient being upset that his pain medication was delayed will work.
Name a specific example of a time you were reprimanded at work, how you handled it and what you learned.
Here the interviewer wants to know that you are willing to take corrective feedback and use it to improve your nursing practice. If you have never been reprimanded at work, state this and, instead, share a story of when you received a constructive critique during a performance review or critical incident. Emphasize your desire to excel in nursing practice and that you thoughtfully consider all feedback in order to make improvements in future practice.
Give a specific example of a time you had multiple things to do, all at the same time. How did you prioritize your tasks and what you learn?
This is a common example question for all nursing positions. Correctional nursing requires prioritizing and re-prioritizing activities throughout the shift. Develop a good example of how you did that in a difficult situation. Things to include might be pausing to re-evaluate the situation, considering the most important actions to take immediately based on patient acuity and safety, and seeking out opportunities for delegation.
If you were up against someone with the same level of education and experience for this position, tell me why I should hire you over someone else?
When compared equally to another applicant on education and experience, your advantage can lie in your motivation, values, and even flexibility. For example, you may have a desire to work with a disadvantaged or behaviorally challenging patient population. Although you may have the same years of experience as another applicant, your experience might be better suited to the correctional setting and patient population. You may be able to say that you are a flexible worker and willing to work a variety of shifts or positions. Develop a list of ways you are more than your education and experience so you can answer a question like this one.
What would your current supervisor say if we asked what your strengths and weaknesses were?
This can be a challenging question to answer; especially if you and your current supervisor do not see things in the same way. That is why it is good to be prepared for this question and answer it confidently. There are multiple perspectives on a situation and you want to present the most positive perspective on your strengths and weaknesses. Do you have philosophical differences with your supervisor? That can mean that you are guided by your values, determined, and forthright. Have you been reprimanded by your supervisor? If so, consider how you responded to the critique. Can you say that you take constructive criticism well? Be sure to have a response that includes both strengths and weaknesses as the interviewer is likely to probe further if you do not offer both.
Explain a situation when you were forced to make a decision that no one else agreed with?
Correctional nurses can sometimes be in a situation where there is a need to make a decision that no once else agrees with. It could be an urgent need for the patient to be transported to the hospital or it could be the need to address an emerging ethical issue. The interviewer wants to know that you will be able to overcome obstacles in order to get the care needed for the patient, even if no one else agrees with you. Ponder situations in your past experience where you needed to persuade others of the right course of action and develop a list of actions you took to accomplish your objective.
What questions have you been asked during a correctional nurse position interview? Share your experiences in the comment section of this post.