Preparing for an interview for a correctional nursing position includes developing honest and thoughtful answers to potential interview questions. If this is your first correctional experience, it may be difficult to know what questions are commonly asked and also difficult to spontaneously respond to unfamiliar areas of questioning. This post is the final one of a three-part series on potential correctional nurse interview questions. Find Part I and Part II here.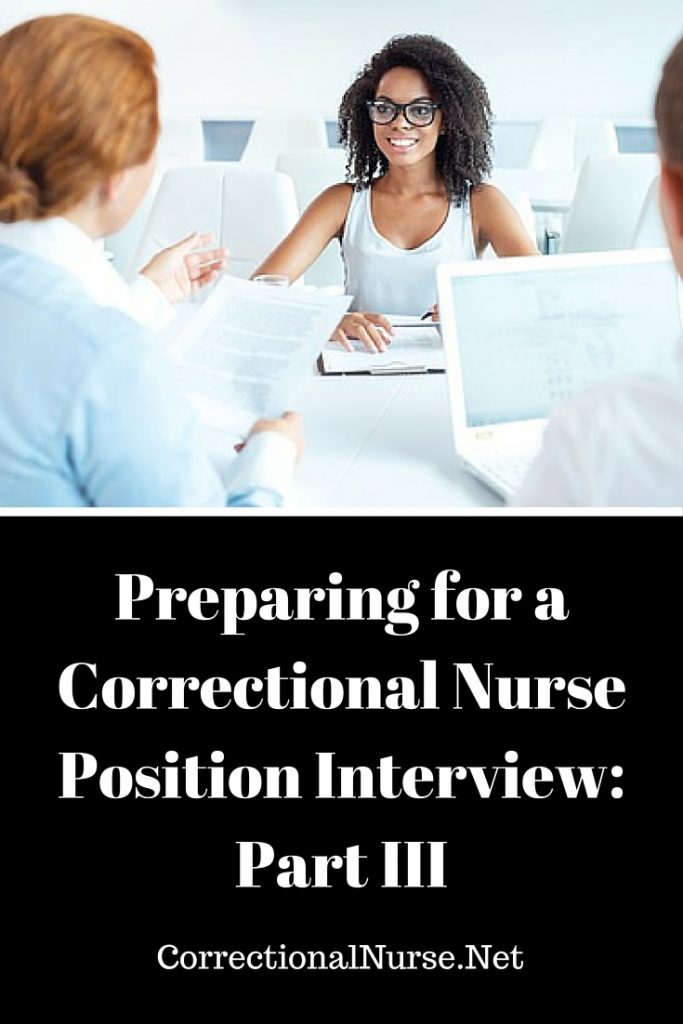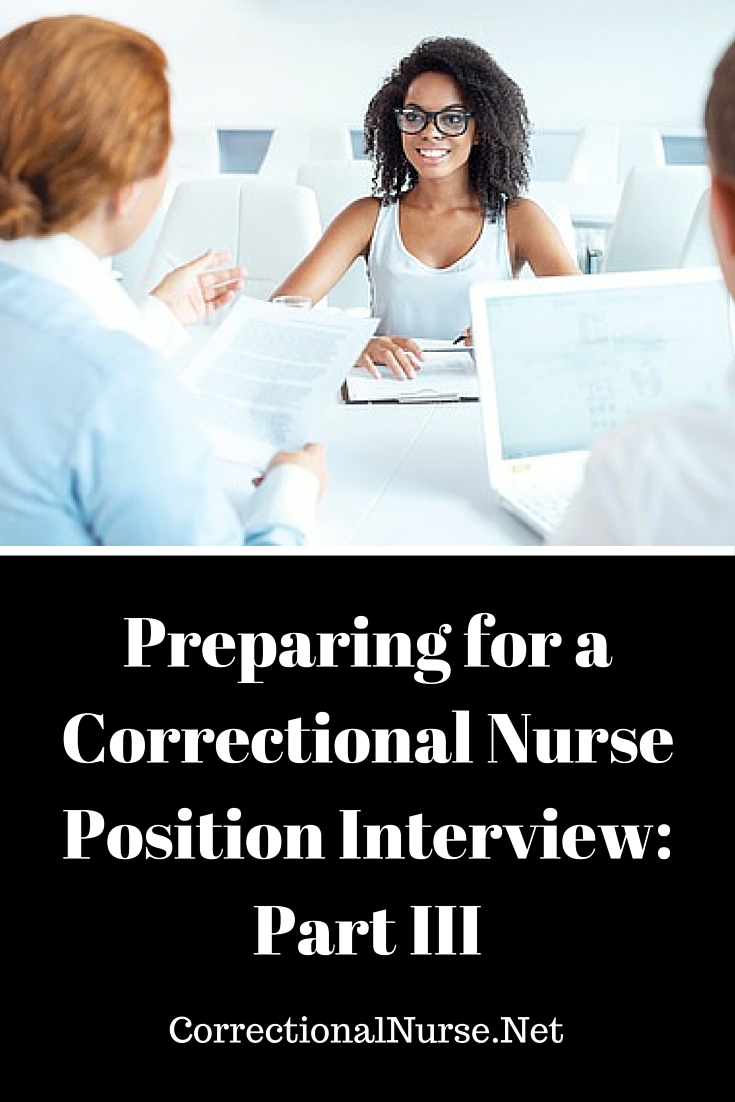 Questions about Nursing CARE
Nursing in a correctional facility requires specialized skills, knowledge and work behaviors. Describe what you think they are.
Skills might include excellent objective assessment, communication, emergency response, and organization skills to shift gears quickly while still getting required work done. Knowledge might include understanding communicable diseases, the health needs of the inmate population, and safety procedures. Work behaviors would include being reliable, always letting team members know where you are, good follow-through, and being firm, fair and consistent with the incarcerated individuals and staff.
How comfortable are you with providing patient education? What are three important facts that your hypertensive patients should know?
Patient education is perhaps one of the most important things we do as Correctional Nurses. In answering any question about patient teaching, be sure to mention the need to present the informational at an easily understood level. Remember to note that some patients may not be able to read, making written material less helpful. It is good to include the teach-back method, where patients are asked to repeat back what they have learned to determine comprehension.
Name some psychotropic drugs and their side effects.
Incarcerated patients have high levels of mental illness, including depression, psychosis, and personality disorders, for which they are prescribed medication. Thus, correctional nurses administer many psychotropic drugs, and they must be knowledgeable about the medications themselves and their side effects. Brush up on common psychiatric medications and their side effects for a possible interview question like this one.
How do you think your nursing practice will change when you come to work in this jail/prison?
Here the interviewer wants assurance that you plan to practice in the correctional setting according to professional standards just as you would in a traditional healthcare setting. Confirm that you would practice according to your state Nurse Practice Act, the Correctional Nursing: Scope and Standards of Practice, and the Code of Ethics for Nurses. Then identify that the correctional environment and patient population provide a different context for nursing care, but your practice would remain the same. For example, the way you test a finger stick blood sugar is the same in any environment, but the fact that you are accountable for that sharp, and must count supplies every shift is unique to the correctional environment and does change the process by which you test your patients' blood sugar levels.
General Nursing Questions
Interviewers often want to confirm general nursing knowledge for common correctional nursing processes. Be prepared to answer questions about your standard practices for the following common nursing activities:
Medication administration – 5 (or 8 or 10…)Rights
Hand hygiene and infection control
Nursing assessment/Physical evaluation
Emergency response
Disease-Related Questions
The interviewer may ask questions related to common conditions and diseases prevalent in the correctional patient population. Perform an internet search or pull out a basic nursing text and brush up on these conditions.
Abdominal Pain
Chest Pain
Heat Exhaustion/Heat Stroke
Hepatitis
HIV
Hyper and hypoglycemia
Hypertension
Narcotics Overdose
Orthopedic Issues-Sprains, Strains, Fractures
Seizures
Respiratory Distress
Skin Conditions – Athlete's Foot/Eczema
Tuberculosis
Good Luck!
We hope that you find Correctional Nursing a rewarding career!
What questions have you been asked during a correctional nurse position interview? Share your experiences in the comment section of this post.