Jennifer, an RN at a city jail. is about to go off shift but wants to check on an inmate who was still in booking awaiting a housing assignment. He had come in disheveled and wasn't making logical connections in conversation. His BAL and FSBS were in normal range. She wanted to know if he as stable or deteriorating. When she asks to be admitted to the booking area for the assessment, the booking officer rolled his eyes and released the door. She overheard him muttered to his partner "What does she want to do, kiss him goodnight?"
Microaggressions are those subtle verbal and nonverbal indignities that demean, insult, or invalidate a person or group. While in society, we see microaggression defined as it relates to race, gender, sexual orientation, or religion, nurses can experience microaggression as a part of everyday life when working in a correctional facility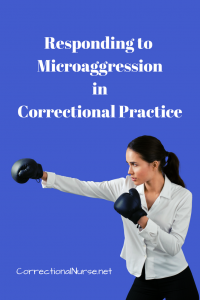 The microaggression Jennifer experienced was intentional, but these slights can also be unintentional based on the misunderstanding of one group by another. As I have written in a prior post, it is easy for correctional officers to misunderstand nurses and, indeed, nurses can easily misunderstand officers and their culture.
Negative comments, often thinly veiled as a joke, can quickly derail an organizational culture and reduce necessary comradery and cohesion among the disciplines. Ignoring microaggressions will have a negative effect on the work environment and increase job stress and burnout. Jennifer wanted to just ignore these comments but responding appropriately is essential to maintain a positive work environment.
One helpful framework for responding to microaggression is the ACTION response.
Ask questions to clarify intentions:
 "I want to understand what you're saying. Are you saying …?"
 "Please help me to understand what you mean by that?'
 "Can you tell me what you hoped to communicate by that comment?"
Come with a perspective of Curiosity
Curiosity will help you clarify intention
Decreases defensiveness
Tell what you observed as problematic
Stick to the facts
"I noticed that …"
Impact exploration:
Ask for, or state the potential impact of the comment
"What do you think others think when they hear that type of comment?"
"How does that comment make you feel?"
Own your thoughts and feelings about the comment
"When I hear that comment, I feel…"
"I would perceive that type of comment as being hurtful."
Next steps: request appropriate action be taken:
"I would appreciate it if you would refrain from using that term during our class as it is inconsistent with our course objectives and learning agreement."
The ACTION acronym provides a framework for defusing potentially negative microaggressions in relationships with correctional colleagues. Left unattended, microaggressions can deteriorate the work environment and decrease your effectiveness as a correctional nurse. Using the ACTION framework helps you to defuse negative microaggressions and maintain a positive atmosphere.
What about you? Have you experienced microaggression as a correctional nurse? What would you advise Jennifer to say or do in the situation above?