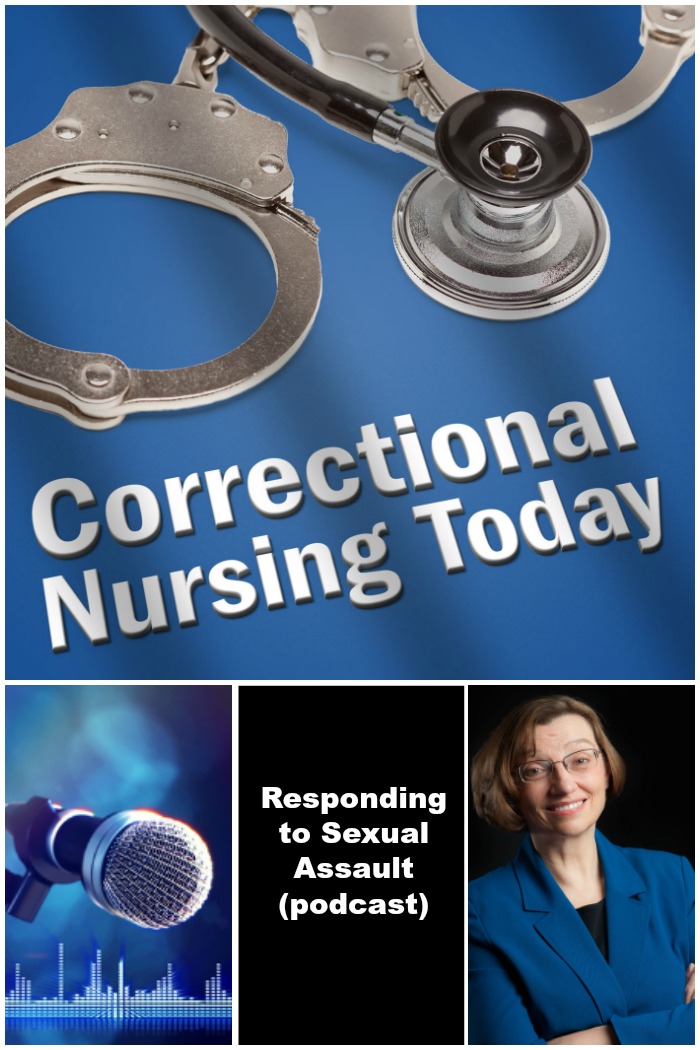 Guest Jayne Russell, MEd., CCHP-A, talks about how correctional nurses can respond to sexual assault and the new Prison Rape Elimination Act (PREA) standards. According to reports from a recent Bureau of Justice Statistics survey of inmates in adult and juvenile facilities, 4% of state and federal prisoners and 3.2% of jail inmates reported one or more incidents of sexual victimization by another inmate or facility staff. The Prison Rape Elimination Act was initiated to deal with this situation. This legislation was passed in 2003, and created the National Prison Rape Elimination Commission (NPREC) to develop standards for the elimination of sexual abuse in correctional facilities. The Department of Justice (DOJ) has reviewed and passed the Commission's proposed standards. They were published in the federal register on June 20, 2012, and became effective on August 20, 2012.
Major provisions of the act are to create a zero-tolerance standard for the incidence of inmate sexual assault and rape and to development of standards for detection, prevention, reduction, and punishment of prison rape. How can correctional nurses assist in these efforts?
Inmates most likely to be targeted for sexual assault in jails and prisons are white or multi-racial, non-heterosexual and have past experience of being assaulted. Physical characteristics that could predispose to sexual assault include a slight build. Nurses should screen for these factors in making a determination of sexual assault potential during intake. Custody and healthcare staff must develop a system for identifying and protecting these individuals from assault.
The physical environment and layout can affect sexual assault potential. Surveillance and visibility are important. Inmates should always be within a line of sight to avoid opportunities for assault. Health care units need to be evaluated for visibility in all areas. Layout should also be considered for the confidentiality needs of assessing and treating potential assault victims.
Inmate education about sexual assault is also needed. Inmates must be aware of mechanisms for reporting an assault and the medical and psychological support services available to them. Inmates who have been sexually assaulted are three times more likely to suffer from post-traumatic stress disorder (PTSD) and contemplate suicide. They can also suffer from rape-trauma syndrome, a constellation of physical and psychological symptoms resulting from the traumatization of the assault.
Correctional nurses need to work with security and administration to create organizational structures that discourage assault and processes for reporting and managing any sexual assaults that may take place. Coordinated efforts will result in a safer and healthier environment for both patients and staff.
What is your facility doing to implement the new PREA standards? Share your tips in the comments section of this post.
PREA Resources