I have encountered many nurses who have never considered working in a jail or prison. In fact, very few nurses decide on a nursing career with the thought "I want to be a jail nurse".  This patient community is fairly invisible to healthcare professionals. Should You Consider Correctional Nursing? Once encountered, possibly by way of a job posting or meeting someone like me, there are some common questions that come to mind. Let's explore them together to demystify the corrections healthcare environment.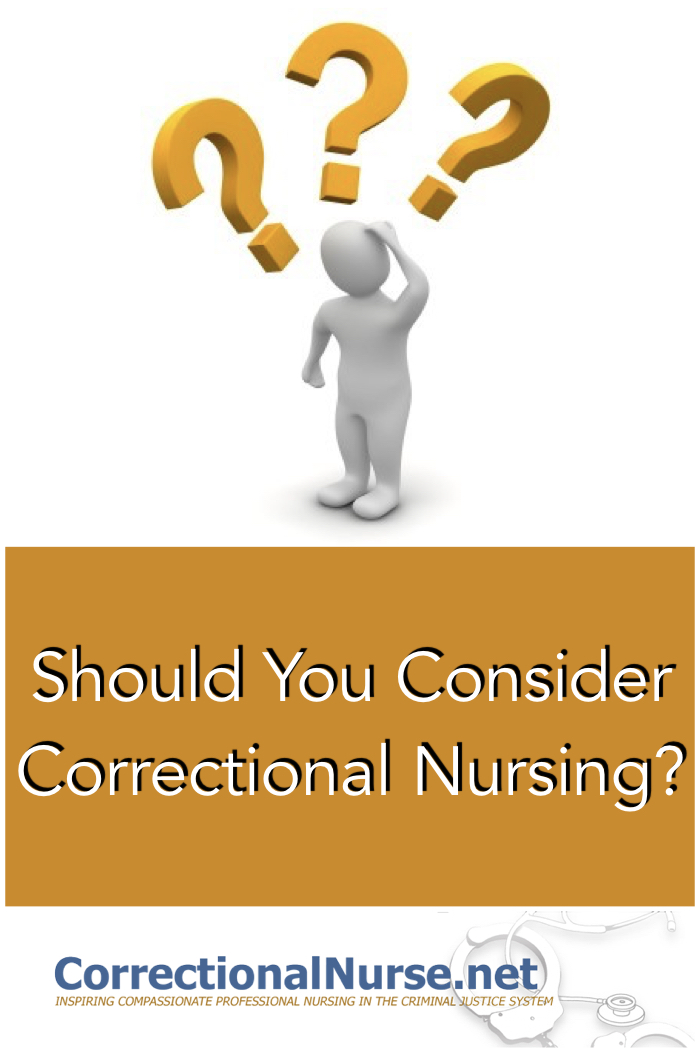 Should You Consider Correctional Nursing?
Question #1 – Isn't it unsafe to work in a jail or prison?
It is true that safety is a major concern in this environment. However, many precautions are taken to allow a safe work environment including the presence of custody officers in the care area. I often liken the patient population to that of an urban emergency room. In some ways, a correctional nurse is in a safer situation because the arrestee or offender is clearly identified and everyone is on alert. This is not necessarily the case in an urban 'free world' setting. During the orientation period, most agencies provide intensive safety training to healthcare professionals. When interviewing for a position in corrections, ask questions about the safety measures in place at the facility
Question #2 Isn't healthcare in prisons and jails substandard?
Since the '70s, correctional healthcare has been held to the standards of the community. Case law and advocacy groups have established a body of work which has led to an improvement in medical and mental health care for the incarcerated. When considering a position at a facility, ask about accreditation. Two main accrediting bodies NCCHC (National Commission on Correctional Health Care) and ACA (American Correctional Association) are available. These two operate similarly to the Joint Commission (JCAHO) in that they provide an outside source determining that quality standards are being met.
Question #3 Won't I be working with poor practitioners – nurses and doctors who can't get a job anywhere else?
Nurses and physicians come to the correctional environment for many reasons. Many have a true desire to help the underserved in our society. Some see it as a calling as well as a job. There are many truly dedicated practitioners working in jails and prisons, often in very challenging situations. Licensure, peer review, competency evaluation and credentialing are all standard requirements, just as in the 'free world'.
Question #4 Won't I put my family in danger with all the diseases inmates carry?
This is a surprising question to me, but I have heard it enough to know it is a concern. Due to the high level of drug and alcohol abuse among those coming into the jail environment, personal hygiene is often poor. In addition, addictions and lifestyle choices lead to increased levels of Hepatitis B & C, HIV, and tuberculosis in this population. Nurses working in corrections, however, have all of the protections of standard precautions and vaccinations as do those in other settings. Nurses in the corrections environment must be ever alert to disease transmission and must carefully adhere to infection control practices.
Question #5 Why would I want to make a career of correctional nursing?
Correctional nursing is a specialty practice area with its own distinct body of knowledge and specialized patient population. Many nurses stubble on to this specialty by accident and continue on enjoying the many challenges and benefits. Some jokingly say they work in a 'Gated Community'. Correctional nursing often provides a less stressful and physically demanding environment than traditional hospital nursing.
Maybe another question has come to mind as you read this blog post. Include your question (or comment) in the comment section and I will answer on a future post.
If you like this post, you might like to visit:
Preparing for a Correctional Nurse Position Interview: Part I
Preparing for a Correctional Nurse Position Interview: Part II
Preparing for a Correctional Nurse Position Interview: Part III
How to Perform a Psychiatric Nursing Assessment
Root Cause Analysis: Patient Safety Powerhouse