Lorry's guest for this episode is Alexandra Wimberly, PhD, Assistant Professor at the University of Maryland School of Social Work in Baltimore. She and her colleague, Dr. Malitta Engstrom, published the article Stress, Substance Use, and Yoga in the Context of Community Reentry Following Incarceration in the January 2018 issue of the Journal of Correctional Health Care.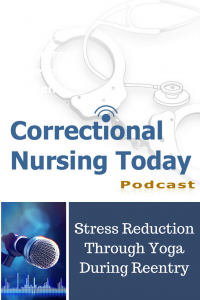 Stress and substance use are both concerns for the correctional patient population. However, little substance use treatment is provided during incarceration. Re-entry into the community following incarceration is also stressful and return to substance use is frequent. Basic needs such as housing, employment, and healthcare can be prime stressors.
Yoga practices have been found to reduce the effect of stress and could be assistive in smoothing reentry concerns. This reduced stress may also reduce the desire to return to substance use in the community.
Wimberly and Engstrom conducted 60-minute yoga classes at a Reentry Center in Philadelphia. Two hundred and four reentering individuals voluntarily participated in these classes from 2013 to mid-year 2015. The session focused on physical and psychological elements of yoga and included a series of lying, standing, and sitting postures that both stretch and strengthen the body. Each session ended with a relaxation exercise.
Prior to attending the classes, participants indicated their primary reasons for involvement were stress reduction and relaxation. Feedback following participation showed that participants found yoga poses helpful for inducing sleep, alleviating tension, and alleviating physical pain.
Wimberly notes that yoga does have limitations and it is not a 'cure' for stress or substance use. However, it holds promise as an adjuvant therapy.
In the podcast, we explore the application of yoga in a correctional setting along with insights Dr. Wimberly gained from her experiences at the Reentry Center.
What do you think? Could yoga work in your setting? Share your thoughts in the comments section of this post.