While I am on summer sabbatical for the month of July, catch up on some important info with this summer reading series of past Correctional Nurse posts.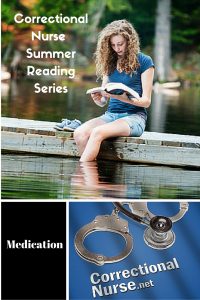 Medication administration is a common and frequent nursing task in most settings. There are plenty of opportunities to get things wrong….even when surrounded by fantastic resources like an onsite pharmacy and electronic information sources. Correctional nurses don't often have these advantages, though, and medication administration can take on some interesting configurations and lead to some risky practices. Here are some past blog posts on administering medication in a correctional setting.
What has been your greatest challenge in administering medications in your setting? Share your thoughts in the comments section of this post.