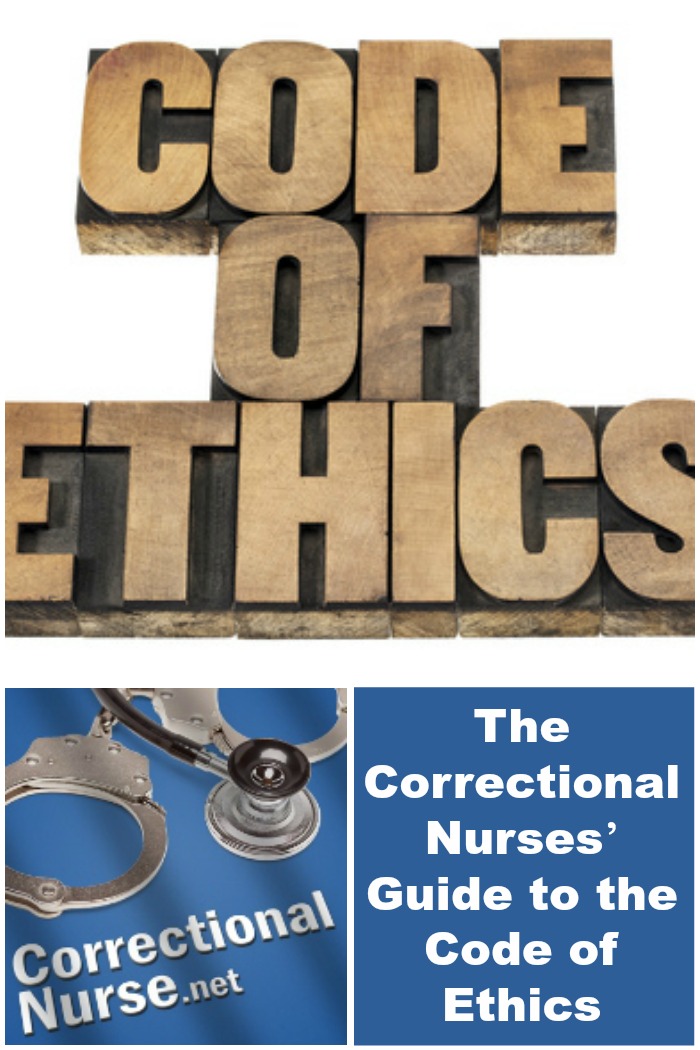 Last fall I was appointed to the American Nurses Association advisory committee to the distinguished panel of nurses who will be revising the Code of Ethics for Nurses. I am honored to represent the correctional nursing perspective and provide input to the panel as they update the 2001 version of the Code. I'd like you to come along with me on the journey as I consider how the Code of Ethics for Nurses applies to our specialty practice.
It All Started with Flo
All professions have codes of ethics that govern practice. The nursing code of ethics has a long history reaching back to the original Florence Nightingale pledge of 1893. Until researching the pledge for this post, I never realized that it wasn't written by Florence Nightingale but, instead, was named after her when developed by a nurse training school in Michigan. Many nursing schools still use the pledge in graduation ceremonies. Did yours? I graduated from an associate degree program of a small community college in Wisconsin in 1984. We did not say the pledge that I remember. However, like the Hippocratic Oath often recited by graduating medical students, it provides an ethical basis and common foundation to guide practice.
It wasn't until 1950 that a formal professional code of ethics was developed and approved by a large group of nurses through the American Nurses Association.  The current 2001 code is the sixth revision to the document. Most revisions involve variation in the way nurse duties to the patient and professional values are described in light of the changing social context. However, it is clear that the primary values of the profession are unchanged.
Professional Nursing Values
The values embedded in the code have stood the test of time. Within the 9 provisions are the values of
Altruism – concern for the welfare of others
Patient Autonomy – the right of self-determination
Human Dignity – the inherent worth of every individual
Integrity – consistent honesty of action
Social Justice – fair treatment regardless of the status of the individual
Duty to Self and Others
Although nursing practice is definitely altruistic, the code clearly identifies that nurses have a duty to themselves as well as the patient. It reminds me of the flight attendant instruction to put on your own oxygen mask first before helping others. If we do not pay attention to our own health and well-being, we are not fully able to engage in a therapeutic patient relationship.
The duty we have to others extends beyond the patient to include other team members. This duty includes respectful interactions and peer support.
Over the course of this year, I will be regularly blogging through the current Code of Ethics for Nurses using correctional nursing situations to help us apply The Correctional Nurses' Guide to the Code of Ethics to our unique environment. I hope you will join me in the dialogue and help make the nursing code practical for the work we do.
Photo Credit: © Marek – Fotolia.com