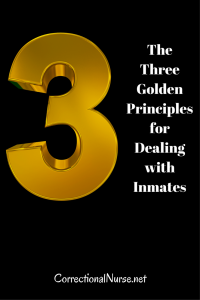 I am trying to remember the first time I came across the advice to be firm, fair, and consistent with inmate patients. It may have been during my orientation for my first position in corrections. While the terms are used in correctional officer, manager, and education literature, I have not seen these golden principles in the nursing literature on patient interactions. More often, nurses come to the correctional setting with communication training based on principles of respect, empathy, and unconditional positive regard. While these principles should also be engaged in a correctional setting, they need to be tempered with "tough love" to be successful with a patient population living in an environment that can require cunning and deception for survival.
If you are new to correctional nursing, you may need to develop application skills for the three golden principles of dealing with inmates. If you are an 'old hand' at working in a correctional setting, these principles may have become a cliché. Either way, here are some reminders of just what firm, fair, and consistent really mean.
Firm
Being firm does not necessarily mean being rigid or stern. Instead, being firm with inmate patients means being resolute to follow the rules and expect your patient to do the same. It also means not being persuaded or intimidated by a patient to disregard standard procedure or do favors for them. Some incarcerated patients pursue staff who are people pleasers and seek to sway them to do their bidding. These patients typically back off when staff members are firm in their presentation, demeanor, and conversation. In addition, in the long run, staff who are firm gain the respect of both patients and officers they work with.
Fair
Just as being firm does not mean being rigid, being fair does not mean treating every patient exactly the same. Instead, being fair means not making assumptions about a patient because he or she is a prisoner. Each patient should be treated with the same objectivity when they arrive in the medical unit. Fairness also means treating inmates with civility and respect no matter their crime, security level, behavior, or other characteristics. While fairly treating patients is required in every nursing specialty, it can be a challenge when your patient is incarcerated for particularly heinous crimes such as murder, rape, or child abuse.
Consistent
The final principle in this trio is consistency.  Depending on your personality, consistency can be easy or tough. Unlike an acute care setting where patients move in and out of our work lives, a jail or prison can be more like a residential setting where our patients are a continual part of day-to-day activities. Inconsistent staff behavior can cause anxiety and uncertainty among patients. Predatory patients see labile staff emotions or behaviors as an opportunity to engineer a situation to their advantage. Too much drama in a medical unit can have repercussions throughout the facility.
Being firm, fair, and consistent has been described by one correctional expert as basically living out the Golden Rule; that is, treat others as you would like to be treated. That is probably why the phrase firm, fair, and consistent has stood the test of time as golden principles for dealing with incarcerated patients.
So, how about you? Have you heard of the three golden principles? Do you have a story about how you use them in your correctional nursing practice? Please share in the comments section of this post.