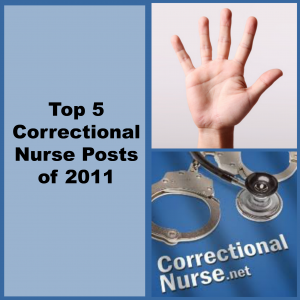 As the year draws to an end I'm doing a lot of looking back and looking forward. Thank you for being a part of CorrectionalNurse.Net by reading and commenting over this past year. I hope you will be even more active in the year ahead. My first blog post was 2.5 years ago when I asked the questions "Should You Consider Correctional Nursing?".  Since then I've written almost a hundred posts on correctional nursing practice. Here are the top five visited posts in 2011:
1. Correctional Nurse Interview Prep Guide: Part I
Many nurses visit the blog to find out about this specialty and prepare for a job interview. This post is a popular first stop. I'm hoping to develop the newbie material on the blog in the coming months. I'm delighted that more nurses are considering working behind bars.
This concept strikes a chord in many nursing specialties and has some particular twists for nurses in jails and prisons. We can easily become jaded about patient complaints and fail to act in a medical situation. Correctional nurses must be ever vigilant to guard against cynicism.
3.  Unhealthy Inmate relationships: 5 Danger Signs
Working with manipulative patients can be psychologically dangerous. Those working in corrections can be drawn into unhealthy relationships. This post is from my CorrectionsOne column and got good play over there, as well.
4.  Eight Medication Rights – Not 5?
This guest column by nurse buddy, Lisa Bonsall, originally appeared on the NursingCenter's in the Round blog. Medication administration is the riskiest process in nursing. The eight rights are good reminders of best practices.
5. Alcohol Withdrawal: Jail Nurse Alert
Although this post is almost 2 years old, it still gets plenty of play and reached the number 5 spot in 2011. Alcohol withdrawal can be dangerous and a missed diagnosis can be deadly.
So, what's on tap for 2012? A blog renovation project is in the works – so the site will soon have a new look. I'll also be adding some embedded video and slide presentations, so, stay tuned and visit often.
What would you like to read about in the coming year? Make your topic suggestions in the comment section of this post. Help me decide the publication calendar for the months ahead!
Photo Credit: © Giuseppe_R – Fotolia.com