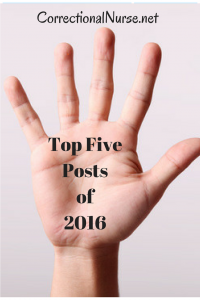 As we come to the end of another blogging year, it is again time to list the most popular posts of the year. Although many older posts and pages continue to see activity, these are the posts written in 2016 with the most hits. If you are new to CorrectionalNurse.net, you may have missed these popular posts.
Psychologists have been studying human personality for decades and have settled on a model of five key factors to explain various personality characteristics. The theory is that each of us has a combination of these 5 factors in varying degrees that create our unique personality. How might these personality traits work toward an ideal alignment in correctional nursing practice? Read my ideas in this most popular post of 2016.
A popular new series on the blog this year is Correctional Nurse Tales from Jails and Prisons. The second and third most popular posts in 2016 are stories from that series. In this post, learn from the experiences of correctional nurse, Laura Mish, in dealing with a common inmate complaint.
Another popular post from the Nurse Tales series made the top five. See how a simple headache complaint turns into something much more. Other posts in the series looks into Detox and the phenomena of Nurse Radar. Do you have a correctional nursing story to tell? Send me a message at lorry@correctionalnurse.net and I'll work with you to create a post to share with other correctional nurses.
Providing health care to incarcerated patients is very different than other types of nursing practice; yet nursing principles remain the same. Nurses entering the world of correctional practice can have apprehensions and misconceptions about the patient population and expectations of their practice. This overview of the similarities and differences of correctional nursing practice as compared to a traditional practice setting was the fourth most popular post written in 2016.
Many nurses first find this blog when looking for information to prepare for a job interview at a jail or prison. So, it is no surprise that information on preparing for a correctional nurse job interview makes the top five posts for 2016. This post is actually the first in a 3-part series. Other posts include:
Preparing for a Correctional Nurse Position Interview: Part II
Preparing for a Correctional Nurse Position Interview: Part III
Thanks, Friends, for another fun year here at CorrectionalNurse.net. I look forward to our work together to inspire professional nursing practice in the criminal justice system in 2017.
What were your favorite posts of 2016? Share your thoughts in the comments section below.