Podcast: Play in new window | Download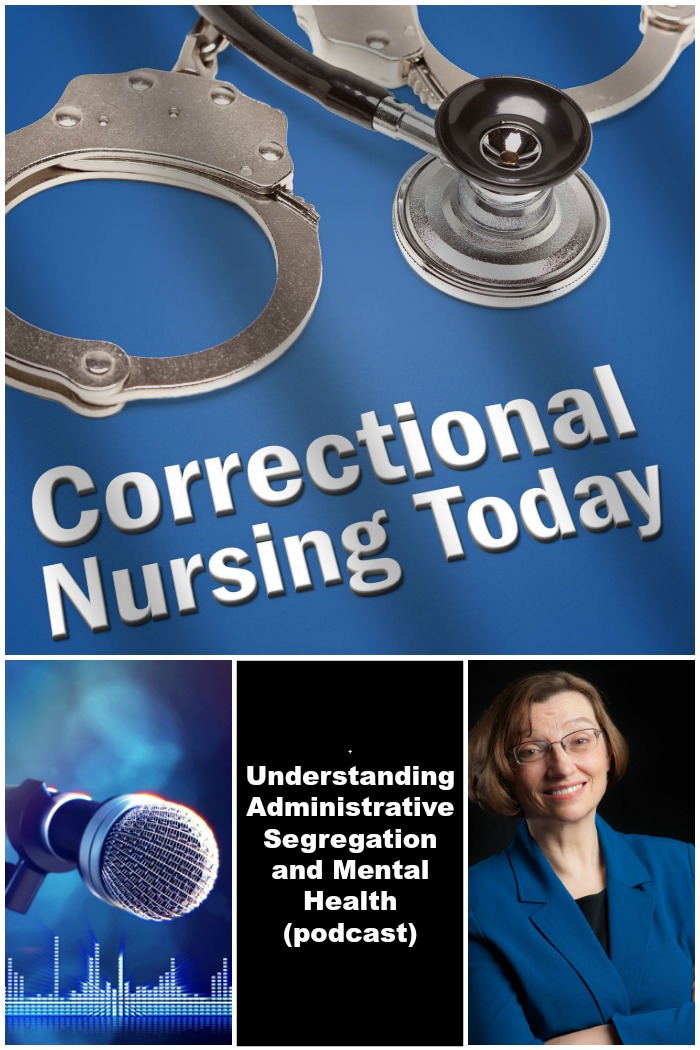 The effects of isolation on the mentally ill is a topic of much discussion in the correctional community. Legal action is being taken in many settings to reduce this practice. Just a few examples include these news items from Colorado, New York, and California. In the case of California, concerns are raised regarding solitary confinement of juveniles in Contra Costa and the isolation of gang members in Pelican Bay.
In this episode I interview Dr Dean Aufderheide, Director of Mental Health Services for the Florida Department of Corrections. We talk about how mentally ill inmates end up in segregation; the effects of isolation on  mentally ill inmates and how administrative segregation issues different in jails and prisons. In addition, we talk about growing litigation over issues of administrative segregation and common factors in the various claims. Dean has some great advice for how to set up a program that is bulletproof. His article on the subject: Mental Illness in Administrative Segregation: How to Bulletproof Your Program Against Litigation can be found in the CorrectCare magazine. We end with some recommendations for correctional nurses you may see misuse of administrative segregation in their setting.
Dean provides us with some important information about the treatment of mentally ill patients. We talked about what to do when we see improper use of administrative segregation. Correctional nurses are often faced with ethical challenges such as this. I talked about another ethical issue in a recent blog post called: Caring for Criminals: Should we be glad Ariel Castro is Dead?
Announcements
My big announcement is that Correctional Nursing Today is now available on Stitcher. If you already use Stitcher to listen to your favorite podcasts, add me to your list. If you've never tried Stitcher, head over to stitcher.com and download the app. It is amazingly easy to cue up a series of podcasts for listening anywhere you have internet access and your cellphone, tablet or laptop. I use mine every day to listen to podcasts while I exercise, run errands, get ready for work in the morning, or even when I'm doing yard work.
As always, you can also subscribe on iTunes or listen to past episodes from the Podcast tab on the Correctionalnurse.net website.
Send questions or ideas for future guests to our email account – Correctionalnursingtoday@gmail.com. I look forward to hearing from you!
September is drawing to an end and I am gearing up to speak at a couple conferences. In early October I'll be talking about clinical judgment at the Care and Custody Conference in Saskatoon, Saskatoon Canada. I had to dust off my passport for this border crossing adventure. Let me know if you are attending. Would love to meet you there.
I'll also be in Nashville at the end of October for the National Conference of Correctional Health Care. I'll be talking about applying the Code for Nurses in ethical situations that correctional nurses find themselves in along with Denise Rahaman a correctional nurse administrator from New Jersey. Will I see you there? I hope so!
If you are new to the correctional specialty, or want to brush up on your practice, consider purchasing my book – Essentials of Correctional Nursing. You can find it on amazon or, even better, click on the tab called 'Get the Book' on the correctionalnurse.net website and scroll down to find a promo code to get $15 off and free shipping by ordering directly from the publisher. Either way, I want to know what you think. Send me feedback at correctionalnursingtoday@gmail.com or leave a review on amazon.