Terminal illness is an increasing possibility as inmate's age and remains in custody. This can be a time of great sorrow, loneliness, suspicion, pain, and suffering for prisoners. They may have great fear of dying alone, in pain and without support. Every correctional facility will inevitably have an inmate who is diagnosed with a terminal condition. When Prison is an End-of-Life Sentence: Hospice in Corrections, are you prepared to provide the care needed for a good death in your facility?
[vimeo http://vimeo.com/23134455]
Correctional nurses provide end-of-life care in this video documentary by Edgar Barens filmed in Iowa State Penitentiary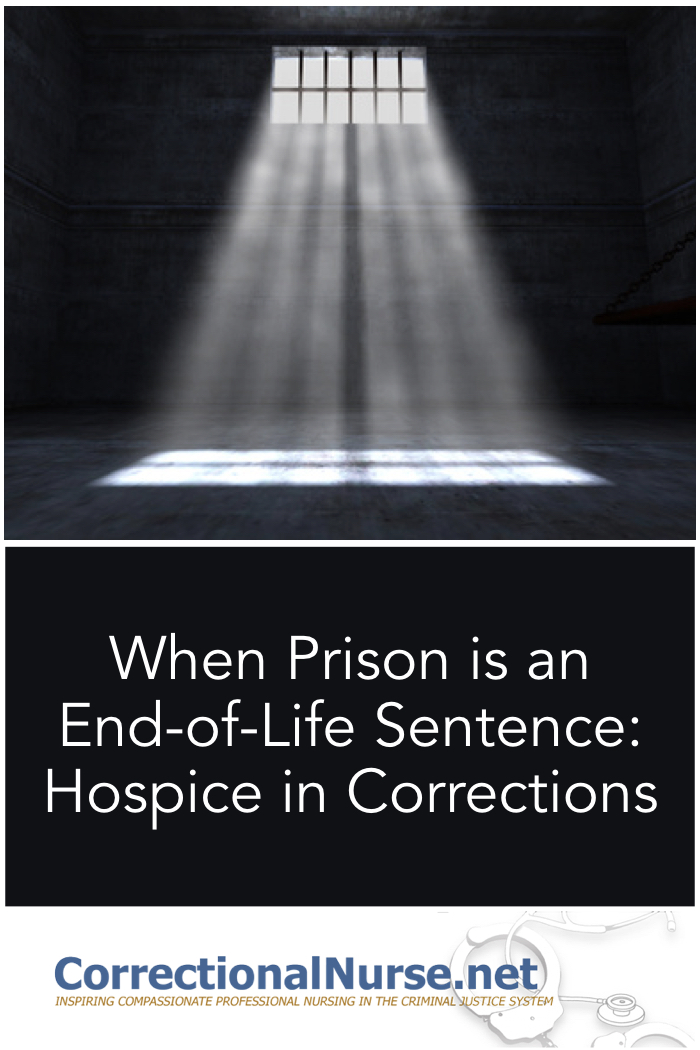 When Prison is an End-of-Life Sentence: Hospice in Corrections
There are several reasons why an inmate may live out their final days behind bars. It may be unsafe to release the inmate, even in their physically weakened state. Depending on community resources, it may be more appropriate to provide care in the correctional facility. In addition, the inmate may actually desire to remain at the facility because they have a support system or family close by.
People with life-limiting or terminal illnesses suffer not only from the illness itself but from loss of function, diminished control of their body, and loneliness as others around them go on with life. A prisoner suffers these losses but also experiences the loss of family, the freedom to determine their surroundings and schedule, as well as their individuality. The losses associated with incarceration magnify the suffering of an inmate patient with life-limiting illness.
According to the National Hospice and Palliative Care Organization, 75 prisons and jails in 41 states have a form of hospice program available to dying inmates. When the first programs started in prisons there were no standards for delivery of hospice services in correctional settings. Many programs now involve fellow inmates in peer-support roles that benefit both the dying inmate and the care provider.  Correctional nurses have an opportunity to profoundly affect the outcome of terminal illness and assist inmates to have a 'good death' even while incarcerated.
Do you have a hospice program at your facility? How do you manage dying inmates?
If you like this post, you might like to visit:
Correctional Nurse Clinical Update: Cellulitis
Seizure Disorder Primer for Correctional Nurses
Diabetes Primer for the Correctional Nurse
March is Brain Injury Awareness Month
Correctional Nursing Alert: Ectopic Pregnancy