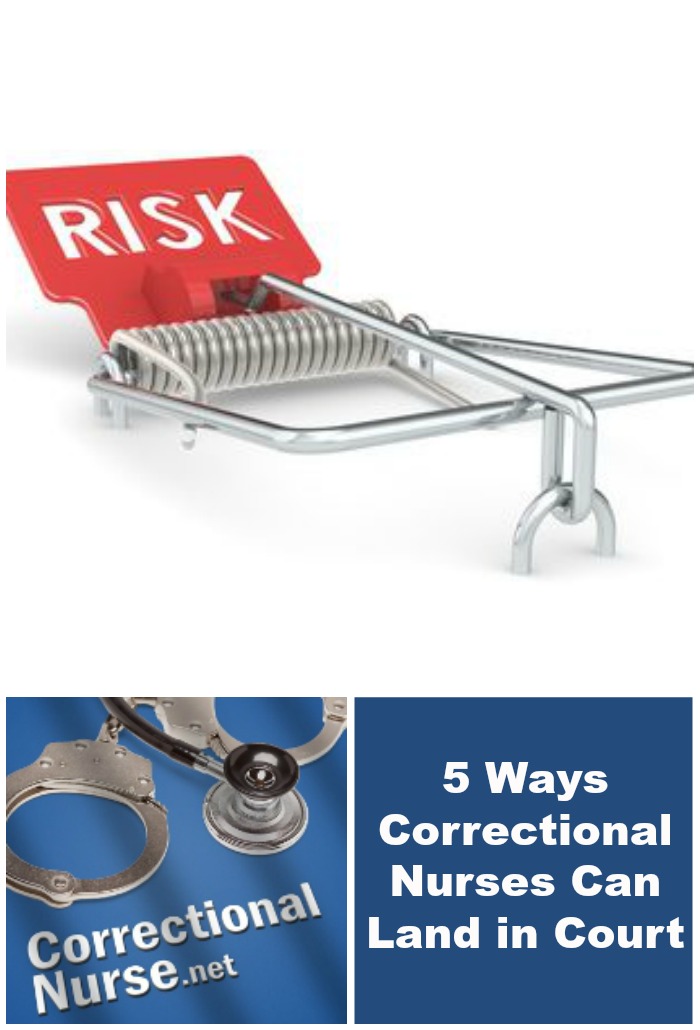 Possibly more than any other nursing specialty, correctional nursing practice is lawsuit-prone. Our patient population, already in the criminal justice system, frequently seeks legal action when they feel they have not received rightful healthcare. Correctional nurse experts Kathy Wild, RN, MPA, CCHP and Royanne Schissel, RN, CCHP, have decades of experience in the specialty as staff nurses, managers, and legal nurse experts. They offered advice during the 2013 NCCHC Spring Conference. Here are five ways you can land in court.
#1-Don't listen to your patient's description of symptoms. Correctional nurses need to be good listeners. Although patients may embellish their symptoms at times, there is still truth in and among the various information bits being presented during a patient encounter.  The goal is to find the important information that determines an accurate diagnosis and response. Listening also includes obtaining information from housing officers and family members. They can have important clues to what is going on. Disregard patient information at your own peril.
#2-Don't use your assessment skills when evaluating a patient complaint – Although tempting, malingering is not an appropriate nursing diagnosis. Once this thought is expressed it can set the mind of every other care provider going forward. Correctional nurses must guard against judgmentalism and, instead, gather subjective and objective data to confirm symptoms and establish causes when dealing with patient complaints.
#3-Don't call the doctor when you're not sure about something. Long-term correctional nurses can think they know more than the doctor they would be calling. Often the provider is not a corrections specialist or does not know the patient. The context of correctional nursing can allow nurses to drift into thinking they can handle almost anything without need of a physician.
#4-Don't take the time necessary to thoroughly document your encounter – Lawsuits come along years later and you won't remember the encounter without clear and thorough documentation. Document completely and thoroughly as close as you can to the patient encounter. The medical record is both a communication tool and a legal document. Be sure the record is legible, limited to the clinical facts, and without commentary on what others have done. Charting should include a first-hand account of what was observed and what was performed for the patient. In addition, in our specialty, it is also necessary to document why a patient wasn't seen. For example, the patient may have been in court or released early.
#5-Not knowing what your nurse practice act says about your practice. Unlike traditional healthcare settings, nurses working in corrections may not have clear practice boundaries identified by policy, procedure, and a strong nursing organizational structure. All correctional nurses, no matter the position, must have a clear understanding of what can and can not be done based on their state licensure. Nurse can be requested to perform outside their licensure by uninformed corrections administrators, physicians, and even other nurses. Just because you are able to perform a function or procedure doesn't mean that you are licensed to do it. Some nurses have a misguided impression that they must be permitted to do something since an employer requests it. This is not so.
What do you think of this list of risky practices? Have you been tempted or pressured to let your guard down in any of these areas? Share your thoughts in the comments section of this post.
Photo Credit: © jojje11 – Fotolia.com