In our last post, we discussed the causes of Rhabdomyolysis and its presentation. In this post, we will discuss the the evaluation of the patient presenting with signs of rhabdomyolysis, including the subjective questions to ask and the objective assessment to perform.
The classic triad of symptoms seen in rhabdomyolysis includes muscle aches (myalgia), generalized weakness and darkened urine. In practice, however, the presentation of rhabdomyolysis varies considerably and this classic triad is actually seen in only about 50% of adult patients. Additional nonspecific potential symptoms include fever, nausea, vomiting and decreased urine output. As the rhabdomyolysis progresses, the patient may exhibit tachycardia, agitation, confusion and a decreased level of consciousness. Most of these symptoms are due to muscle cell breakdown and its systemic effects and electrolyte abnormalities. Patients may complain of soft tissue swelling and skin changes consistent with pressure necrosis. The most commonly involved muscle groups in adults are the calves and the lower back. Back, chest, and calf pain often mimic other common conditions such as deep vein thrombosis or angina.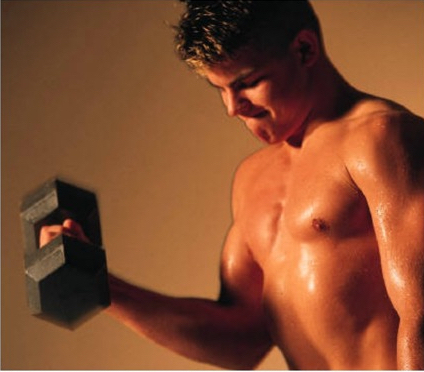 SUBJECTIVE
In most cases, the patient's subjective description of his/her symptoms reflects the underlying cause (e.g., alcohol use and resultant unresponsiveness, agitation and illicit drug use, vigorous exercising, use of certain prescribed medications, or heatstroke), and so it is vital to obtain a thorough subjective history from the patient, including current symptoms and when they began. Medical history, including any chronic disease conditions and past episodes of rhabdomyolysis are also key pieces of information to add to the subjective history.
If the patient is found unresponsive, then it is important to ascertain from Individuals around the patient (i.e. officers, cellmates or others in the housing unit) how the patient was found or what he/she was doing most recently. Remember that in some patients, the history will seem benign, but it is important to document in the health record all the patient discloses about his/her most recent activities. Also keep in mind that causes of rhabdomyolysis include activity, inactivity, metabolic conditions about which the patient may or may not be aware, trauma, and even infection.
OBJECTIVE
The initial physical examination findings may be nonspecific. For every patient, the physical evaluation should include a complete set of vital signs, a mental status exam, lung and heart auscultation, and an abdominal assessment to include inspection, auscultation, and palpation. All areas of soreness should be inspected for signs of trauma and swelling, and palpated for muscular pain, tenderness, and muscle consistency (does it feel "doughy?"), and tested for range of motion, if indicated.
As with any nursing assessment, abnormal findings should be reported to a provider.
NURSING INTERVENTIONS
The correctional nurse should be prepared to obtain laboratory tests that are typically ordered by a provider for patients with suspected rhabdomyolysis, including a comprehensive metabolic panel and a complete blood count. The provider may order intravenous hydration. All fluid intake and output should be monitored, and any decrease in output should be reported to the provider. In addition, the patient should be monitored through serial vital sign measurements and mental status exams. Any complaint of a change in symptoms should prompt a new physical assessment and consultation with a provider.
PATIENT EDUCATION
The patient with suspected rhabdomyolysis should be educated regarding the potential cause, and the expected treatment. Reassurance should be provided. The plan of care should be discussed with the patient, and he/she should be allowed to ask questions until they verbalize understanding.
Patients in the correctional setting should be educated about the potential for rhabdomyolysis based upon their physical activities. They should be educated about the causes of rhabdomyolysis and its prevention, and most importantly, the signs and symptoms that should be brought to the healthcare staff's attention. The very serious adverse effects of dehydration and the importance of maintaining hydration during vigorous exercise and in hot weather should be emphasized. The proper way to exercise, and the importance of building tolerance for increasing levels of exercise and physical activity should be included in the conversation.
Although our patients are incarcerated and should not have access to alcohol and drugs, it is also important to include education about the potential for rhabdomyolysis to occur with the use of alcohol and drugs, even prescription drugs ordered by a provider (i.e. statins). Any time a drug is prescribed that has a potential adverse effect of rhabdomyolysis, the patient should be told of the risk, and the symptoms for which they should be watching.
This post is based on The Correctional Nurse Educator class Rhabdomyolysis for the Correctional Nurse.
Please share your experiences with rhabdomyolysis in the correctional environment in the comments below.