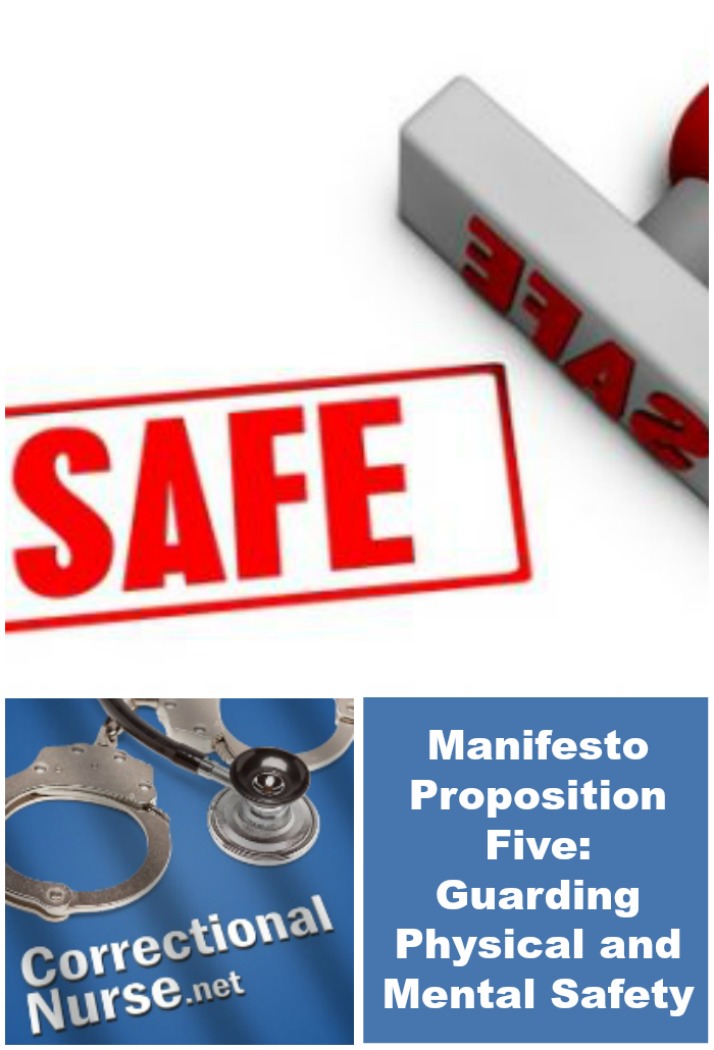 In a prior post, I suggested a Correctional Nurse Manifesto with seven propositions. This post discusses the meaning and importance of the fifth proposition:
Correctional nurses continually guard their own and other's physical and mental safety
While professional boundaries can help protect a nurse's safety (See the discussion on professional boundaries in Proposition Four Part I and Part II), correctional nurses must also be vigilant to guard against physical and psychological injury from a variety of sources on a daily basis. Officer, civilian, and healthcare staff must provide a consistent front to protect against injury when dealing with the inmate population.
Physical Safety
Workplace violence concerns are ever-present in the correctional setting. Correctional nurses need to be vigilant for physical injury from inmates, other staff, or visitors. Here are some areas of concern for nurses:
Know your facility's particular security procedures. This might include knowing security codes and procedures for obtaining assistance.
Visually scan a work area or travel route for signs of safety threat. Avoid secluded areas or 'blind spots' within the facility.
Travel in pairs or groups when possible. If you must travel alone, be sure other staff members know your whereabouts and expected return.
If you must travel alone, be within sight or sound of an officer at all times when in any inmate area. Know where the next officer station is on your route. Check in by a wave or 'Hello' with each officer to be sure they know you are traveling in the area.
Dress conservatively to avoid misinterpretation. Choose loose-fitting functional clothing and eliminate jewelry such as necklaces that can be a choking threat.
Arrange exam rooms so that you are closest to the door to prevent entrapment.
Be careful to keep confidential any security procedures such as pending shack-downs or cell searches.
Keep close control of keys to secure areas. Lost keys can result in access to secure areas and physical threats.
Do not discuss personal information around patients. Information about family members, schedules, or personal stresses can be used for manipulation.
Mental Safety
Many of our patients have developed patterns of subtle manipulation to gain control in relationships. These skills mean survival in the criminal world and can become a havitual mode of communication – even with healthcare staff. There are common themes to the manipulation patterns of inmate-patients. Been on guard for these manipulation techniques that come from the excellent book – The Art of the Con.
Staff Friendship: Comments are personalized to establish a special relationship. "I am so glad you are here today. You are the only one who cares."
Peer Group Alienation: Establishing a 'we vs. them' situation. "The night nurse is always complaining about you but I stuck up for you."
Request for Help: A request for sympathy or an action beyond your nursing role. "Could you mail this letter to my 5-year-old son for me?"
Nudging: A test to see how far you are willing to go beyond the rules. "Could I have a few alcohol wipes to clean my shaving equipment?"
Turnout: Leverages past rules-breaking to request more serious offenses. "If you don't get me a cell phone I'll have to report that letter you mailed for me last week."
Looking Out for Others
Teamwork is a major part of delivering health care. It is also a necessary part of remaining safe in the correctional setting. We all need to be alert for our own safety, but also for the physical and mental safety of our workmates. It is usually easier to engage a peer in physical safety concerns such as a reminder to keep the keys on their person or refrain from discussing personal information in a public area. However, it can be difficult to speak up when a fellow staff member is dressing provocatively or engaging in personal conversation with patients. Courage is needed. Your interventions in these areas, though, improves safety for everyone.
Have you had to come to the aid of another staff member to protect them from physical or mental harm? Share your story in the comments section of this post.
Photo Credit: © kentoh – Fotolia.com