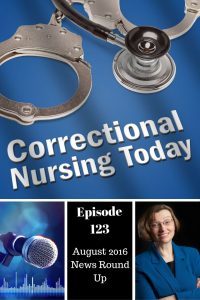 Catherine Knox, Gayle Burrow, and Kim Pearson join Lorry to talk about the latest correctional health care news.
Our first story might be considered a mental health issue. High levels of mental illness in our patient population is a growing concern in our specialty. This story out of NPR Public Health, though, is a commentary about the need to help inmates change how they think. Commentator Jack Bush quotes one of my favorite philosophers Viktor Frankl, who said, "Everything can be taken from a man but one thing: The last of the human freedoms-to choose one's attitude in any given set of circumstances, to choose one's own way." Yet, Bush contends that criminal behavior is the result of attitude and a destructive way of thinking. He cites success with the use of cognitive behavioral therapy to reduce recidivism by up to 35%. This sounds like a promising behavioral health treatment. Panelists discuss their experiences with cognitive behavioral therapy and the "Thinking for Change" program that Jack Bush uses.
Another big mental health concern in correctional health care is the over-use of solitary confinement. The Miami Harold recounts the story of a NC state prison inmate who was in solitary confinement for almost 3 years. Not surprisingly, he had mental illness prior to incarceration, and, also not surprisingly, he was worse when he was released. It is a sad story repeated multiple times across the country. It is heartening to see an NCCHC position statement on solitary confinement. Panelists discuss how solitary confinement is being reduced in many correctional systems and the struggles to find meaningful alternatives in some settings.
Newly Released Inmates Account for 1 in 10 Fatal ODs
Health Day reports that almost 10% of fatal adult drug overdoses may involve recently released prisoners, according to a Canadian Study. Catherine found a US study that supports this number and the CDC has a report out on the rising trend of opioid overdose deaths in the general population. The increase is an astounding 200% from 2000 to 2014. Our patient population definitely includes a high proportion of drug dependency with opiates on the rise. Panelists discuss what they are seeing in practice. 
From Artsy.net comes an extensive story about art therapists who provide services in the mental observation units at Riker's Island. They currently have 11 art therapists working at Rikers and hope to gain funding for even more. Like correctional nurses, these therapists must make accommodations for the environment and patient population. Panelists discuss the possible advantages of this type of therapy in the correctional setting. Here is a link to an interview with a correctional art therapist from a prior podcast.
Join the conversation. Share your thoughts on these news stories in the comments section of this post.