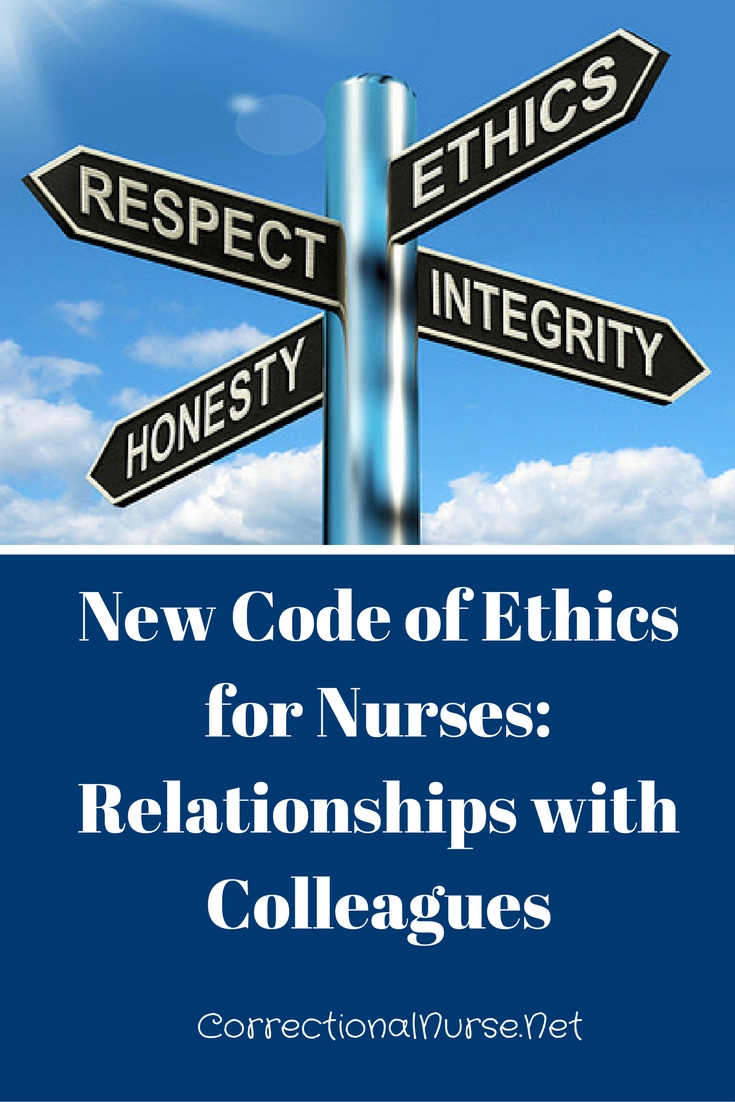 The first provision of the Code of Ethics for Nurses addresses the need for compassion and respect for all individuals. While the primary focus of nursing practice is the patient, the need for compassion and respect also extends to our colleagues. Thus, nurses are ethically bound to maintain civil and caring relationships with work mates. Nevertheless, we are hearing of increasing bullying and lateral violence in the health care workplace. In fact, I regularly hear from correctional nurses about the struggle to work with mean, harassing, and even threatening colleagues. Many nurses find this even more stressful than working with the inmate population. Consider this example.
Lola is a new nurse in a medium security prison. She was recruited from her emergency nursing position at a local hospital with promises of less lifting (she has increasing chronic back pain) and better work hours. However, she is questioning this move after one week of orientation. Her work colleagues complain constantly about the work conditions and their manager. Although she was promised an extensive orientation, she is passed around among the nurses, sitting in with them as they perform various processes such as sick call and medication pass. This morning her manager is at an off-site meeting and none of the other nurses want to have her with them. Finally, Bob agrees but tells her to "Keep quiet and don't bother me with questions while I'm on rounds".
Caring is Not Just for Patients
Caring may be a primary concept in nursing practice but it often does not get translated into colleague relationships. Yet, our Code of Ethics clearly states that respect for persons extends to our relationships with other staff as well as to our relationship with our patients. Disrespect, incivility, and other methods of lateral violence can present overtly and covertly in the work environment. Lola is not getting a warm welcome in her new position and she can feel powerless to do anything about it, having only been there for a few days.
Prevention and Proactivity
According to the American Nurses Association, nearly 50% of nurses have experienced some form of bullying yet most of us stay silent about it. The Code of Ethics calls us to speak out when we experience bullying and, in particular, when we see other colleagues being bullied. By silently standing by, we become participants in the harassment.
Colleagues who are bullying others need to know that this practice is unethical and can be grounds for intervention. Some State Boards of Nursing include adherence to the Code of Ethics for Nurses as a part of their Nurse Practice Act. Hopefully, as awareness of the negative effects of lateral violence grows, more correctional health care workplaces will initiate a Zero-Tolerance policy toward incivility in staff relationships.
Relationship Responsibility
Our ethical responsibility toward healthy interpersonal relationships goes beyond the nurse-patient relationship to include our interactions with other nurses, physicians, team members, and officers. Poor work relationships lead to clinical errors, increased costs, and loss of quality staff (like Lola).
It would be difficult for Lola to change her work environment as a new staff member, but it may only take one staff member coming forward to address the issue of incivility to begin to make a difference. Besides seeking management support to change the work environment, each of us can seek to stop the horizontal violence.
Don't listen to or tolerate blame, rumors, and gossip
Encourage and perform acts of kindness
Look for common ground in a conflict
Encourage forgiveness
Be a safe person to ask questions of or discuss a problem with
How about you? Is there incivility or even hostility in your workplace? How do you handle it? Share your thoughts in the comments section of this post.
The American Nurses Association (ANA) designated 2015 as the Year of Ethics for American nurses. I have personally designated 2016 as the Year of Ethics for Correctional Nurses. This year I will be blogging regularly about the Code as I write a book to help correctional nurses apply the Code of Ethics in our challenging setting. Read all posts about the Code of Ethics here.